This week was wild.
Wall Street was flipped on its head as seemingly unprecedented events unfolded.
The reach was widespread. Everyone from first-time investors to tech billionaires had their eyes glued to the same few stocks.
FOMO was at peak levels, on pace to break its gauge.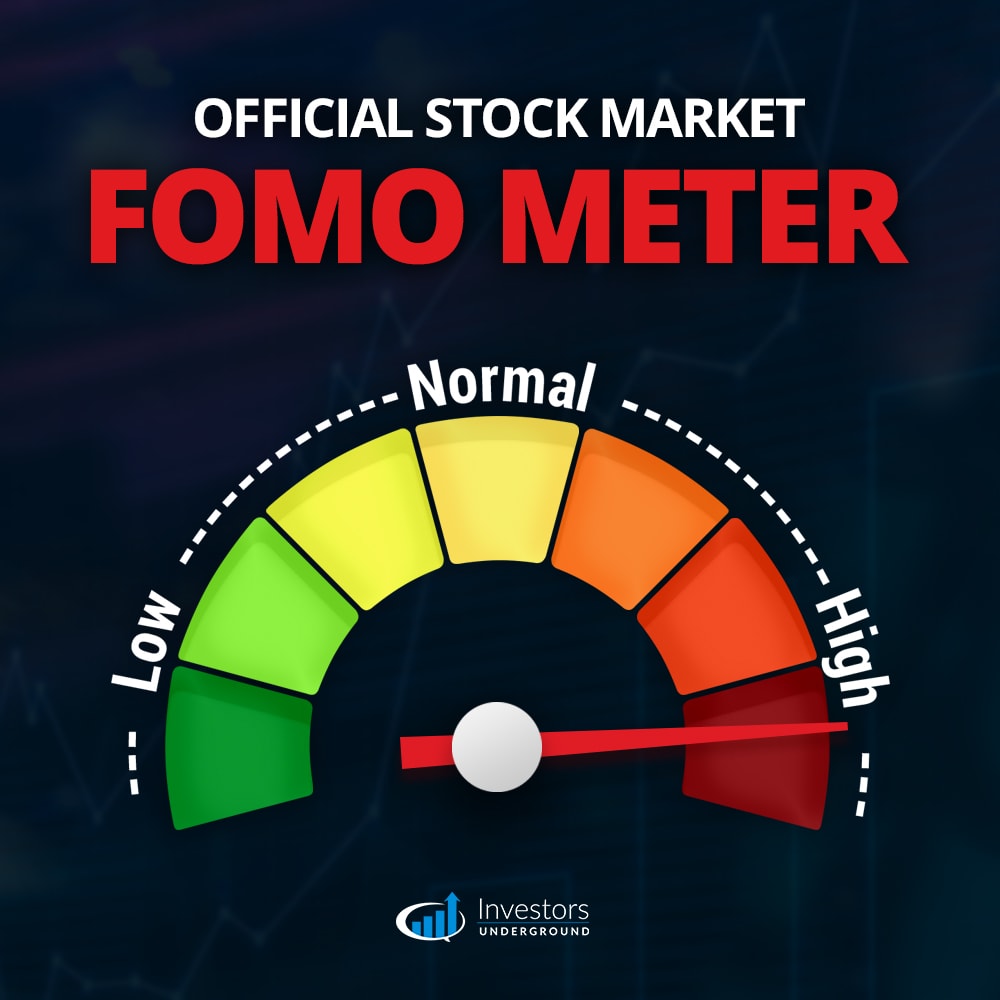 You know the hype is real when family members and old friends come out of the woodwork to ask your opinion on stocks (flashback to the Bitcoin craze).
The week's events were both exciting and contentious. Everyone seemed to have a strong opinion on what was going on and why it was significant/controversial/revolutionary/(insert opinion here).
For our purposes, let's leave politics at the door and turn this week into a learning experience.
We all come to the markets every day for the same reason – to make money. Our salaries are dependent on our abilities to analyze trading activity and make educated decisions that (hopefully) result in profitable outcomes.
This week's events offered an expedited masterclass in trading. Lessons that may otherwise take years to surface were exposed in a single week.
Let's take a look at some of the most important lessons and how you can carry them over into future trades.
1. Timing is Everything
There are two parts to any good trade thesis: the prediction itself and the timing. Both need to align properly if you want to have a profitable trade on your hands.
It's not enough to be right. You need to be right at the right time. For example, if you predict a market crash, you need to be spot-on with your timing. If you predict a crash and the market runs 100% before plummeting 50%, your prediction was absolutely worthless.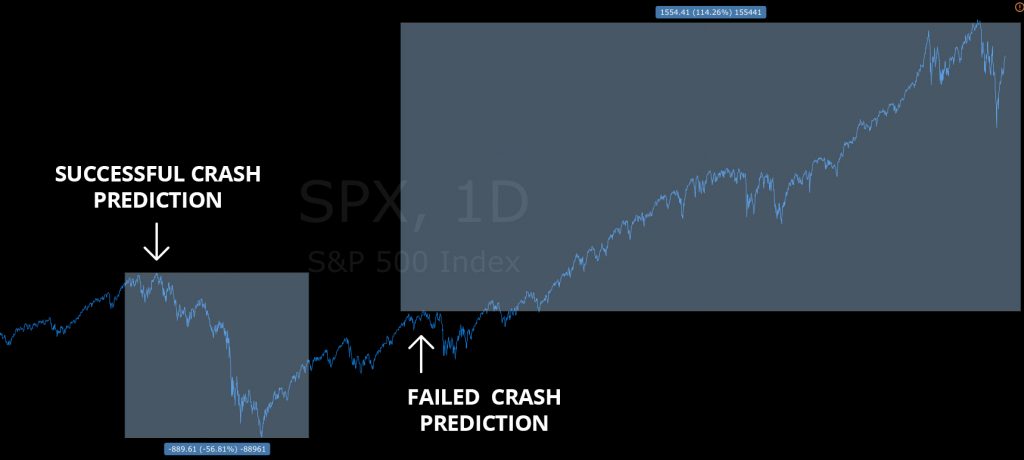 This week's trading activity was the product of stars aligning to create the perfect storm. The traders who profited from the events got their timing right.
2. Expect the Unexpected
As traders, we are interested in trading "outlier" moves – moves where stocks experience exceptional volatility and liquidity. While the stocks that experience these moves are considered "outliers" from their peers, these moves are far from unprecedented. In fact, we see them almost every day (especially in this market).
Outlier moves are actually quite common, and traders should learn to expect the unexpected. If you believe that moves on stocks like $GME, $AMC, and $BB are unprecedented black swans, you haven't been paying attention. Stocks have been getting squeezed and pumped on social media sites for over a decade.
3. Don't Fight the Trend
The market is always right.
Write that one down and never forget it.
You don't have to agree with price action or believe that it's rational, but you do have to respect it. Fighting a trend is a recipe for disaster.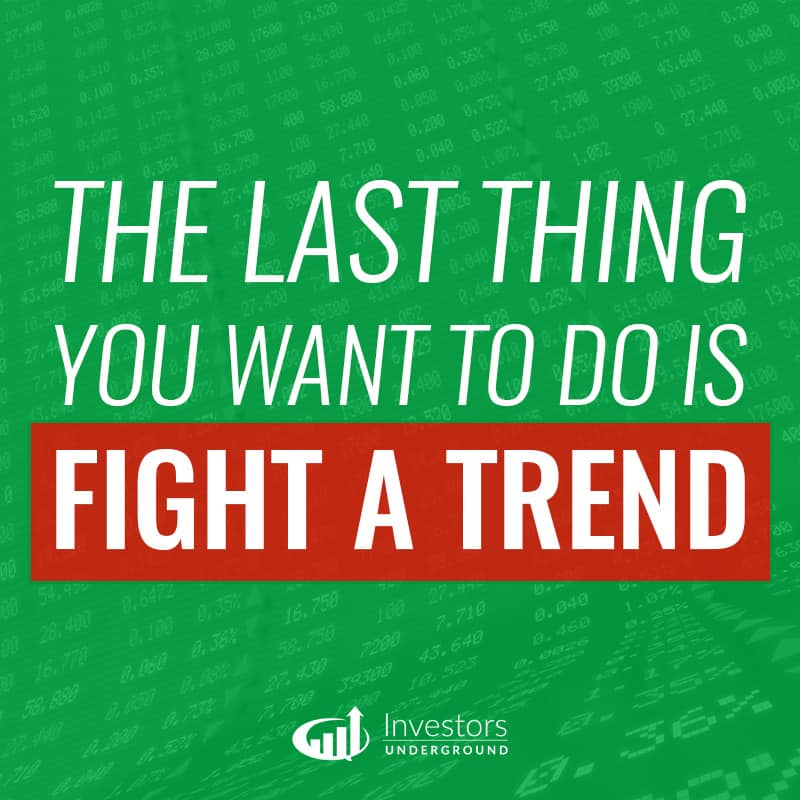 Were the moves on stocks like $GME and $AMC rational from a fundamental perspective? No. But, do you want to be the short seller that steps in front of a momentous squeeze? Definitely not.
The same logic applies to the backside of the move. When the party's over, you don't want to be the trader holding the bag.
Pay attention to a stock's trend and make sure you are on the right side of a move.
4. It's Better to Be Late Than Early on the Short Side
Short sellers are quick to pounce on parabolic runners experiencing unfounded moves. They feel the need to guess the top of a parabolic move so they can capture as much downside as possible.
Guessing tops (and bottoms) is a fool's game.
To reiterate – don't fight the trend.
When a stock reverses trend, there will be plenty of time to capture the downside. What you may sacrifice in precision (i.e. nailing the exact top), you make up for in certainty.
It's worth more for a trade to have a higher probability of working out in your favor than it is for you to get a better entry by a few percent (especially considering you will not guess the top and are more likely to get run over).
It is much better to be late to a trade that has a 70% chance of working in your favor than it is to be early to a trade that has a 70% chance of working against you – especially on the short side where risk is theoretically infinite. You're better of being $1-2 late than $10-20+ early.
The GameStop trade is still in motion, but here's an example of a past runner that short-sellers fought all the way up. Notice anything? Once the stock reverses trend, it goes straight down and there are plenty of lower-risk/higher-probability trading opportunities.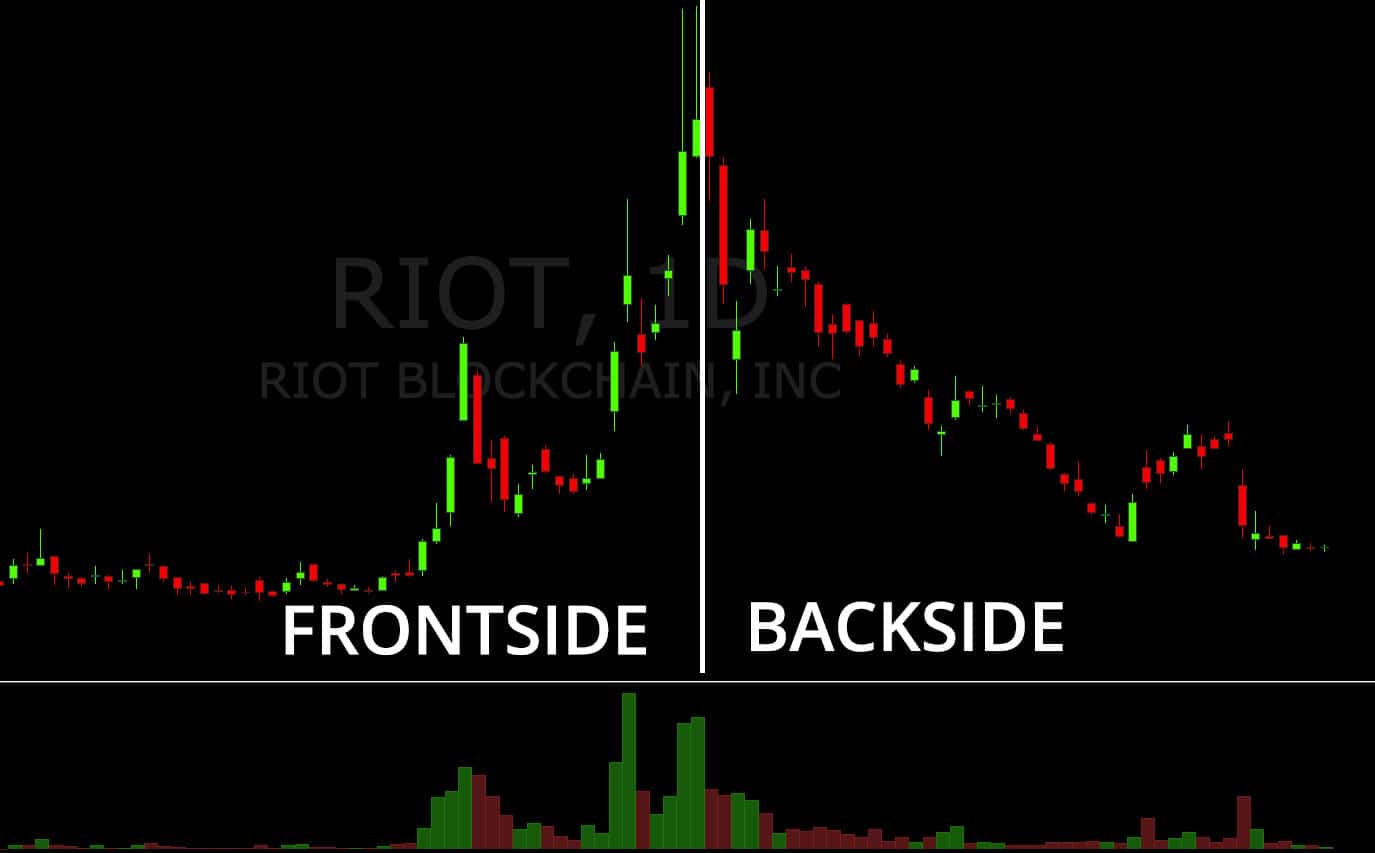 5. Avoid FOMO
As we discuss all of these trading tips, it's important to point out that "not trading" is an option. Sometimes, the best offense is a good defense, and cash is a defensive position. Sure, you won't make any money but you also won't lose any money.
When specific tickers flood the headlines, it can be tempting to claim a piece of the action. FOMO kicks in and you feel the need to partake in what could be a life-changing trade. This is an emotional strategy, not a logical trading strategy. Curb it.
Sometimes, the best play is sitting on the sidelines so you can live to see another day. If you don't understand a move, avoid it. Know your edge.
Could you imagine shorting a stock at $50 and watching it skyrocket to $500 in the next few days? How about buying a stock at $500 and watching it plummet to $100 in a couple of hours? When faced with these daunting situations, you will undoubtedly wish you sat on your hands and avoided the trade altogether.
If you are experiencing FOMO, recognize it and accept that cash is a position.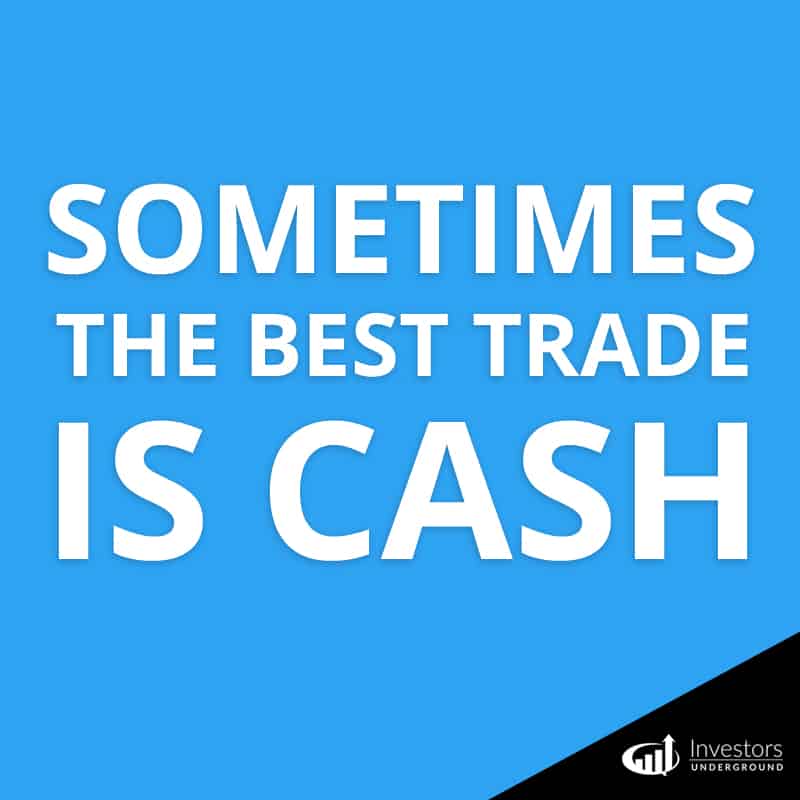 6. Ignore the Hype
Hype can trigger both FOMO and deep fear. If you hear a stock is at $100 and going to run to $1,000, FOMO kicks in for traders on the sidelines and fear kicks in for traders on the opposite side of the trade.
Hype, by its very definition, is exaggerated. If you find yourself saying or believing wildly irrational, emotionally-fueled statements, you probably need to get off the hype train at the next stop.
Effective trading is based on logic. Of course, all speculation is subject to uncertainty, but not all speculation is equally credible. Radical speculation is "hype" and should be avoided at all costs.
7. Know Who You Are Trading With
This week's trading activity served as a reminder that, as traders, we are not trading alone in our own silo (even though it can feel that way). We are trading with other market participants, all of whom have their own unique thought processes and strategies.
Thinking about every trader out there will drive you insane, but It can be helpful to think about other market participants, as these participants may impact the way a stock trades.

This is evident quite a bit with "story stocks" where some traders buy the broader narrative surrounding the company as others simply trade the price action.
A passionate group of shareholders can impact the way a stock trades. Think of some of the most volatile and widely-discussed market movers of the past decade. Bitcoin found its way into Thanksgiving dinner conversations. The narrative – crypto/blockchain will change the world. Tesla brought the everyman into the world of investing. The narrative – Elon Musk is a genius and Tesla will revolutionize the auto industry.
This same type of passion was present in this week's moves as people talked about "revolution" and "sticking it to Wall Street fat cats." The meaning behind the move, although not entirely responsible for any stock's price action, certainly impacted the way people traded stocks like $GME, $BB, $NOK, and others.
8. Understand Short Squeeze Mechanics
There's no arguing the fact that this week's bullish momentum was heavily fueled by a short squeeze. It's not the first time this happened, and it certainly won't be the last time.
Traders need to understand the mechanics of a short squeeze so they can better understand when seemingly irrational bullish momentum may surface.
When investors short sell a stock, they borrow shares that they will eventually have to re-purchase to cover their positions. Covering a position has the same effect as entering a bullish position, meaning it will push a stock's price higher (based on basic supply/demand principles).
This type of trading activity happens daily, but when stocks are heavily shorted, a wild short squeeze may ensue. Traders should be conscious of a stock's short interest so they can recognize when a stock may be susceptible to the increased volatility of a short squeeze.
It's also important to understand what happens after the squeeze. Once the trade plays out and the majority of shorts are squeezed from their positions, basic economics come back into play and the stock loses momentum.
9. Never Underestimate a Move
Most traders can accept the fact that the markets are not entirely rational. Some will go so far as to say they are "rigged."
Even though most traders embrace this philosophy, they still find themselves calling out irrational moves (and reacting accordingly).
Remember, the market doesn't care what you think. A stock is never up "too much." Everything unfolds exactly as it should – it's the only way it can play out.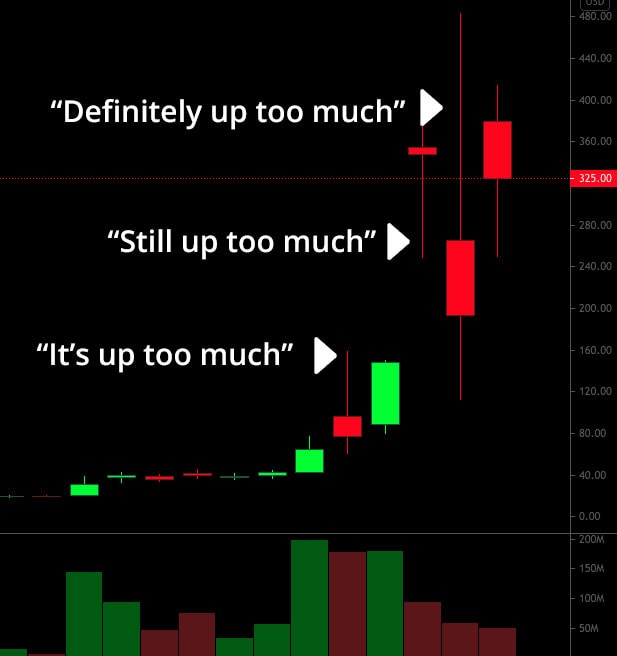 If you find yourself shorting a stock because it's "up too much," your thesis is lacking. Avoid fighting a trend (as discussed above) and recognize that it's your job to predict market irrationality and trade alongside it (vs. fighting it).
10. Don't Get Carried Away by Greed
Overestimation lives on the flipside of underestimation.
Many traders become blinded by greed. They believe the hype, start visualizing life-changing windfalls, and trade on emotions.
If you find yourself clinging to a position that is up 1,000% because you think it can run 2,000%, you may be under the influence of greed. Similarly, if you enter a position in a stock that is already up over 1000% with hopes that it will continue its run, you may be under the same influence.
This isn't to say you shouldn't buy stocks during parabolic moves, nor should you sell rapidly out of fear. The antidote to greed is a methodical game plan that is uninfluenced by emotion.
11. Use Appropriate Position Sizes
Exceptional volatility calls for exceptional discipline. Risk management becomes more important than ever.
You can't control the risk of the market, but you can control your exposure. One of the best ways to control risk is to control your position sizes.
If a stock has $100 of potential downside, a 100 share position exposes you to $10,000 of risk and a 1,000 share position exposes you to $100,000 of risk.
Here's an example of how your position size can be used to manage dollar risk: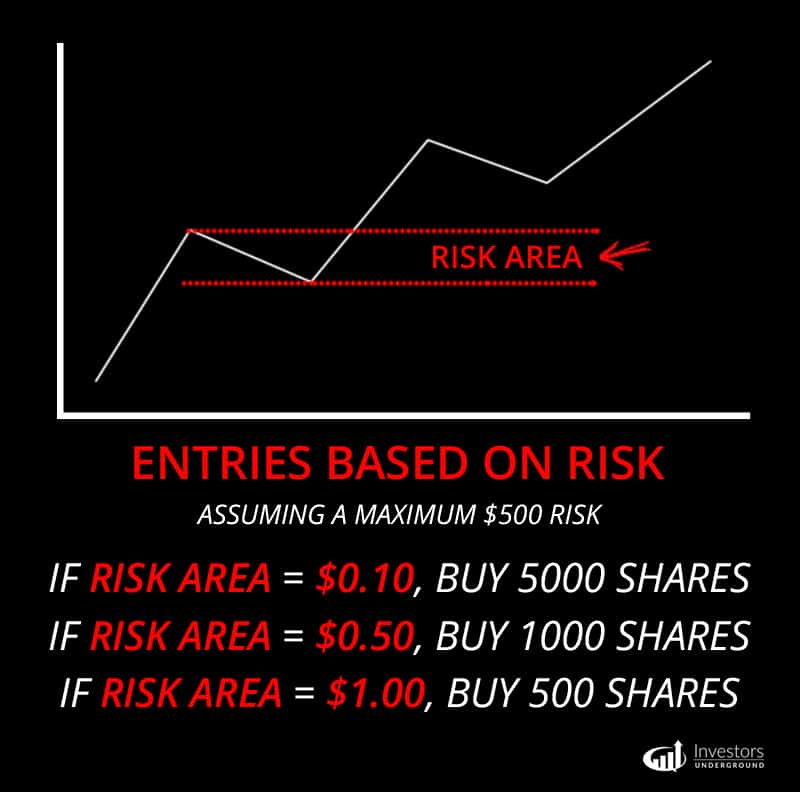 If your position size exposes you to risk that you are uncomfortable with, you are in too big. Smaller positions allow you to partake in a move without exposing yourself to unmanageable risk.
12. Cut Losses Quickly
"Cut losses quickly" is one of the first rules new traders learn. It's also one of the first rules they break.
Almost every veteran trader sounds like a broken record as they repeat the mantra, "Cut losses quickly, cut losses quickly, cut losses quickly…."
Unfortunately, most traders need to learn this lesson the hard way. They need to feel the despair of a gut-wrenching loss before they can commit the lesson to memory.
When faced with an unmanageable loss, many traders start to rationalize. The "what if" factor kicks in. What if I sell now and the stock bounces right after?
Some traders go through this process and live to see another day – others take themselves out of the game forever.
Do yourself a favor and keep yourself in the game. Most unmanageable losses only get worse. When you're trading a highly volatile stock prudent risk management is not optional – it's mandatory.
13. Lock In Gains Along the Way
In contrast to responsible trade management, you've probably heard the bagholder mantra as well – "it's not a loss until you sell."
It's also not a profit until you sell. Unrealized gains are not yours until you claim them.
Many traders become overnight millionaires and return to their 9-to-5's on Monday because their unrealized gains evaporate. "Buy and hold" is not a strategy that works on volatile momentum stocks.
Lock in your gains along the way.
You don't need to sell your entire position in one go, but you should pay yourself along the way. Stock runs up 500%? Sell some shares. Stock runs up another 500%? Sell some shares.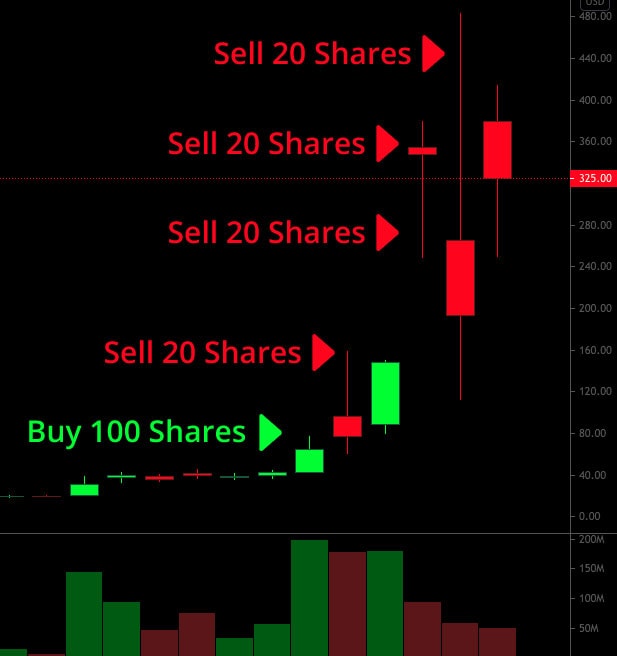 Your hard work paid off – may as well reap the rewards.
14. Be Conscious of Trade Halts
When stocks are subject to exceptional volatility, they are also subject to trade halts. When a stock is "halted," the exchange freezes trading, meaning no one can buy or sell for a set period of time.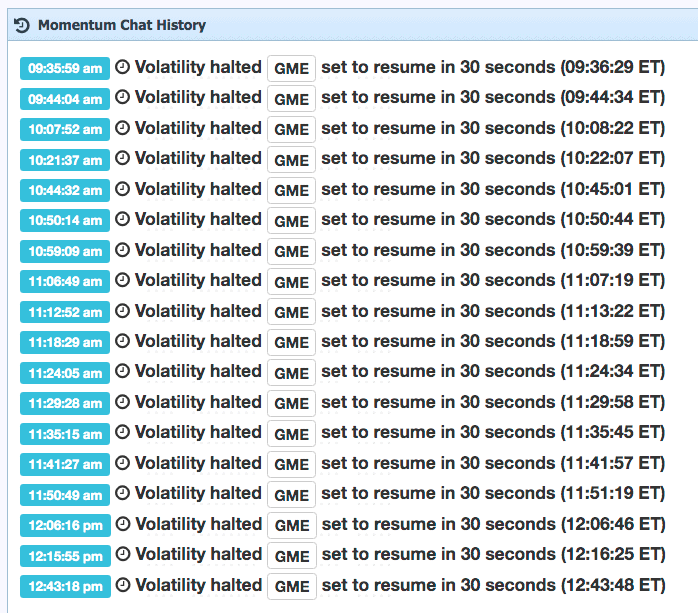 What happens when the stock is un-halted? Flip a coin.
A stock may continue its wild run, or it may plummet as traders rush out of their positions.
As a trader, you should be aware of when a stock may be subject to a trading halt so you can decide whether or not you want to hold a position through that period of uncertainty.
15. Choose Your Broker Wisely
Many amateur traders and investors treat brokers as an afterthought. As long as they can buy or sell the stocks they are interested in, nothing else matters. Until it does….
Many traders learned this lesson the hard way this week as certain brokers restricted buying activity on certain securities. Many traders were forced out of positions despite having sufficient funds. It became apparent that brokers actually have quite a bit of influence on your trading.
While this move was unpredictable, it does highlight the importance of having a good broker. Many traders opt for commission-free brokers that aren't designed to support active traders.
There's a reason most serious traders prefer brokers that cater to active traders. These brokers offer more control, access to better short inventory, better platforms, and a host of other benefits that can make-or-break traders during periods of market volatility.
Do you need to switch brokers? Maybe, maybe not. At the very least, you should consider whether or not your broker enables you to facilitate your trading strategy effectively and efficiently.
16. Remember Gravity
We've talked a lot about hype and FOMO throughout this article. While these factors can fuel a stock for longer than most expect, one thing is for certain – reality will set in eventually.
Parabolic moves are subject to the laws of gravity – what goes up must come down.
Whether you are a bull or a bear, you need to keep this in mind. Every wild move has a top, and you don't want to be the trader left holding the bag. Earlier, we discussed the importance of not fighting a trend as a stock breaks out. The same logic applies to the backend. Don't underestimate how far and fast a stock can unwind.
Here is the Bitcoin chart from 2017-2019. Ran from $1,000 to $20,000 – then back down to $4,000.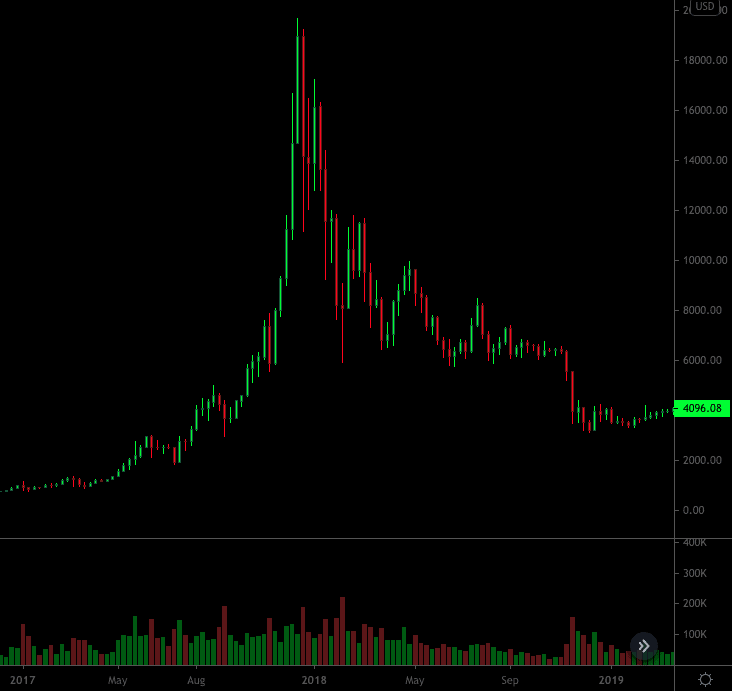 Here is the NKLA chart from 2020 until now – $10 to $90 and right back down to $20.
And KODK…..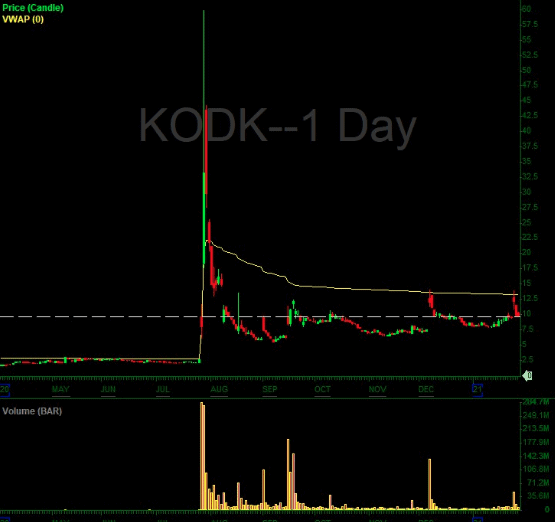 And DRYS…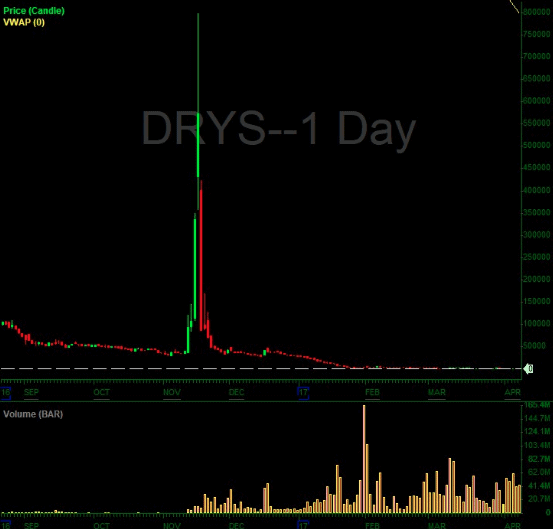 And SPCE…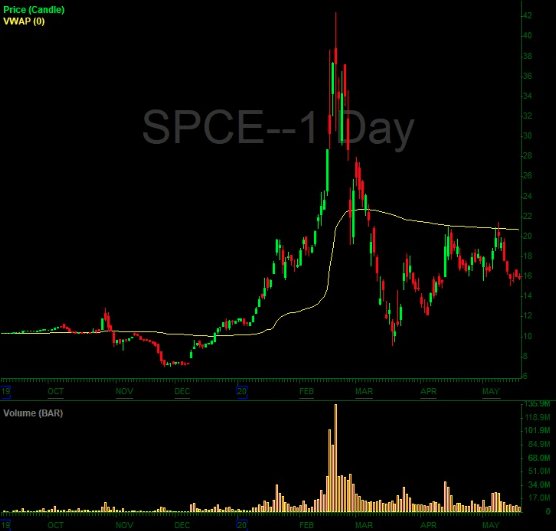 This isn't "bashing" or "pushing a short thesis." This is how these trades play out…
Parabolic moves (especially those with no fundamental basis) are unsustainable. Hype inevitably dies down and the market moves onto the next big thing. We see this in every market – whether it's TV shows, products, memes, or fashion.
Stocks are no different. As a trader, you need to recognize that the party will be over at one point and you should plan accordingly.
These recent moves have been positioned as an "US vs. THEM" battle (retail traders vs. funds). The movement has been effective during the frontside of the move and that's great – while it lasts…
The truth is retail traders are the ones who are going to get hurt when everything comes crashing down. Yes, a few hedge funds blew up, but retail traders will be the ones to lose everything. The people who buy at the top will see 50-80% of their investments dissipate. It's all fun and games on the way up, but someone will be left holding the bag in the end. Don't let it be you.
17. Take Away the Proper Insights
Every trade presents two opportunities (and they are not mutually exclusive).
The Opportunity to Make Money
The Opportunity to Learn a Lesson
The first opportunity pays you once and the second opportunity continues to pay you for the rest of your career (insert cliché "teach a man to fish" reference here).
As traders, we want to be right, but we also need to be right for the right reasons. Being right for the wrong reasons may pay you once, but it will likely lead to disaster down the line.
Take the GameStop trade as an example. If you entered the trade because you thought the company would see an uptick in sales with the launch of new game consoles, you were probably pleasantly surprised by how profitable your "thesis" was. Unfortunately, your thesis was incorrect. Other factors came into play and you got lucky (good for you – we would all welcome more luck in our trading).
If your takeaway is that you have a Buffett-level ability to predict company performance, you are gravely mistaken and will likely get burned on a future trade as you pile into the next debt-ridden company in a struggling sector.
If that example doesn't resonate, take a non-stock related example. You guess "A" for every answer on a 3-question multiple-choice quiz and you get 100%. If your takeaway is, "every answer on multiple-choice quizzes is "A"", how do you think you will do on the next quiz?
Whether you made money or lost money this week, take a step back to focus on why. What did you do right and what did you do wrong? Your goal is to find an effective way to replicate that success on the next trade.
You only need to get rich once. If you crushed it this week, congrats. Your next objective is to stay rich. Focus on what really works and don't give back your hard-earned gains.
18. Embrace the "Next" Mentality
Did you make money this week? Good for you…
Did you lose money this week? Sorry to hear that… 
Regardless of which side of the P&L chart you found yourself on, it's time to move on to the next trade.
Crush it – move on….
Get crushed – move on…
Your full attention should always be on the NEXT trade. How are you going to make that next dollar?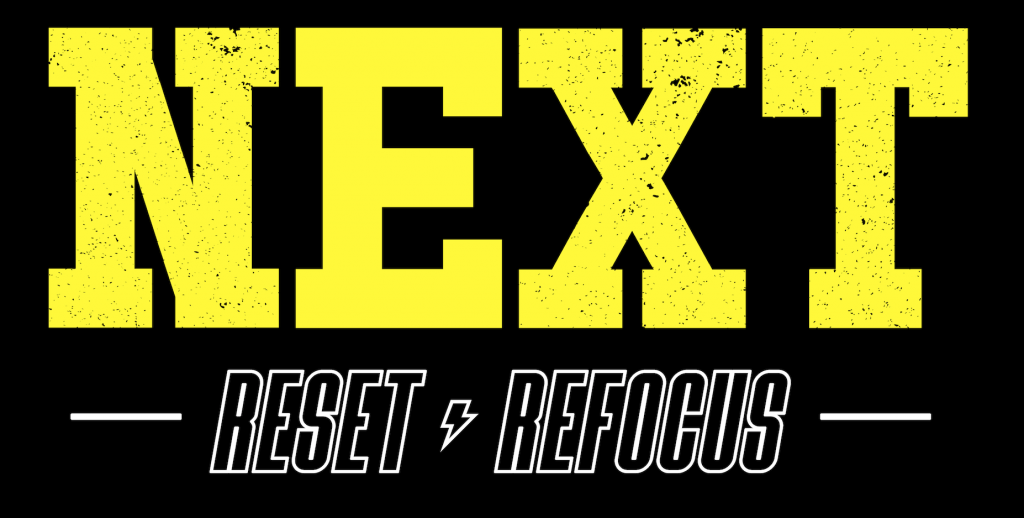 Take whatever time you need to recoup, relax, or celebrate, but there's no value in dwelling on past trades.
We are traders. We trade. It's what we do.
Get ready for the next trade and keep your eyes on the prize.
What Are Your Thoughts?
How did this week go for you? Did you make money? Lose money? What are some of the most valuable lessons you learned?
Share in the comments below and get the conversation started!