While the odds of becoming a successful day trader may be stacked against you, there are still thousands of day traders making a full-time living utilizing their own unique strategies. All of these strategies are different from each other, some varying drastically and others minimally. However, the one thing most successful traders have in common is that they trade their own strategy. Rarely will you ask a day trader how they make a living in the stock market and get the response, "I just follow that guy's alerts." Obvious? Maybe. Yet, we are still wired to chase instant gratification. Regardless of the fact that most people know making money takes time and hard work, there is still an allure to the idea that you may be able to make $X,XXX/day by following someone else' strategy.
Nobody wants to wait years to become a successful day trader and this impatience leads some traders to look for the fast track to success. Often times, this "fast track" is disguised as well-marketed services that boast about how profitable their members are from stock alerts.
"Check out this new trader who made $891,123  in 1 hour today off an alert" 
"Learn how to make thousands of dollars a day by following this simple strategy"
This approach to day trading is 100% wrong. Think about it, and I mean, really think about it. How many people do you know that make a consistent living by copying another trader's exact trades? How many millionaires attribute their success to pure mimicry? If the road to riches was that easy, everyone would quit their jobs tomorrow.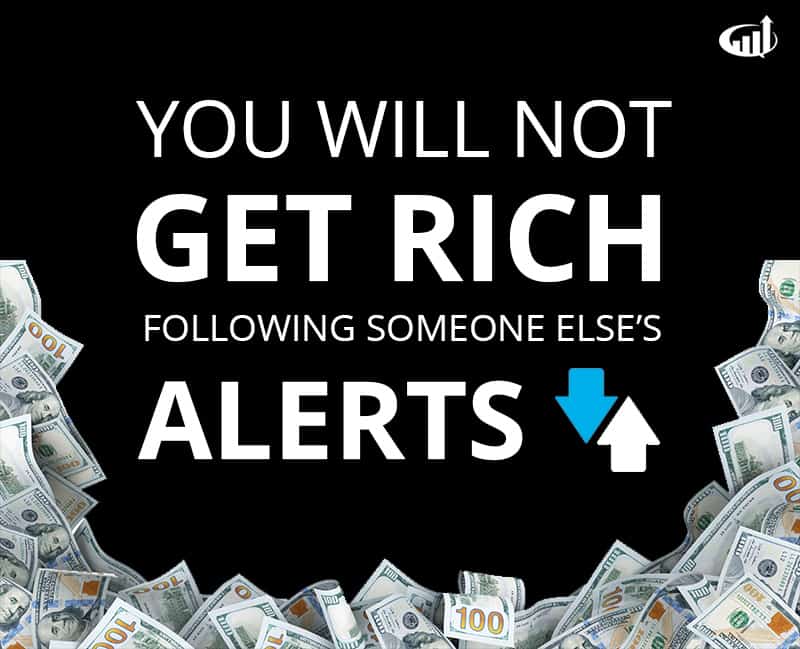 The main point of all of this – you need to be focused on finding your own success.
It's okay to learn from others. It's not in your best interest to mimic them.
Here are a few reasons why
Reliance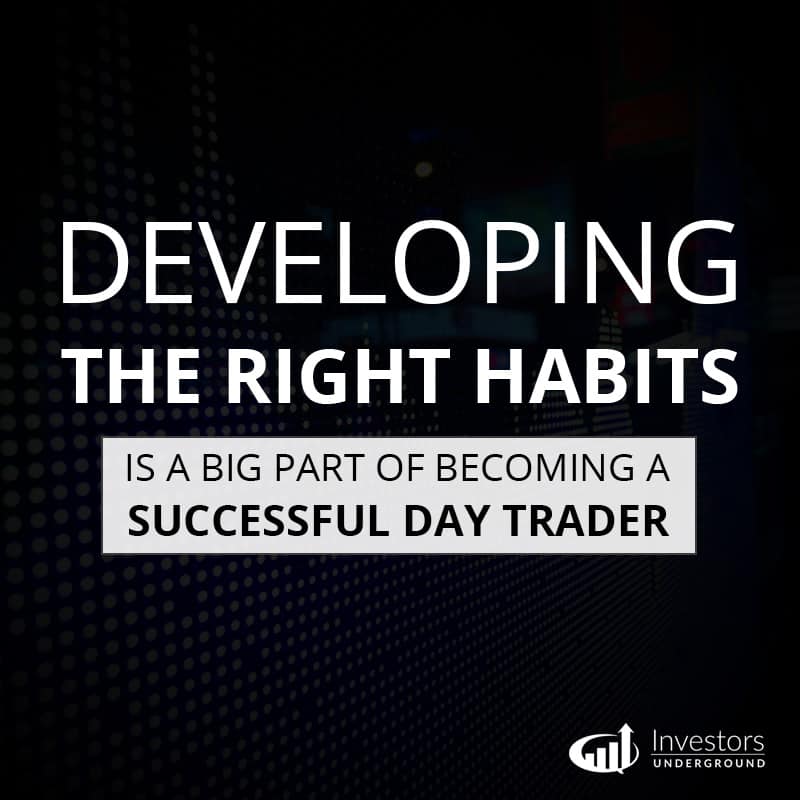 Developing the right habits is a big part of becoming a successful trader. If you merely copy the trades of other traders, you are hindering your own education process. You don't learn very much by entering/exiting a trade based on someone else's alert. Where is your edge? What makes you different than the thousands of other people doing the same thing without yielding any positive results?
When you start trading, your focus shouldn't be on finding the easiest way to make a quick buck. You should be focused on developing a genuine skill that will allow you to profit for years to come.
Look for support, but avoid crutches. Your trading strategy should never be reliant on another trader or "guru."
Self Sufficiency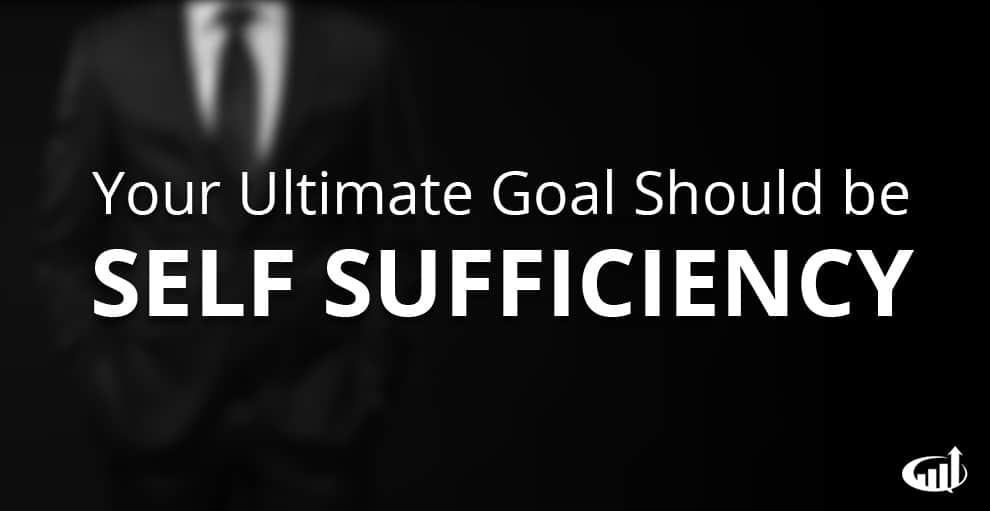 Being a self-sufficient trader means you control your strategy and, consequently, your income. This self-sufficiency allows you to thrive in the markets and constantly improve. Best of all, it means that you do not have to rely on other traders in order to take profits from the market.

Every single successful trader is self-sufficient. They are the drivers of their own success.
Sustainability
Relying on someone else is an unsustainable plan. What if they close their alerts service? What if market conditions minimize the effectiveness of their strategy?
If you want to become a consistently profitable day trader, you need to work on developing and fine-tuning your strategy. This will allow you to adapt to change and constantly improve your strategy.
Troubleshooting
If you rely on someone else's strategy, what happens when things go wrong? Let's say you enter a long position on a stock alert and the stock rapidly drops 10% out of nowhere. What do you do now? Panic time.
If you rely solely on the input of others, you'll never develop the agility necessary to react to trades in real-time. You will simply become a drone waiting for the next alert.
Focus on YOUR strategy and do everything you can to improve it daily. When you run into trouble, focus on WHY. The repetition of this process is what makes traders successful.
A few questions to ask yourself

Are you a self-sufficient trader?
There is absolutely nothing wrong with learning from others. In fact, other successful traders can be one of the greatest resources for you. That being said, are you on the path to becoming self-sufficient?
What is your strategy?
Being able to define your strategy is crucial. What kinds of stocks do you look for? Do you go long or short? What is your risk tolerance?
The more you know about your strategy, the better off you will be. If you cannot clearly define your strategy, focus on solidifying it over the upcoming trading weeks.
Do you look to others for idea generation, idea validation, clarity or buy/sell alerts?
I want to continue to stress the point that it is OKAY to have other traders influence your trading. Within the Investors Underground community, we all rely on each other in some way. Some traders are great at catching news before it comes out, some traders are great real-time scanners, etc.
There is nothing wrong with using other traders as resources. You just need to be conscious of HOW you are using them.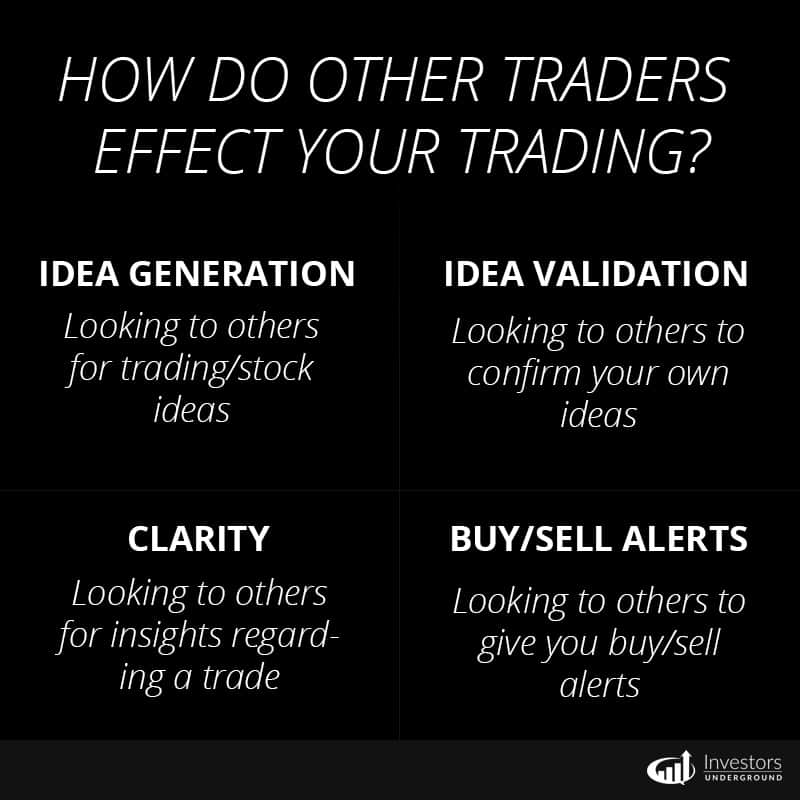 Let's clarify what each of these are:
Idea Generation – Getting trade ideas from other traders (i.e. reading another trader's watch list or calls in chat).
There is nothing wrong with using other traders to help generate new trading ideas. Just be careful of how reliant you become on this practice.
Idea Validation – Validating your own ideas through other traders (i.e. you see a long opportunity on stock XYZ and you go to chat rooms to see if others are thinking the same thing).
While it can be insightful to see how other traders are handling a stock's move, you must keep in mind that the majority view is not always correct. Just because everyone is short, doesn't mean that you should be too. If you are constantly looking to other traders for validation, you may neglect some of your better trade ideas. Focus on formulating your own hypothesis and have some confidence in yourself.
Clarity – Looking to other traders to provide more insight (i.e. stock XYZ spikes up 20% out of nowhere and you cannot figure out why so you see what other traders think).
Looking to other traders for clarity is a great way to use all of the resources you have at hand. Let's say a stock is running on a recent SEC filing that you don't know about. You can spend hours trying to figure out what caused the move, or you can use the power of your community to figure it out faster.
Buy/Sell Alerts – Buying and selling based on another trader's alert (i.e. Buy stock XYZ at $10 for a breakout).
Buying based on another trader's alerts can be foolish. This is barely even trading. Trading requires thought and skill, not mimicry. While you can sometimes make money by copying alerts, it's far from a sustainable strategy in the long term.
The Challenge
As you continue to work on your trading, try to eliminate all of your crutches. Do you rely on alerts? Do you require validation before fulfilling your trade plan? You do not need to become a master trader overnight, and it is okay to learn from others, but your end goal should still be self-sufficiency. Do everything in your power to achieve this goal.