It can be tricky to find your niche in the market. While many successful day traders make a great living from day trading, the majority of traders fail. Don't let that statistic scare you. Instead, let it ground you and help you take a disciplined approach to your trading. If you are considering becoming a day trader, you want to make sure you give yourself an edge. The best way to do this is through education. Study the market constantly. The most successful day traders are constantly learning new things and adapting to new situations.
Typical education consists of books, videos, courses, etc. While these forms of education are crucial, they cannot prepare you for every situation you will face when day trading. This is where paper trading comes in.
What is Paper Trading?
Paper trading is simply day trading without real money. You record entries, exits, and position sizes without actually placing trades. Some people will use paper trading software, while others will just record their trades on the computer or on paper (thus, the name). Paper trading allows new traders to get a feel for the market without putting their capital on the line. For example, let's say you've been working on your trading strategy and believe AAPL is going to breakout at $100. When the stock hits that point, you would record your entry. When you felt like it was time to sell,  you would record your exit. Later, you could come back and analyze all of your trades to see what you did right and wrong.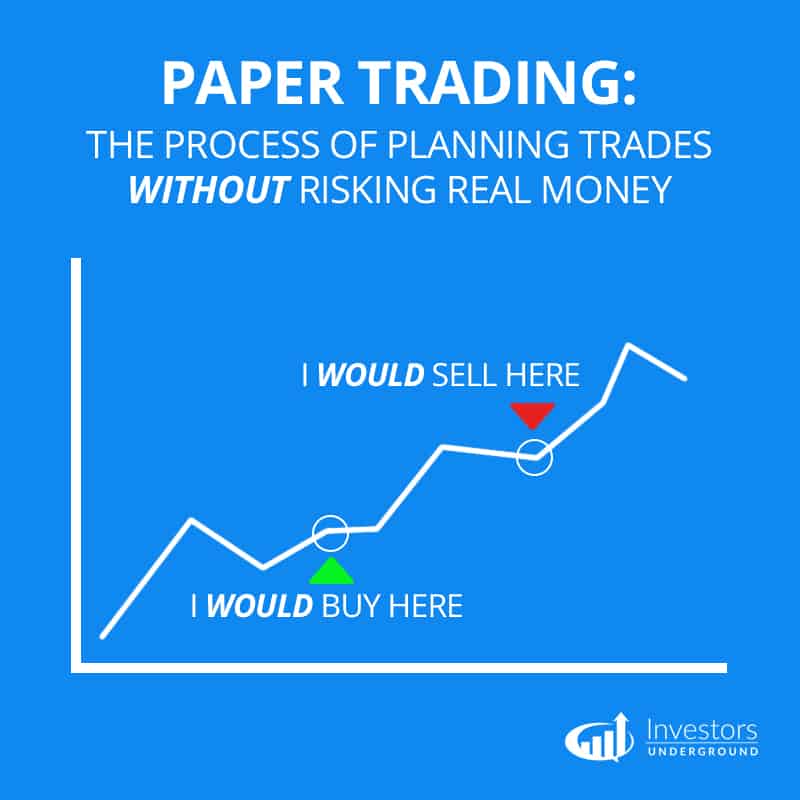 Why is Paper Trading Important?
Paper trading is a more "hands-on" approach to your day trading education. You can be a market genius in theory but fail in practice due to unforeseen circumstances. Paper trading prepares you for the decisions you will have to make on a daily basis as a day trader. It can teach you things you would not learn from other educational sources.
For example, let's say you spend hours and hours studying stock charts and finally come up with a killer strategy. You've found a way to find stocks that are about to breakout minutes before it happens. So, now what? You could test your strategy with real money, but if you are new to the market you may not have accounted for everything. How do you size into the trade? When do you exit your position? What happens if the stock pulls back a bit after it breaks out? What happens when new catalyst, such as a PR, is thrown into the mix?
No form of education is going to answer EVERY single one of those questions for you, nor will it be 100% relevant to your personal trading style. Preparation is everything and you can never be too prepared when you're putting your money on the line. Paper trading is a zero-risk method for testing your trading strategies.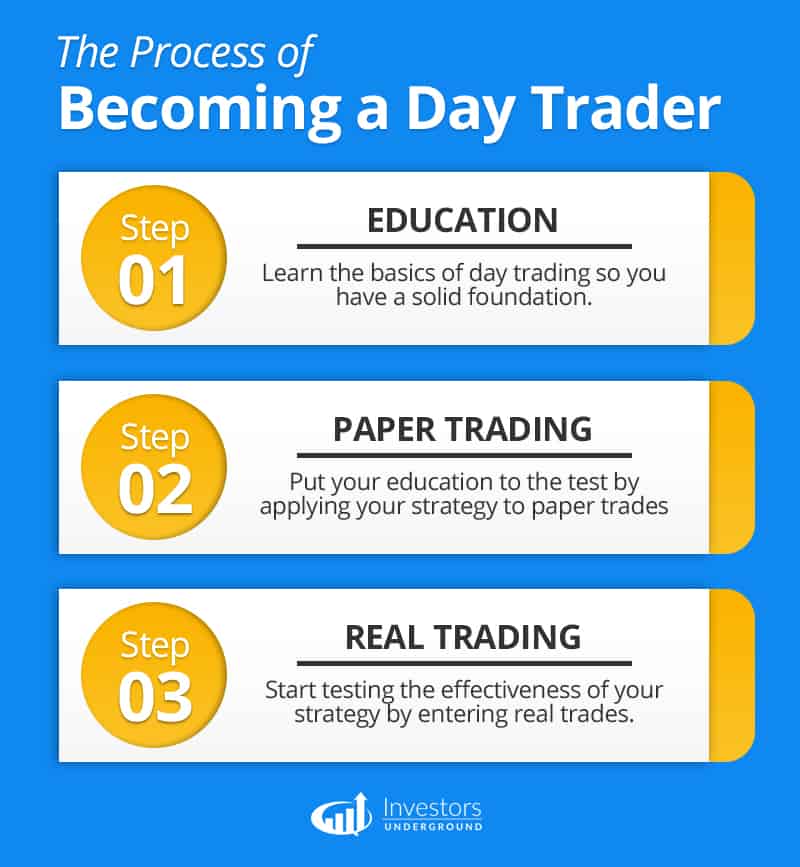 Who is Paper Trading For?
Paper trading is particularly useful for traders who are completely new to day trading. As mentioned above, it gives you a chance to test out your strategy before risking your hard earned money.
Many new traders are anxious to start day trading right away and want to skip the paper trading phase. While this excitement to trade is understandable, it can lead to issues down the line. Traders should not let their ambitions cloud their judgements. Let's say you've come up with the best strategy in the world and are about to make billions of dollars. Can't it wait a few weeks or months so you can test it out first? After all, if it's a good strategy, it will stand the test of time.
Paper trading is also good for traders who find themselves in a rut. Trading is complex and can take an emotional toll on some people. Sometimes, it's important to go back to basics and remove all emotions from trading. When you paper trade, there are less emotions involved because you are not risking your capital.
Paper Trading Tips
Paper trading can be a valuable tool, but there are a few things you need to keep in mind. It is supposed to be an educational tool that simulates a real trading experience. Here are a few tips to make the most of paper trading.
Record Everything
When keeping track of your paper trades, don't simply record your entry and exit prices. Record as much detail as possible. Here are a few things to think about:
Why did you enter the trade?
Why did you exit the trade?
How many shares did you buy and why?
What was the risk/reward ratio of the trade?
Did the trade go in your favor? If so, why? If not, why?
What did you learn from the trade?
Keeping track of all of these details may seem tedious at the time, however it will significantly improve the value you take away from paper trading. When you come back to analyze your trades at a later point, you will have a lot of data at your disposal. For example, you may find that you exit your positions too early out of fear for losing profits or you've had a lot of losing trades when using a specific technical indicator. These insights will help you improve your strategy.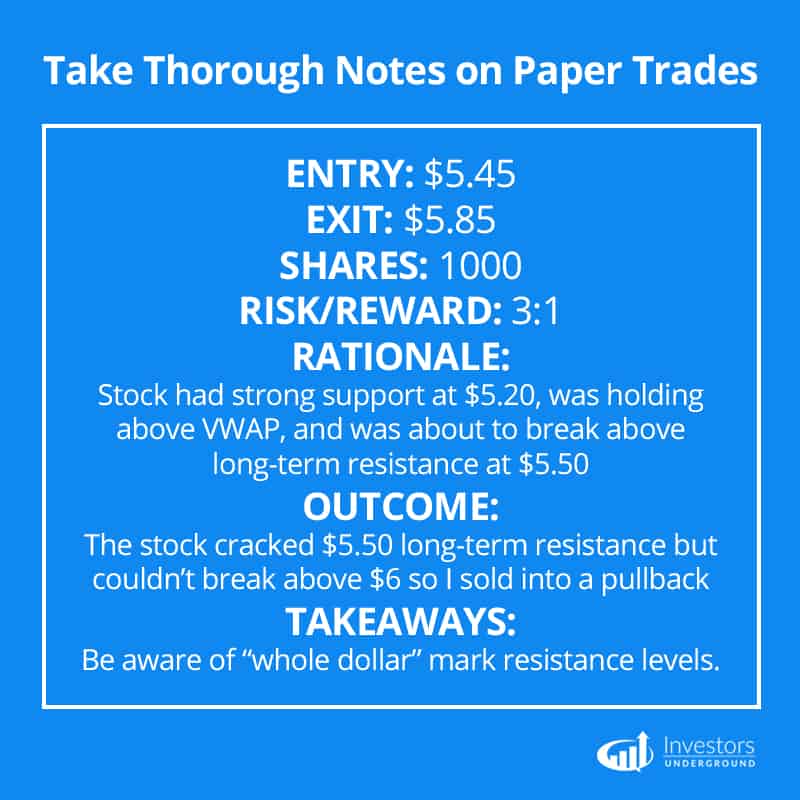 Be Realistic
A lot of online paper trading simulators will allow you to open accounts with $100,000, $200,000 or $1,000,000 of fake money. This will NOT help you. As fun as it may be to play around with hundreds of thousands of dollars, it is not conducive to a positive learning experience. You should only be paper trading with an amount of money you would realistically fund a trading account with. This approach will help you actualize every single loss and gain. If you lose $1000 on a fake $100,000 account, it doesn't seem so bad. If you lose $1000 on a $5000 account, it will be more noticeable.
An unrealistic paper portfolio will also enable you to enter positions you wouldn't be able to enter with real money. For example, let's say you buy 1,000 shares of AAPL at $100 and sell it at $101 for a $1,000 profit. That looks like a nice profit on paper, but how does it convert when you open a $5,000 trading account in real life? Not well. If you want to make the most of your paper trading experience, be realistic and focus on simulating the exact strategy you plan to use with your real portfolio.
Go Back and Analyze Your Trades
Paper trading alone is not enough to give you the insights you need to improve your trading strategy. You need to go back and analyze your trades. Look for patterns. Pinpoint the things you were successful at and the factors that led to losing trades. The goal is to come away with actionable takeaways, such as "I tend to lose money on short trades but make money on long trades. Avoid short trades in the future." These actionable takeaways will allow you to refine your strategy so you are more prepared when you start trading with real money.
Once you have a few insights, repeat the process and try to improve your success rate.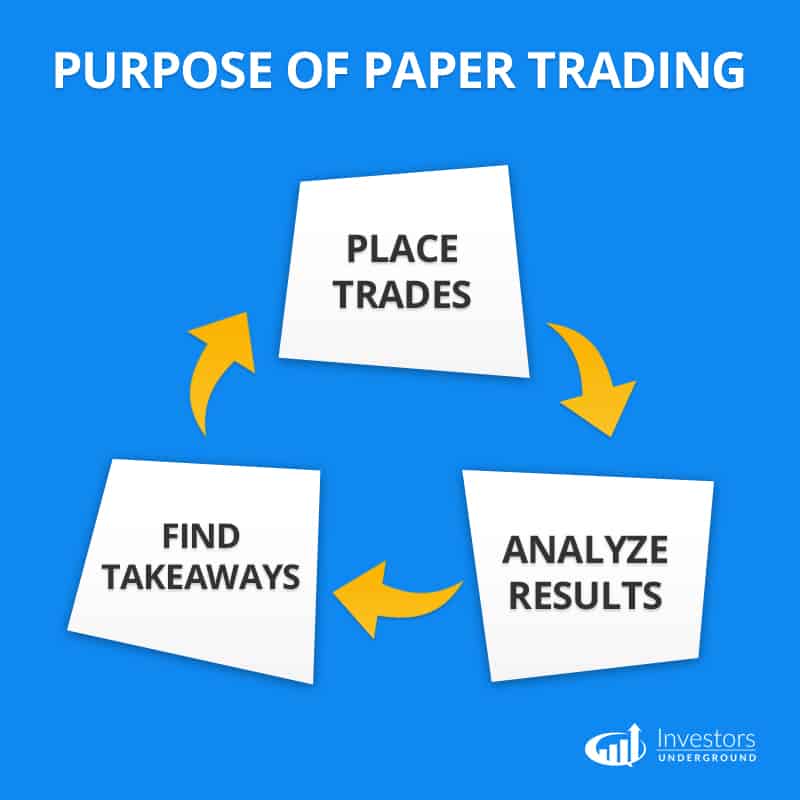 Understand the Difference Between Paper Trading and Real Trading
Paper trading is an educational tool; it is not real trading. Paper trading is very helpful for bridging the gap between trading theory and practice, however it is not identical to real trading. In real trading, there are a lot more emotions involved. A $100 loss may not hurt on paper, but there may be an emotional response in real trading as you realize you just lost the amount you spend on your monthly cell phone bill.
The lack of emotions in paper trading is both a good and bad thing. On a positive note, it allows you to completely focus on your trading strategy without letting emotions interfere. Essentially, this is what all day traders are trying to achieve. That said, as much as we strive to avoid emotions in trading, they will always be there to some degree. Make sure you are prepared for this shift when you switch from real trading to paper trading.
Another thing you should be aware of is liquidity. To put it simply, liquidity is what allows you to buy and sell stocks with ease. On paper, you can buy and sell any stock in any volume. When you actually trade, this is not always the case. You will not always get the entries you want and you may not get the position size you want. This shouldn't make or break your trading strategy, but it is important to keep in mind.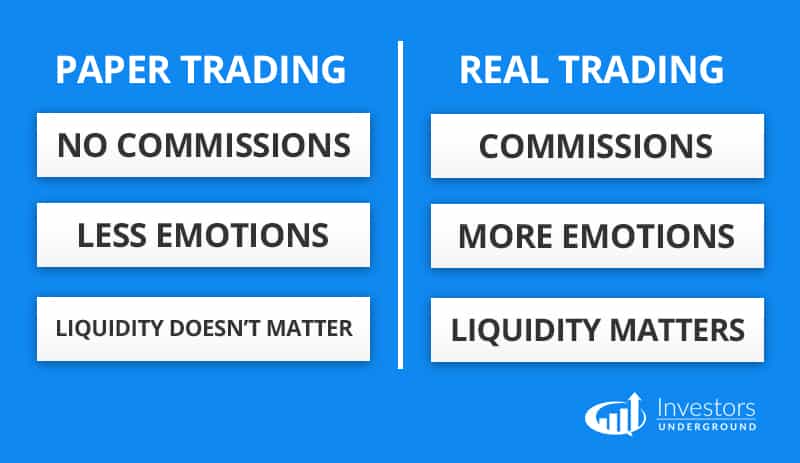 What is Your Experience?
Many traders in our community started out with paper trading. What are your thoughts on it? Share some insights in the comments of this post!