If you were to dissect the structure of the stock market, you'd see that it consists of billions and billions of numbers moving at fractions of seconds. This dynamic structure creates the price action and patterns that we look for as day traders. Of course, we know that we cannot focus on every single moving number in the stock market, so we attempt to narrow our focus. The more we can narrow our focus, the better off we will be. Think about it this way: if you only had one indicator that could tell you to buy or sell with 100% confidence, trading would be incredibly simple. Now, obviously that is an overly exaggerated example and realistically unachievable, however, it speaks to a bigger point. The more noise you can eliminate, the easier decision making will be. The easier that decision making becomes, the easier day trading becomes. Therefore, it should be your goal to reduce the variables in the decision making process as much as possible.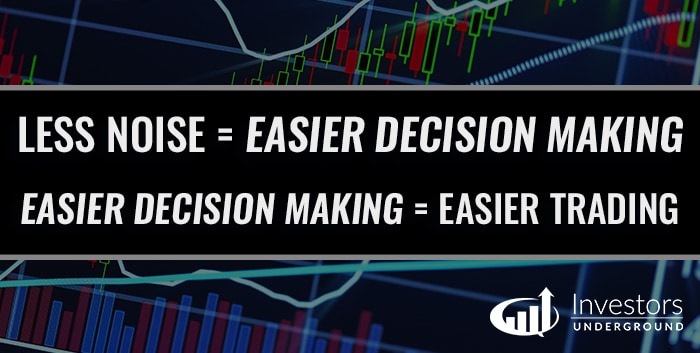 This doesn't mean that you should place trades without rationale. It means you should simplify your decision making process to the point where you are only using the most beneficial data. For example, if you need to check a stock's RSI, MACD, trailing moving averages, and read the company's entire press release history before placing a trade, you are over-complicating the process. Even if this strategy was effective, it is definitely not efficient. It's important to remember that you don't need to be right 100% of the time. You just need to be prepared to be wrong and have a plan to act accordingly.
Here are 3 ways you can simplify decision making in trading.
"Right or Wrong" Triggers
One of the most tolling psychological burdens of trading is trying to guess the unknown. Your brain can think of thousands of reasons to stay in a stock or exit. Think about when your in a losing position and you start rationalizing by saying "It has to bounce soon!" or if you're in a winning position thinking "If it goes higher, I'll be mad I sold early." These thoughts are detrimental to your decision making process and they are indicative of an uncertain mind state.
Everything you do in trading should be intentional (to the best of your control). If you are dealing with 1000 theoretical scenarios in your head, your judgment will get clouded and your decision making abilities will be hindered. Focus on creating situations that allow you to be clearly right or clearly wrong. This means you need to define metrics that allow you to be right or wrong. For example, if a stock is at $11 and you go long, you may decide your plan was wrong if the stock cracks $10 and your plan was successful if the stock reaches $14. These are definitive metrics that will allow you to make emotionless decisions on the spot. You know exactly when to sell whether you were right or wrong about your trade plan. Combine this tactic with the proper money management strategies and you will be on the right path.
The determinant factor for the success of this method is the specificity of the metrics you use. You need to specify quantifiable trigger points. "I'll be out when I lose a lot of money" is not specific and won't help you at all. You'll likely start rationalizing and acting emotionally. Contrarily, saying something like "I'll stop out when the stock cracks $10," or "I'll cut losses at $100 or take profits at $300″ is measurable and can allow you to sit back and let the trade pan out. Of course, the success of this approach is dependent on your ability to execute the plan without emotion.
Intentional Actions
In a previous post, we discussed the importance of creating trading goals that you can use to benchmark your success. If you set these goals, you can assess any situation with ease. Just ask yourself the following questions:
Will this trade setup help me achieve my goal?
Does this trade setup align with my overall strategy?
So, let's say you set out to make $100/day by short selling pump-and-dump stocks. One day you hear everyone talking about how much money they are making on this biotech runner that is up 200%. Without a clearly defined goal, it can be tempting to try to get in on the action. At that point, you are entering unknown territory and the outcome will be unpredictable. If you step back and ask yourself the questions from above, you can easily avoid this situation without thinking twice. "Will this trade setup help me achieve my goal? No – I set out to make $100/day so I shouldn't be concerned with what everyone else is making. Does this trade setup align with my overall strategy? No – I short pump and dumps and this is a long play on a biotech runner."
This approach may seem restrictive, but it's really designed to be protective. If you are serious about your success, every action you take should relate back to your ultimate goal. If it doesn't, there's no decision to be made; the decision is simple.
Eliminating Emotion from Stock Trading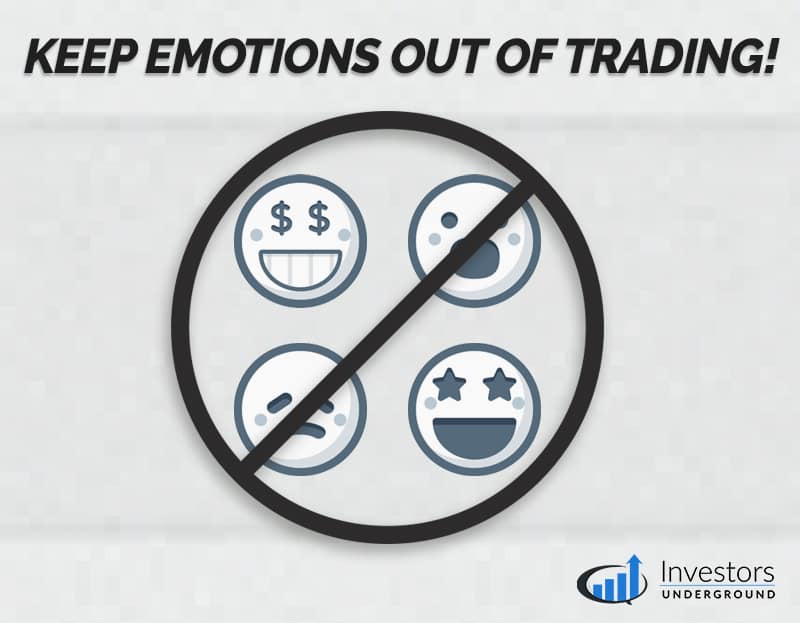 Freeing yourself from emotional influence is arguably one of the hardest parts of trading. This is part of the reason why paper trading results don't always reflect the results someone would get while trading real money. That's okay though. You can never eliminate 100% of your emotions, but you can be conscious of them and recognize when they become a hindrance to your success. Try to become as robotic as possible when trading. After all, there's a reason why so many firms use algorithms instead of real traders, but that's another story.
So, how do you combat emotions in trading?
Step 1: Pinpoint the emotion and it's effect. For example, let's say you created a well rounded plan and go long on stock XYZ for a breakout. Although your plan was correct, you ended up exiting your position early because the stock dipped before breaking out. The emotion you experienced was fear and the effect was exiting your position prematurely.
Step 2: Diagnose the issue. You now know that fear caused you to exit your position early even though you had a perfect plan. So, what caused the fear? Did you buy too many shares? Were you impatient? Did you doubt yourself? Once you pinpoint the reason behind the emotion, you can focus on eliminating this pitfall.
Step 3: Eliminating the issue. Let's say you realize that fear caused you to sell prematurely because you bought too many shares. Now, this is a simple problem to fix. Simply buy less shares the next time you enter a position.
This approach is relatively simple. Pinpoint the emotion > Understand what triggered the emotion > Combat the emotion by eliminating the trigger.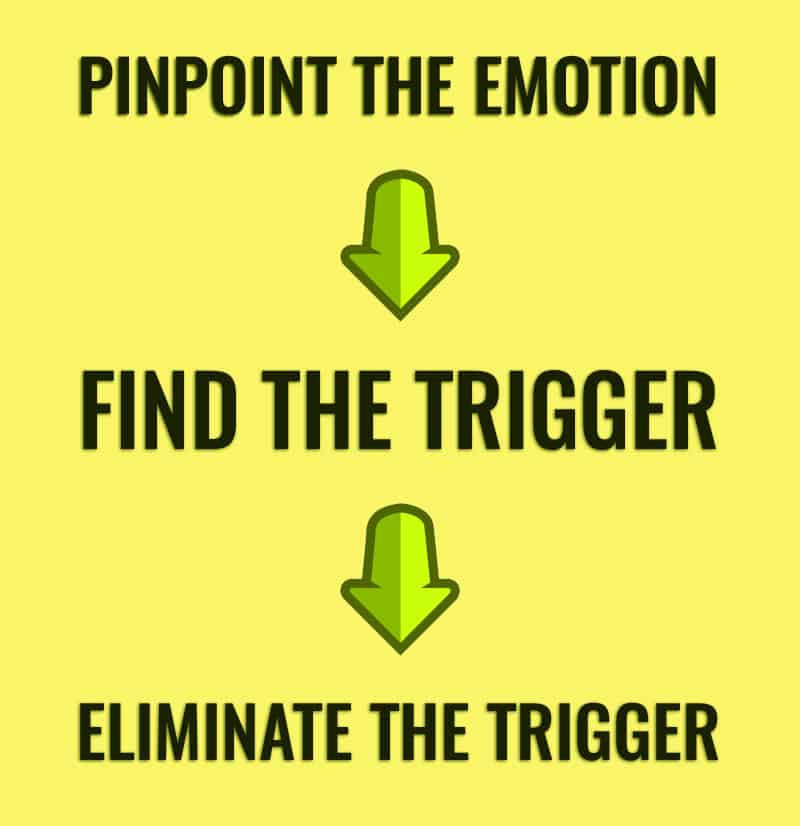 Of course, this requires a lot of introspection and self-analysis, however if you continue to do this over time, you will become better at it. Try to be more conscious of the emotions that control your actions when trading. Record them in your trading journal if you need to. You are the driver of your trading success, so the better you understand yourself, the better you can become at trading.
Wrapping things up
The ultimate goal of this blog post is to have you focus on simplifying the decision making process. Whenever you find yourself asking tons of questions or rationalizing a situation, you are probably not trading as efficiently as you could be. Focus on minimizing the amount of factors that go into your decision making process so you can develop a simple trading strategy that will stand the test of time.