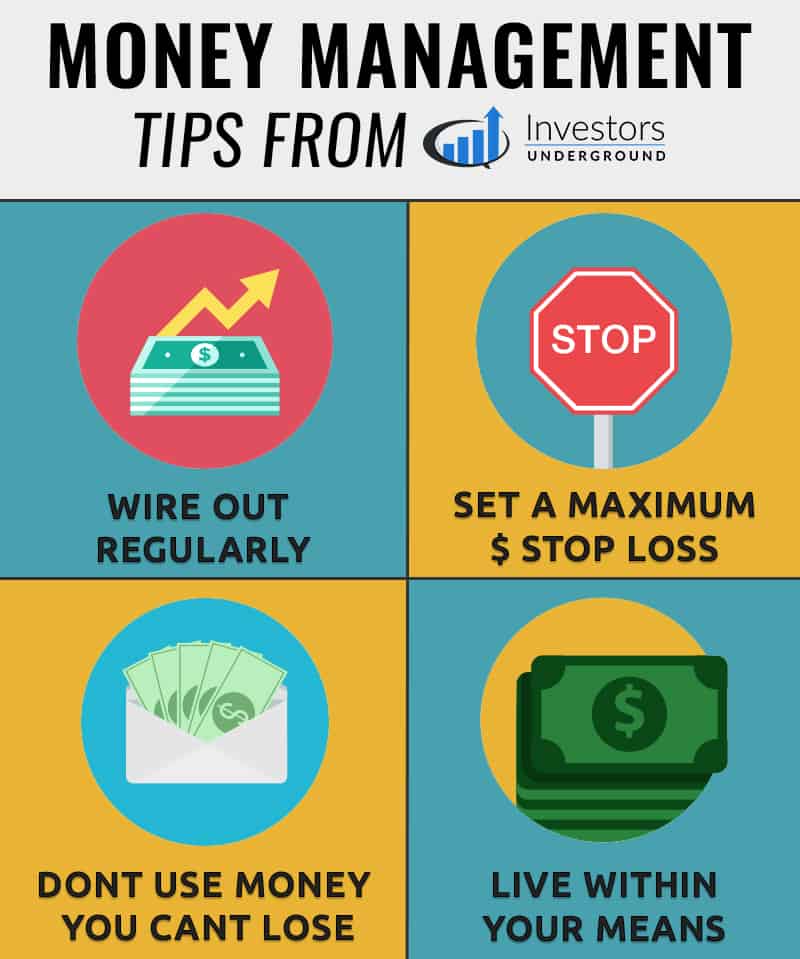 There are so many people out there who want to become successful day traders. You see the opportunities that day trading has provided for other successful traders and you attempt to create these opportunities for yourself. This ambition is great because it will help drive you on your journey, but you need to make sure your ambition doesn't cloud your rational thinking. The potential of making big profits in the stock market can be a great motivator, however it can also cause some traders to act irrationally. Make sure you use your ambition as fuel to move you forward, but don't let it blind you on your quest for success. Becoming a successful trader is all about having good discipline and making sure you manage your capital properly. You should not attempt to get rich over night. Day trading success is a process.
We've discussed the 7 mistakes new day traders make as well as the 6 most costly day trading mistakes I've made. Another big mistake I see new traders make is failing to focus on money management.
Most aspiring traders put a lot of focus into their trading education. They study trading strategies and chart setups in attempts to have a better chance of mastering the markets. This focus is great, however many traders forget that they need to focus on day trading money management skills as well. When you get started day trading, the last thing you want to do is blow up your account and get taken out of the game. Your focus should be on preserving capital and trading intelligently. Even successful day traders can get taken out of the game if they do not manage their money properly. Make sure to spend some time focusing on money management skills as well as trading skills.
Day Trading Money Management Tips:
These strategies provide structure to my trading and help protect me from unnecessary losses. Utilizing these strategies has helped me save a fortune over my career. When I follow them, I do well. When I neglect them, I expose myself to unnecessary risk and pay the consequences.
Wire Out Regularly
There's definitely a thrill associated with growing your trading account. As you become a more consistent trader, you will see profits roll in on a regular basis. It's exciting to see your account balance gradually increase over time. That being said, you cannot let the success go to your head because it can hinder your trading abilities.
Whenever you have a great trading day where you take some large profits, it can be tempting to try to repeat this success the next day. Whenever I get over $100,000 in my trading account and find that I am trading wildly the next day, I will wire out and take my balance to $60-70,000. Why do I do this? The answer is simple. When you wire money out of your trading account, you protect your gains. Sure, it can be exciting to trade with more money, but you are also exposing yourself to additional risk. You may start trading wildly and making irrational decisions. Think of wiring out as paying yourself; you are taking a salary from the markets. This makes trading less stressful as well.
When I started trading (before I got to the "point" I wanted to be at), I would wire out regularly until I was inspired in Gregg's interview to stop settling for less than my potential. The best traders I know do not HAVE to make money. Once I no longer had to make money trading, it became a whole lot easier. Currently, I've been letting my accounts grow as I test the waters on new levels and strategies, however to get here I wired out regularly along the way. The more you wire out and pay yourself, the more you stick away in your savings, which means you will be less emotionally tied to the money in the market. THAT IS KEY.
I've seen the importance of wiring out through few traders in chat as well. A trader will have a life changing day where they take $30,000+ profits. Some traders take my advice and wire out so they can preserve their capital and trade without emotion, while others get overambitious and lose it all. Don't get taken out of the game after a life changing trading day. Pay yourself so you can stay in the game and have more great days!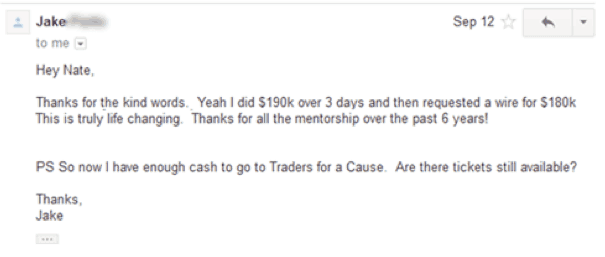 Have a Max Dollar Stop Loss
Having a max dollar stop loss is a great way to protect your trading account. A max dollar stop loss is a trading loss that instantly tells you that you were wrong about the trade and need to get out. This number will vary per person depending on their account size. For example, one trader may have a max dollar stop loss of $500 while another may set theirs at $5,000. If your max dollar stop loss is $500, you need to immediately exit the trade when you are down $500. There is no rationalizing – no ifs, ands or buts. You get out of the trade and move to the next one. It's easy to start rationalizing, but that defeats the purpose of this money management strategy.
If your max dollar stop loss is $500, you should never have a loss over $500. This keeps you from blowing up your trading account with one trade. Sure, you may think you can recoup the losses, but that is a form of rationalizing. You could just as easily lose $1000, $2000, $5000, and then blow up your account.
When choosing your max dollar stop loss, make sure to choose a number that is right for you. Can you come back after a $1000 loss? If not, set a lower one. Remember, this doesn't mean you always wait to exit a trade until you hit your max stop loss. The max dollar stop loss is just your last line of defense; your ultimate fail-safe.

Don't Trade What You Can't Afford to Lose
You should never trade with the money that you need to survive. If you are trading with the money you need to pay your bills, you will be stressed and trade irrationally. Only trade with money that you can afford to lose. Obviously, you are not going in to the market expecting to lose, but you need to prepare for the worst in order to protect yourself financially.
You should never trade to try to pay the rent. You may have a bad trading day, week or month, and you need to be prepared for that.
I recommend that traders save up 2 years' salary and find consistency before making the transition to full time day trading. This ensures that you can live comfortably and securely. Once you have that security, you can make more intelligent trading decisions. You are not trading because you have to make a quick buck. You are trading strategically and unemotionally.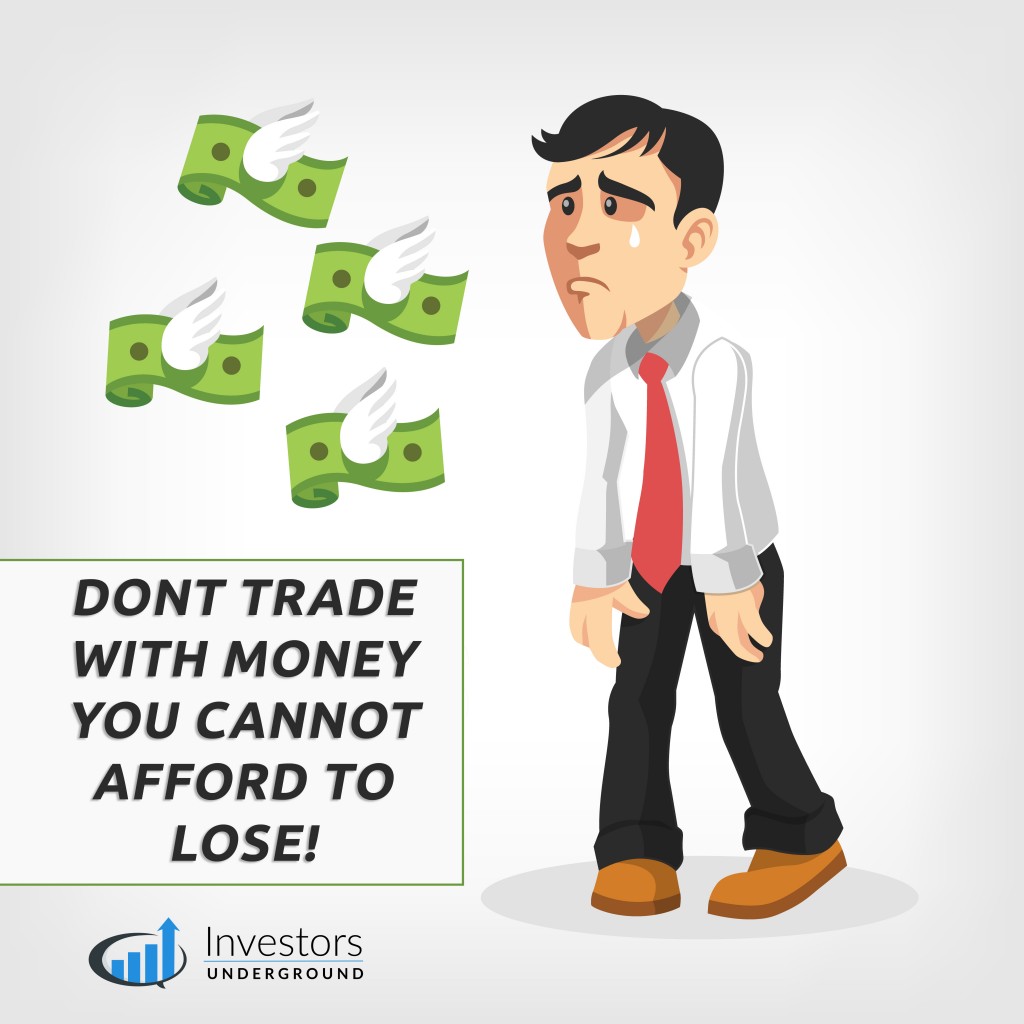 Live Within Your Means
Many traders are attracted to the stock market because they see the exotic lifestyles of successful day traders. The allure of fancy cars and extravagant vacations can actually become detrimental to your success. Yes, these luxuries can be motivating, however they also take your focus away from trading. You shouldn't be trading so you can save up for that BMW you always wanted. Your focus should be on growing your account and becoming the best trader you can be.
A focus on material objects can hold you back. A lot of people start living out of their means when they first start seeing some nice profits. They start spending all of their profits instead of growing their trading accounts. Don't be a victim of this mentality. Do you want to keep up with the Joneses or do you want to become a great trader? As I always mention, one of the best traders I know drives a mini van! Your goal shouldn't be to look successful; you want to be successful.
When I first started trading, I made nearly $900,000 at the very young age of 21 and ended up losing it all due to over trading, trading to get back, dumb business decisions and quite frankly had to start over from $0. While this loss was devastating, it did not take me out of the game because I wasn't living out of my means. I did not have debt and I did not buy things I couldn't afford. As Gregg (@lx21) says, "Don't buy one unless you can afford to buy two."
This doesn't mean that you shouldn't live it up and have a good time. You should definitely reward yourself for your hard work and dedication. That being said, you don't want to start building a lifestyle that you cannot sustain. Not only do these extra expenses expose you to more risk, but they also make it so your happiness becomes centered around material things. If you go this route, you will never be happy. It will never be enough. Let the intrinsic rewards of being a successful trader drive your happiness and constantly focus on improving your craft.
Wrapping Things Up
Proper money management skills can make or break your success in the stock market. Protecting yourself from a $1000 loss is just as valuable as working for a $1000 profit. I want to make sure that all traders at Investors Underground stand the best chance of succeeding in the market.
Make sure you are constantly focusing on preserving and growing your account balance. The 4 money management tips I mentioned above have helped me a lot over my trading career. Focus on applying these rules and finding some money management rules of your own. As always, good luck with your day trading!