As day traders, we all strive to get perfect entries on our trades. You know, the entry where you are green on the trade right from the start. While it's nice to catch the exact top or bottom on a trade, it's much easier said than done. That said, your entries don't need to be perfect for a trade to be profitable. If you follow a few basic trading rules, you can plan better entries and, consequently, better trades.
Patience
It's very easy to get trigger-happy when you are sitting behind the screen hunting for trades. The mere act of "doing something" can seem more productive than doing nothing at all. As we discuss time and time again, it's important to act intentionally and save your buying power for prime setups. When considering entering a trade, patience is key.
You don't need to watch the stock like a ninja waiting to pounce on the perfect entry, BUT you do need to give yourself the best chance of executing a profitable trade. Your entry is key to the success of your trade and will heavily influence your exit.
Before entering a trade, make sure you are initiating a position for the right reasons. Many traders enter trades impulsively and have buyers' remorse immediately after. Remember this: it's better to wish you were in a trade than wish you weren't. If you miss a trade, there will always be more trading opportunities. If you enter a bad trade, you can put yourself at risk of taking unnecessary losses or even blowing up your account.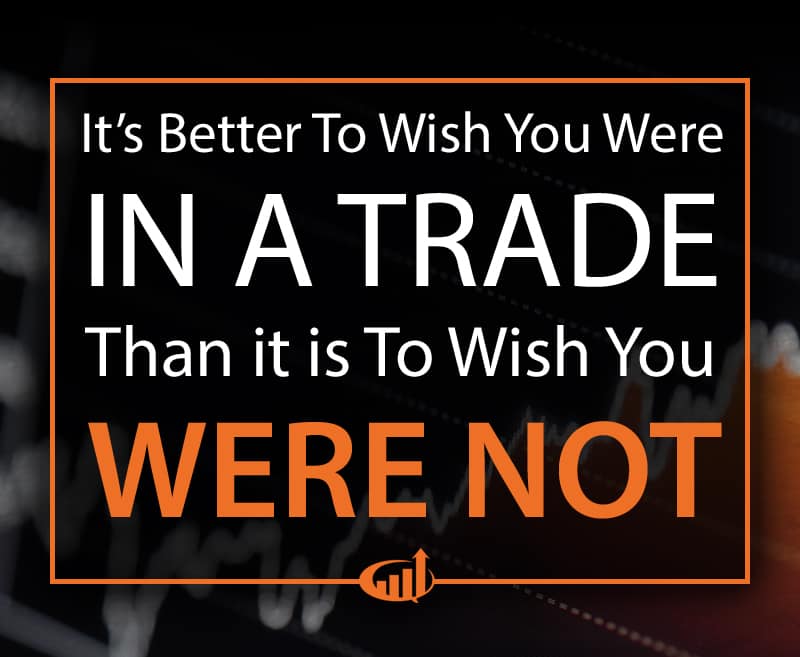 Reference the Daily Charts
After staring at a 1-minute chart for hours, it's easy to get tunnel vision and forget that every stock has a history. This history is vibrantly illustrated on the daily chart and allows you to better understand the crowd you are trading with. Use the daily chart to pinpoint significant support and resistance levels.
Understanding important price levels can give you a better idea of where people plan to buy and sell. You don't have to enter a trade AT those levels, but you should be aware of them. As of recent, many stocks tend to break these daily support/resistance levels before settling back over/under them, which makes for great trading opportunities.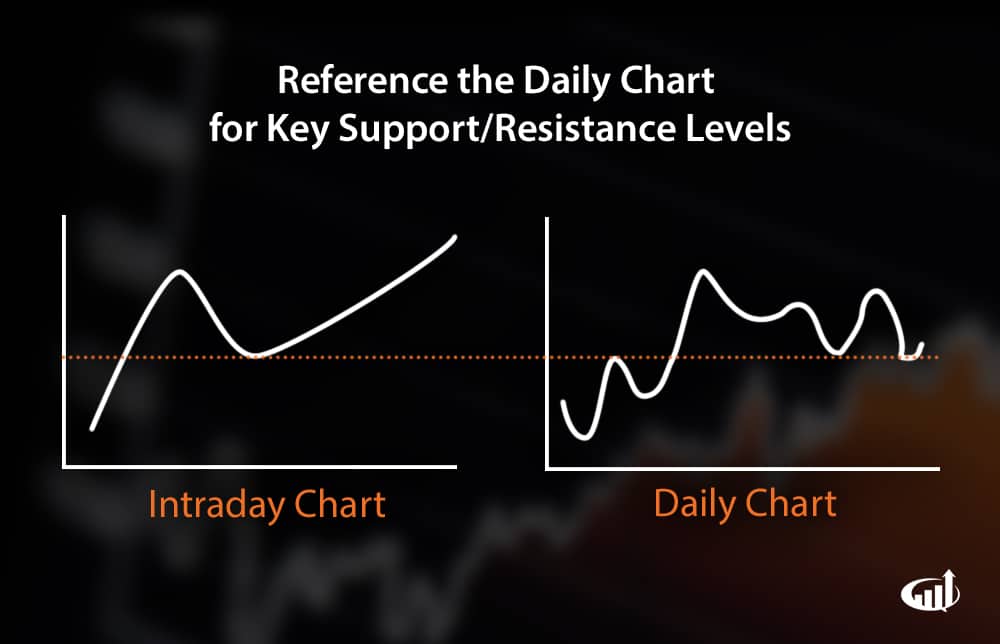 Add Liquidity
Many traders plan their trades without thinking twice about whether they are adding or removing liquidity. For those who are unfamiliar with the term, adding liquidity simply means you are buying on the bid or selling on the ask.
Liquidity can seem like an afterthought, especially if you trade with a brokerage where there is no financial incentive to add liquidity. That said, when you add liquidity to a trade, it generally means you have been patient and let the trade come to you. Decide a price you want to buy/sell shares at and place your order. If you get filled, great, you have a trade. If you don't get filled, that's okay – you can wait for the next opportunity.
This allows you to always have a plan and avoid placing reactive trades. Of course, there are certain situations where you have to remove liquidity, but most of the time, I buy/cover on the bid and sell/short on the ask.
Rethink Scaling In
If you are an active day trader, you are probably scaling into trades one order at a time. This means instead of buying your full position in one order, you split it up across a few. This allows you to mitigate your risk and potentially increase the profitability of a trade. It's important to keep in mind that scaling into a trade doesn't just mean you are adding shares at random points.
If you are going to scale into a trade, there needs to be a good reason. Don't scale in just because you get greedy and want more profits or fearful and average down. Ask yourself if you would enter a position at any price point if you were not already in the trade. If the answer is yes, scale in. If the answer is no, don't.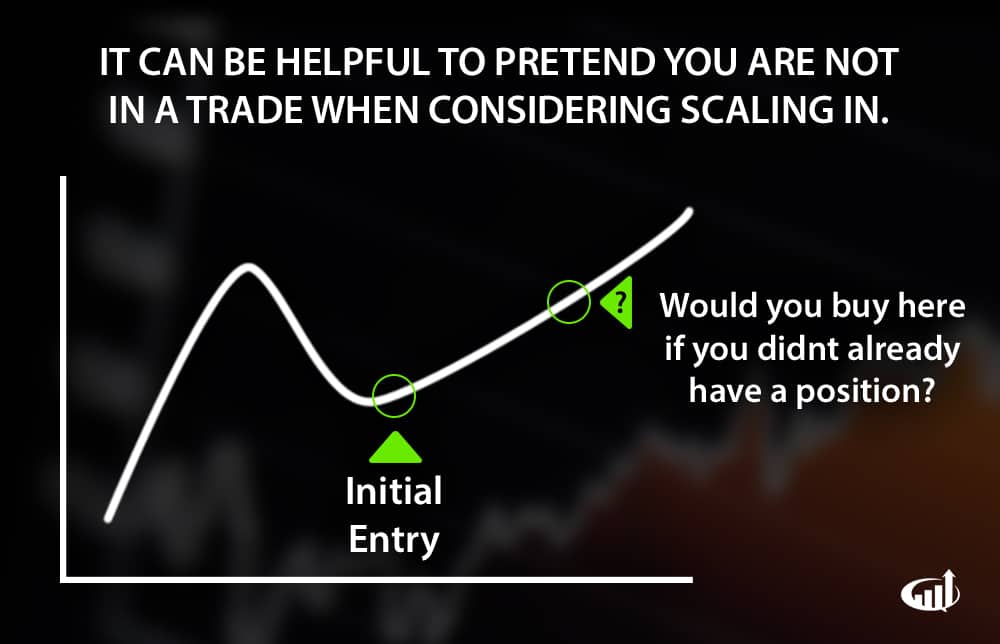 Planning Orders
When a stock has momentum or you are anticipating a breakout, it can be difficult to enter your trades and get the fills you want. At times like these, it makes sense to plan your orders. You can do this in-market by placing limit orders or out-of-market by preparing orders (making them easier to send to market at the right time).
This tactic speaks more to the point of getting the fills you want. If you don't have trades entered you could risk letting a stock get away from you. If you have the orders prepared, you can be ready for multiple scenarios and trade accordingly.
Account for the Time of Day
As you probably know, different periods of the day have different trading patterns. For example, the market open and close generally have the most volume, whereas the middle of the day can be slow. You need to account for these patterns when planning your entries.
Trading before 10AM: Remember that your trading strategy is more "reactive" than other period of the day. No real trend has formed so you are relying on the daily chart and pre-market trading activity. Don't overstay your welcome on trades during this time period. Focus on getting in and out of trades stealthily.
Recognize that this time period as a bit more unpredictable than the rest of the day. The morning represents a battle between the bulls and the bears and you're not sure who is going to win yet. In the past, I've overstayed on many trades where I would hold size from before 10AM later into the day even if the stock wasn't doing what I expected.
Trading after 10AM: After 10AM, a stock begins to form its trend for the day. You now have better intraday price points to base your entries off of. You can better understand your potential risk based off of proven support levels and VWAP, which allows you to plan position sizes accordingly.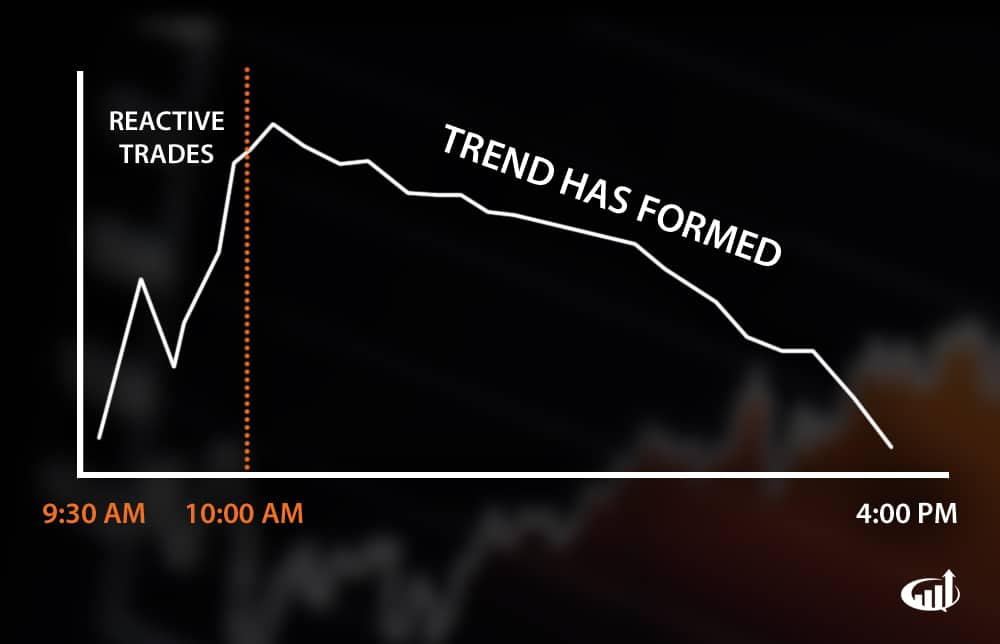 What do you struggle with most?
What is the most difficult part of planning entries for you? Comment below! Others and myself may be able to help.