Investors Underground is one of the original premium online trading chat rooms. Over the years, many services have launched, but very few have established 10+ year sustainability.
It's not easy to make it in this business. Trading itself is difficult, and providing effective trading resources poses an even greater challenge.
New traders enter an environment in which the odds are stacked against them. We've never sugarcoated this. You won't hear us talk about how "easy" or "simple" trading is, nor will you find mentions of trading "systems" that you can easily replicate. Trading is hard and anyone who tells you otherwise is likely trying to sell you something.
Making it as a day trader requires hard work, perseverance, and access to the right resources. While the hard work and perseverance are up to you, we're here to provide you with the resources you need to make it in this industry. We can confidently say that these are the absolute best resources in the industry.
Investors Underground provides access to education, real-time guidance, and mentorship. Over the past decade, we've continued to stack our offerings in an effort to provide traders with all of the resources they need to be successful.
Of course, all of these new features take time and money, and we haven't increased the price of our Elite subscription since it launched.
Pricing Changes at Investors Underground
As of December 1, 2019, pricing at Investors Underground will be increasing. Please keep reading to learn more about why we chose to go this direction and it may impact you.
Pricing for Existing Members
If you are already a member of Investors Underground, the price change will not affect you. You will be grandfathered into your current rate for as long as your subscription stays active.
Pricing for New Members
If you do not have an active subscription at Investors Underground, you can take advantage of our current pricing until November 30, 2019 and you will be grandfathered into that rate. As of December 1, 2019, pricing will increase.
Why Increase Pricing?
When we first launched Investors Underground, it was a simple chat room where traders could share ideas during the day. Over the years, we've continued to add even more features to make sure traders have access to all of the tools they need to thrive in the markets. We realized that many traders wanted more than just a chat room. They wanted to learn every detail of the trading strategy behind the alerts they saw in the chat room. Accordingly, we started to focus more on education and mentorship.
This initiative started with the launch of the IU Elite subscription which gave traders access to weekly trade recap videos and a library of educational content. The response was phenomenal and the majority of our members opted for the Elite subscription over the Standard subscription.
We continued to listen to feedback and have since added even more exciting features. Since the launch of IU Elite, we've invested into proprietary technology, expanded our team of mentors, and introduced new forms of mentorship.
Here are a few of the new resources we've introduced over the past year.
A Feature-Rich Chat Room
The IU Chat Room is a custom-developed chat software designed specifically for active traders. This isn't just some instant messaging service - it's a trading tool.
We like to think of the chat room as a live trading floor. It serves as your window into the markets. You can share ideas with other traders, get live trading alerts, and much more.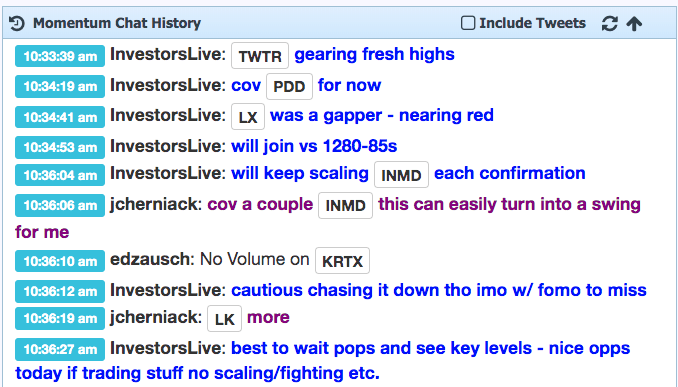 The chat room is fast, efficient, and built with traders in mind. It comes with all of the features you'd expect and much more.
You will find trade ideas and alerts from moderators as well as new sources of real-time trade ideas. These include:
Live Tweets
Halt Alerts
News Alerts
Stock Trends (i.e. top mentioned tickers)
Market Hours Alerts (i.e. market bell, market close countdown, etc.)

On top of that, the chat room offers features that can be used to generate even more trade ideas and streamline your trading. These include:
One-Click Ticker Data (Float, News, Filings, etc.)
Earnings Calendar
Stock Price Alerts (Static Price, VWAP, HOD, LOD, etc.)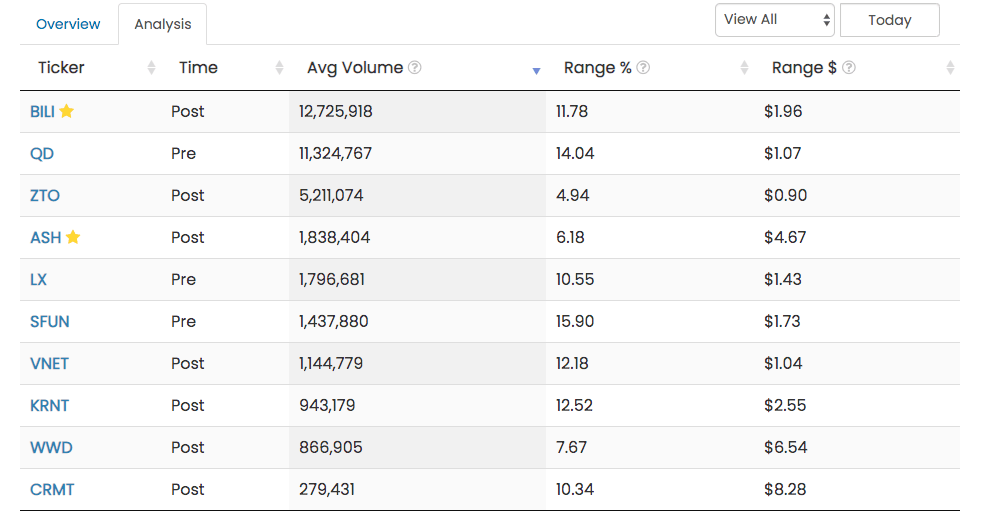 We are continuing to expand the functionality of the chat room in our efforts to make this the most powerful trading tool on the planet.
Morning Call
We want every trader to come to the market prepared. This is more than just a motto - we back it up.
This year, we started doing pre-market calls to share the game plan for the day. We send watch lists to members every night and refine those watch lists during pre-market trading.
The pre-market call is a streaming video where we discuss the game plan for the day. We explain the moves we are looking for and how we plan to trade them.
Here's an example from last week:
A Live Scanning Feed
Get access to a live feed of Nate's scanners so you can see what he's watching in real-time. You'll see the stocks that hit the scans and the supporting commentary in chat.
If you want to see a walkthrough of all of these features, check out the video below.
What to Expect Moving Forward
We're committed to constantly improving our service and we have a lot of exciting things planned for 2020!
Investors Underground has been the leading trading chat room for over a decade because we continue to build on an already stellar offering. We're always open to feedback. If there's any feature you want to see in the future, don't hesitate to reach out! Many of our existing features were created due to member suggestions.
We look forward to growing our trading community with you in the future!