Thriving in the world of trading is no easy feat. The careers of most new traders are short-lived, as they quickly discover the powerful and unforgiving nature of the markets. Traders come and go, as do trading chat rooms and services. New services are launched daily but few stand the test of time.
In order to make it in the world of trading, you need to humble yourself to the markets and fully commit yourself to success. You need to be disciplined, persistent, and adaptive. That's been our policy from day one at Investors Underground. Over the years, we've been committed to doing everything within our power to be the best traders we can be, while enabling others to do the same.
It is with great pride that we celebrate the 10-year anniversary of Investors Underground. We've come a long way over the years and wanted to share a bit of our history.
Investors Underground: Origins
I entered the world of trading at a young age. Like most new traders, I didn't have much money but I was excited by the idea of growing a trading account. As my new hobby evolved into an obsession, I wanted to connect with other traders who shared my passion.
My journey started over 15 years ago at a time when social media and blogging were nowhere near as popular as they are today. There were no official trading services and it was difficult to organize an online community. I decided to focus on my own trading and started a website called InvestorsLive.com to start journaling my progress as a trader. I would share my trades and strategies in an attempt to hold myself accountable.
InvestorsLive.com gained traction and I started to connect with other like-minded traders. My personal blog slowly evolved into a small community that would network in our trading chat room. We would discuss trading ideas, share alerts, and support each other on our journeys to conquer the markets.
Over the next few years, the InvestorsLive chat room continued to attract more members. With the help of a few of the key members, I decided it was time to launch a more official trading community, and in 2008, Investors Underground was born.
Investors Underground served as an online community for serious traders. The platform was used as a trading tool, education portal, and support system. It was a place where traders could go to cut through the noise of the stock market and connect with other like-minded traders.
Clearly, my desire to build a trading community was shared by many other traders, and the Investors Underground platform continued to improve with every new member.
Investors Underground: Evolution
As Investors Underground grew, we started to expand some of the resources we provided to members.
Every trader knows that its difficult to make sense of the markets. There is a learning curve that every trader needs to overcome.
Through our trading community, we were able to discover commonalities in everyone's learning curve. We recognized a lot of the common struggles new traders faced and began to create a system designed to solve these problems.  While it's impossible to fully eliminate the learning curve, we found ways to shorten it by providing resources that gave new traders the best shot at success. The Investors Underground service started to become a tool to help traders along every step of their journey.
Every day, we would send out watch lists and discuss ideas in the chat room. We would share our scanning tools and trading strategies to help new traders jumpstart their trading careers. We recognized that a proper education was crucial to the success of a trader and started to expand our offerings into educational tools.
Trading Education: Introduction to Cam
In 2011, Cam (who most of you are now familiar with) joined Investors Underground as a member. Like most of our members, Cam was an ambitious new trader hoping to make a career out of day trading. He would analyze all of the content we produced and read every message in the chat room.
Through his own studying, Cam noticed a pattern of similar questions amongst new members at Investors Underground. While Investors Underground provided educational resources, it lacked a formal training program that would give new traders the structure they needed to become well-rounded traders. Cam started taking extensive notes which later served as the basis for the Textbook Trading DVD course.
In 2013, I teamed up with Cam to create Textbook Trading, our comprehensive trading course. Textbook Trading served as the "Day Trading 101" course for beginner/intermediate traders. After releasing the course, we instantly saw an improvement in our trading community. They say, "knowledge is power" and we now had the power of a  well-educated trading community.
At this point, we were sold on the power of education, and we built on the success of this model by launching the Tandem Trader course to help traders bridge the gap between theory and practice. The second course proved to be a success with many traders watching and rewatching the course until trading concepts just "clicked."
The community is now stronger than ever and we continue to build on the principles that got us where we are today.
The Future of Investors Underground
Investors Underground isn't just another "dime a dozen" trading service. Our community was built with purpose, and we're proud of the standards we set.
Investors Underground continues to evolve and introduce more powerful trading tools to benefit our community. We're excited for the future and look forward to where we'll be in 10 years.
Here are a few of the core principles we'll continue to build around.
We are Built For Traders, By Traders
Investors Underground was built out of necessity. When we first launched, there was no other way to connect with serious traders. By launching our own service, we've had the luxury of being able to design every component. Everything we do is built with traders in mind. We've used our 10 years of experience to build and refine the optimal trading community. To this day, there is no comparable service.
We Are a Community
The rise of new trading services has blurred the lines between a "guru-centric" service and a community. Many services are built around the concept of emulating the success of a single trader. This is not what we are about. From day one, Investors Underground was built with community in mind. That's the reason we attract some of the best traders in the world. We don't promote the idea that trading is easy and all you need to do is follow alerts to make money. We focus on enabling other traders to succeed through the power of education and the support of an experienced trading community.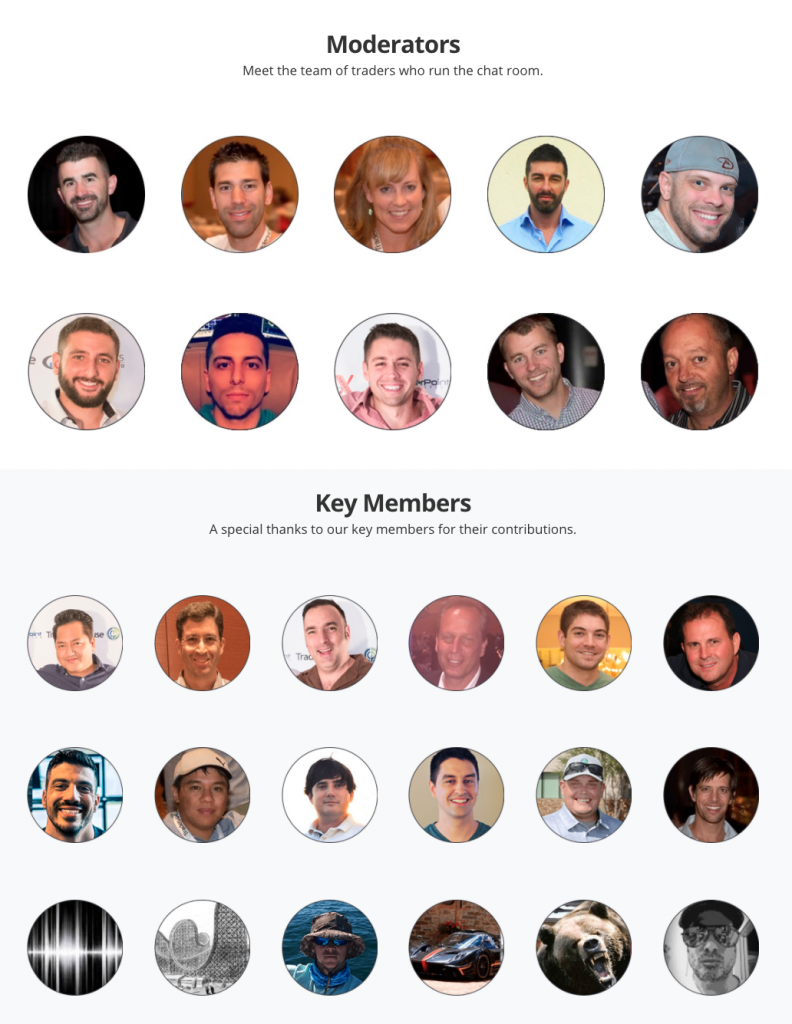 We Strive for Constant Improvement
Investors Underground is our home and we are constantly renovating. We aim to improve the service in every way possible. Clearly, the community has come a long way since its inception in 2008. In the past year alone, we've built a custom trading chat room, introduced new moderators/educators, and released a free beginners course. We are constantly finding ways to provide more value to our members and we're excited for all future improvements to come.