We got some amazing responses to the MTSL video so I wanted to go ahead and do another one. In this video I compare and contrast the MTSL trade with AWX and why it actually has quite a bit more potential for multiple trades here. MTSL was super hard to borrow and it was in smarter hands. In my opinion, MTSL holders were less likely to have the FOMO buttons. AWX on the other hand was available at most brokers. That's when trouble starts because:
You get the guys who just short to short
You get the guys who short everything that is up
You get the guys who short every newsletter/chat room low float pump that get rocked.
So, the goal for me was $3-3.10s gap down and wash out on AWX re trap and squeeze w/ etc. But, obviously you need to adapt to every trade. If $3.05s are basing and showing signs of trapping then yes it's ok to start at $3.05s vs. $2.80s risk rather than waiting for it. BUT you sure as hell should be prepared to see $2.80s. If you're not, you're sized in too much.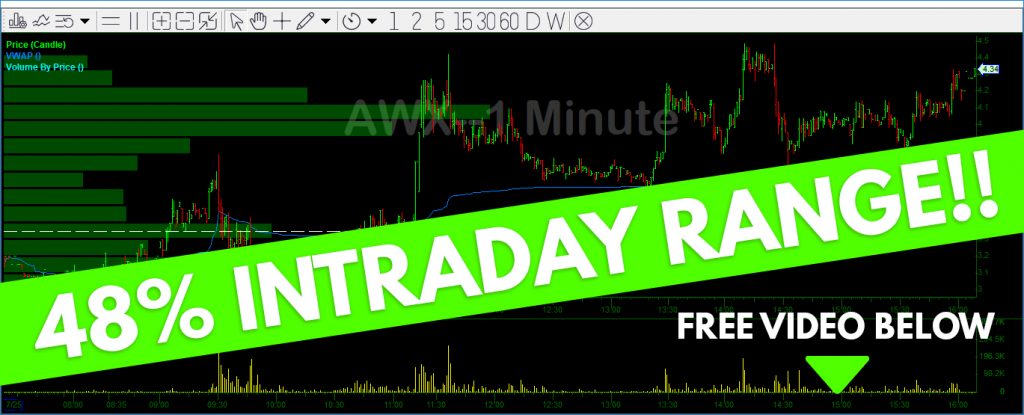 Just like the VICR trade today -- if you're looking to risk .30-.50/share on the name, just take it off radar and save yourself the trouble. Focus on a starter position, get on the right side and then scale from there. For these volatile trades, you may need to give yourself $1-2 wiggle room on the starter otherwise you'll get stopped out by the spread alone. The same logic applies to AWX. If you're trading a name that shouldn't be up in the first place and is clearly getting shoved by a powerful bidder, then you need to prepared that there is also the chance THEY just WALK. Poof, see ya, buh bye.
When trading these, don't get carried away with what you think should happen. You'll be too biased. Instead, create a game plan and stick to it.
MTSL was a BEAUTY three of the four times, then I decided I have had such a good read on this I'm going to be patient because the insider sell was soaked up and the stock squeezed back. Insane. Then, a chat rat pumped it off open one day and they unloaded. That was the cue for me to not just sell some but to sell ALL. Free Exit. Stuffed full of long chasers. Instead, I kept some because I thought I had such a great read. I ignored what the stock was telling me (SCREAMING at me HEY I'm top heavy I'm coming in!!!). So my last 1/3-1/4 of the trade went from having a $1 + padding to losing about .20/share. ALL 100% avoidable if I didn't let my bias overtake what the name was telling me.
So today, I focused on just that - sizing down proper spots and coming back in ONCE IT PROVES ITSELF.
So here we go:
Here was last nights SCAN PLAN:
AWX Chart + Entries & Exits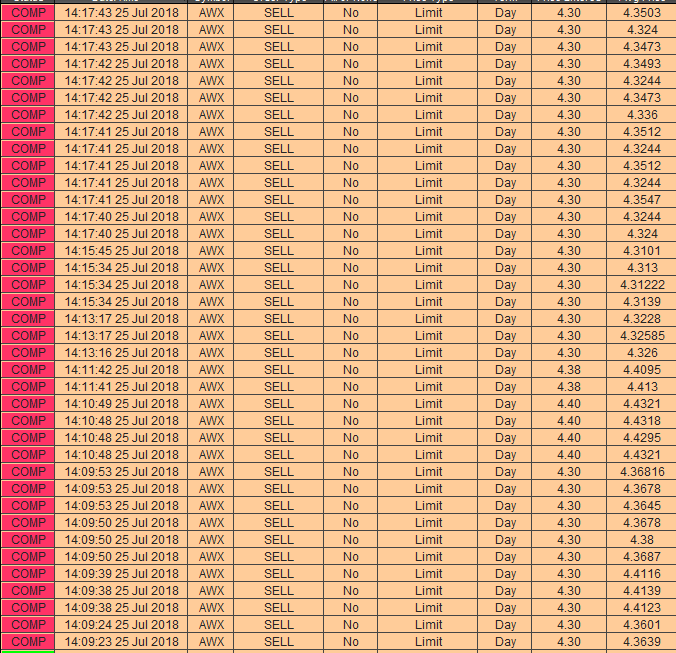 AWX Trade Recap Video
Investors Underground Chat Logs
07:31:46 am InvestorsLive: AWX into range so maybe get that nice plunge $2.80s
07:31:51 am InvestorsLive: and still readily avail for borrow
08:12:13 am InvestorsLive: AWX doing what we asked for so far on scan
08:12:18 am InvestorsLive: still mad early
08:16:20 am constance123: I'm new, didn't quit understand the aWX on watchlist. You say it's a short after breakout or you mean long from $2.8?
08:17:20 am InvestorsLive: I said I was hopeful for a $3-3.10 gap down
08:17:27 am InvestorsLive: that may fuel it to $2.80 wash off open
08:17:29 am InvestorsLive: to react to
08:17:33 am constance123: k
08:17:37 am InvestorsLive: I said it was easy to borrow so I am interested as far as a trap
08:17:52 am InvestorsLive: but -- keep in mind discussion on MTSL
08:17:54 am InvestorsLive: and key levels
08:18:07 am constance123: thx for explaining!
08:18:50 am InvestorsLive: no reason to run so just depends if they trap or not
08:18:58 am InvestorsLive: MTSL wasn't ETB this is
08:27:04 am InvestorsLive: AWX will be a quiet trade for me off open based off scan plan fwiw -- b/c crowd will kill it -- but I am trading the game plan with a goal for lower
09:03:04 am InvestorsLive: AWX not bad so far
09:03:38 am InvestorsLive: but again you better not be buying strength -- idea was wash and goal of $2.80s mental they gave some away near $3s but given ETB etc -- def a watcher hopefully chat rats stay away
09:06:28 am InvestorsLive: AWX $$ nice guys
09:06:28 am msheldon: AWX wow
09:06:45 am InvestorsLive: lock some along way remember no real reason to go nuts
09:20:15 am InvestorsLive: AWX plan was laid out -- afraid of crowd there you either read the plan and traded it nice .50 rally or didn't be sure to have locked in
09:25:48 am InvestorsLive: only part that sucks is likely a chat room target on that thing
09:30:27 am InvestorsLive: chat rats chased AWX argh
09:35:17 am InvestorsLive: Hope you notice trend on AWX IHT INNT
09:39:10 am InvestorsLive: AWX ideally comes in a bit more but interested again to risk some profits from first move into flushes
09:40:24 am InvestorsLive: AWX reversal stuff so far
09:57:33 am InvestorsLive: AWX getting cleaned up off pre support
10:34:45 am InvestorsLive: think folks are back from yest on AWX
10:47:05 am InvestorsLive: 3.28s soaked so far AWX
11:03:09 am InvestorsLive: If you are watching AWX U saw 3.35 soaker hidden
11:03:16 am InvestorsLive: good stock to learn terminology on
11:03:18 am InvestorsLive: by watching it
11:11:33 am InvestorsLive: AWX hell yes
11:11:57 am InvestorsLive: AWX into halt up !
11:14:27 am cw29545: AWX - comments very helpful, Nate
11:17:13 am InvestorsLive: be safe AWX -- good convo in lounge on this
11:17:23 am InvestorsLive: AWX almost into a double halt shew
11:17:45 am InvestorsLive: double halt up!
11:27:31 am InvestorsLive: I think the biggest thing here is that shorts if they covered in a perfect case scenario there was 100k and 100k worth of vol on each halt open
11:27:39 am InvestorsLive: if they were not part of that they are down $1/share min
11:27:46 am InvestorsLive: with no chance to cover
11:27:50 am InvestorsLive: re: AWX
11:36:52 am InvestorsLive: they trap 4-4.10 etc but again if long -- you need to be paying yourself - crazy move awesome win but be smart too
11:45:08 am InvestorsLive: 3.87-88 range absorb AWX
11:45:30 am InvestorsLive: lower better hopefully bait a lot more shorts to re load some of the sells
11:48:42 am InvestorsLive: Everyone new/learning should be watching this AWX + comments just like MTSL
11:49:04 am InvestorsLive: stuff moves traps absorb soak etc doesn't matter stuff like BAC CLF etc -- it matters in momo land
12:25:56 pm InvestorsLive: AWX back on VWAP test
01:24:24 pm InvestorsLive: AWX are they back?
01:28:26 pm InvestorsLive: Oh hey AWX
01:30:39 pm InvestorsLive: AWX absolutely monster today guys -- be smart grats on trade
01:30:44 pm InvestorsLive: toyed shorts right into VWAP
02:18:28 pm InvestorsLive: Bailed majority AWX I think they may ramp this like mad still but hopefully give another chance before they take shorties to BK court
02:18:47 pm InvestorsLive: mainly due to etrade issues but keeping 1/4 on so I can add around core if it sets up for $4.50-5-6
02:26:05 pm InvestorsLive: be cautious on AWX FOMO this can def squueeze out but imo its better to gather more shorts into the close and make shorts feel like they've done the right thing by shorting
02:46:02 pm InvestorsLive: Nice soak AWX diff than ones in past
02:46:27 pm InvestorsLive: this may get more play AHs don't think they are finished also trapped nicely every time today -- again saying this with about 1/4 or less left
02:46:37 pm InvestorsLive: and a lot locked in
02:46:47 pm InvestorsLive: perfect would be weak open tomorrow tho trigger SSR etc
04:00:37 pm InvestorsLive: sick work AWX guys unreal
04:00:47 pm InvestorsLive: hope commentary helped
04:00:58 pm InvestorsLive: nice when its avial for borrow too - get muc better moves
04:01:36 pm JayTaylor: Totally helped Nate, thanks. See you tonight.
04:05:25 pm Cam: hey guys - got a great video coming on AWX