Organization is a huge part of becoming a successful day trader. There is so much going on in the markets at any given time and you can't pay attention to all of it. I've already discussed the importance of staying focused in another post, so now I'd like to focus on how you can get organized.
Everything you do as a day trader should be intentional. You should never do anything just for the sake of doing it or because someone else is doing it. You need to have a clearly defined plan that will dictate your future actions. This plan will serve as a way for you to benchmark your success as you venture on the journey towards becoming a successful trader. We talk a lot about planning from a trading perspective, however we haven't really discussed planning from an individual's perspective.
You should focus on creating a road map for your trading journey. Everything you do should be relevant to this road map. This means everything you do will be intentional and focused on achieving the goal you set out to accomplish.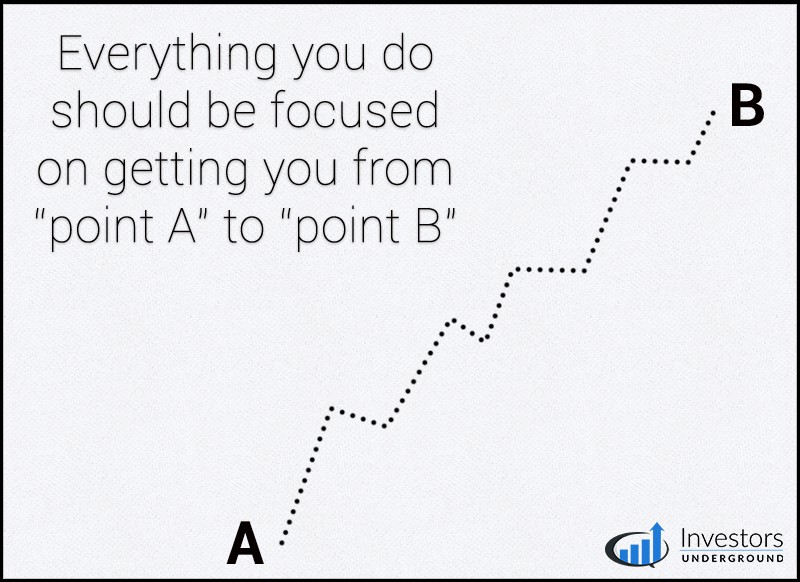 Let's take this "road map" comparison literally for a second. If you are going on a road trip from one state to another, you know what your end goal is: getting to your final destination. You plot out the directions, pack the necessary gear, and start your journey. Along the way, you will know everything that is helping you get closer to (or further away) from your end goal. So, if you venture 50 miles out of the way because you saw a billboard boasting the best steak in the US, you know that is counterproductive to your goal. Of course, there may be surprises along the way such as running out of gas or other car issues, but these can be dealt with.
Don't worry, that comparison wasn't for nothing. Your trading journey will be similar to any journey. You choose a destination (setting your goal), you pack the necessary gear (your trading tools), and you start your journey. There may be some pit stops and pivot points along the way, but you know what you set out to do.
So, how do you get organized?
Becoming a Day Trader - Getting Organized
Here are four ways that you can become more organized as a trader. Never underestimate the power of organization!
Set Goals
If you do not define what you're setting out to accomplish, how can you ever accomplish it? Obviously everyone who starts day trading wants to make a lot of money, but that's hardly a well-thought out goal. "I want to be a millionaire" is broad and generic. Everyone wants to be a millionaire. Focus on creating a specific and realistic goal and make sure that this goal is clear in your head. You can always use the "S.M.A.R.T." goal approach that is commonly used in business. This stands for: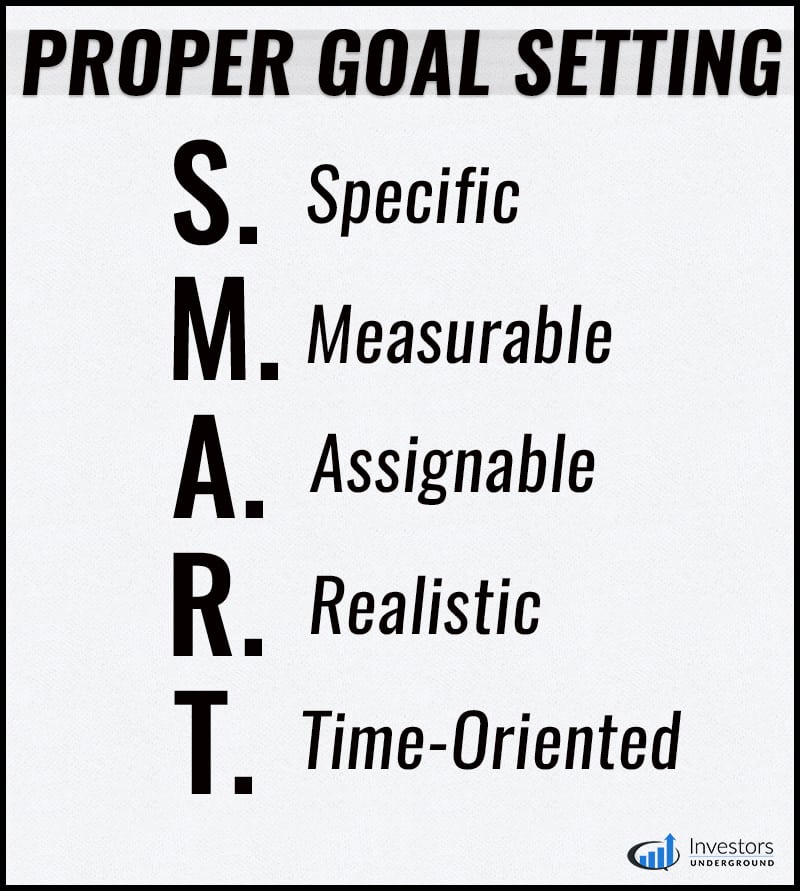 S - Specific
Make sure your goal is well-planned and detailed. "I want to be a millionaire" is not very specific, whereas "I want to make $100/day from day trading" is.
M - Measurable
Make sure your goal can be measured so that you can keep track of your success as you progress. As mentioned above, "I want to make $100/day from day trading" is a specific goal. It is also measurable. If you are making $50/day, you know you are halfway towards achieving your goal.
A - Assignable
Who is responsible for achieving your goal? This one is more commonly used in business when delegation is necessary. In day trading, you are the only one assigned to achieving your goal.
R - Realistic
It's okay to dream big, but you need to get there one step at a time. Make sure to set a realistic goal. This will help you create milestones that will eventually pave the way to your success. "I want to make $50/day" is a realistic goal for a new trader, whereas "I want to make $1000/day" is not.
T - Time-oriented
Set a timeline for your goal so you have the pressure to work on it consistently. I mentioned that "I want to make $100/day from day trading" is a specific, measurable, assignable, and realistic goal. To make it time oriented, simply add a time frame such as, "I want to make $100/day from day trading within 6 months of studying and practice."
Define Your Style
As mentioned above in the goal setting section, specificity is a huge part of becoming an organized day trader. You need to clearly define what you want to do. Becoming a "day trader" is a broad goal. There are tons of different kinds of traders, ranging from short sellers, long-biased traders, biotech traders, forex traders, etc. Narrow your niche so that you can increase your odds of success. If you are trying to master options trading and penny stock trading at the same time, you are splitting your focus in two, thus diluting your efforts. Instead, you should dedicate 100% of your energy towards focusing on a single trading style. Don't try to be a master of all trades, especially when you are just starting out. Focus on mastering a trading style that resonates well with you and keep working on improving your strategy.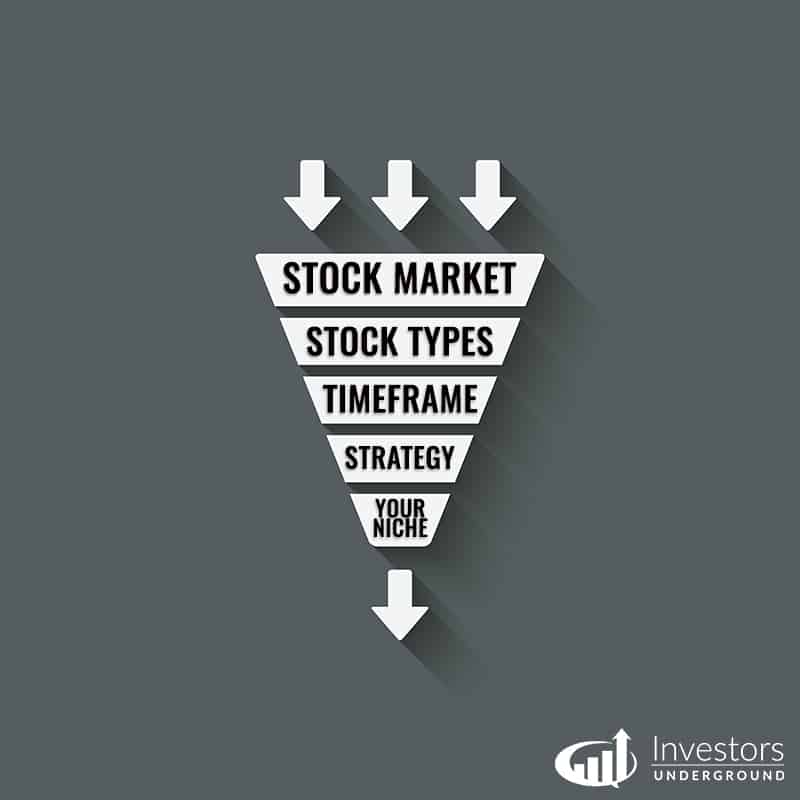 Create a Schedule
Creating a schedule or timeline is another great way to plot out the road map for your journey. This is exceptionally helpful if you are juggling multiple priorities such as a job, a family, and friends. How many hours a day are you going to focus on your education? How many hours a day are you actually going to trade? Are you going to trade every day or a few times a week? A schedule is incredibly easy to make and can be a huge help in keeping you focused and organized. For example, if you just say that you are going to "study a lot this week," you have created a very broad plan that is easy to stray from. Contrarily, if you say "I'm going to study every day from 5-7PM," you have created a definitive schedule that will keep you on track.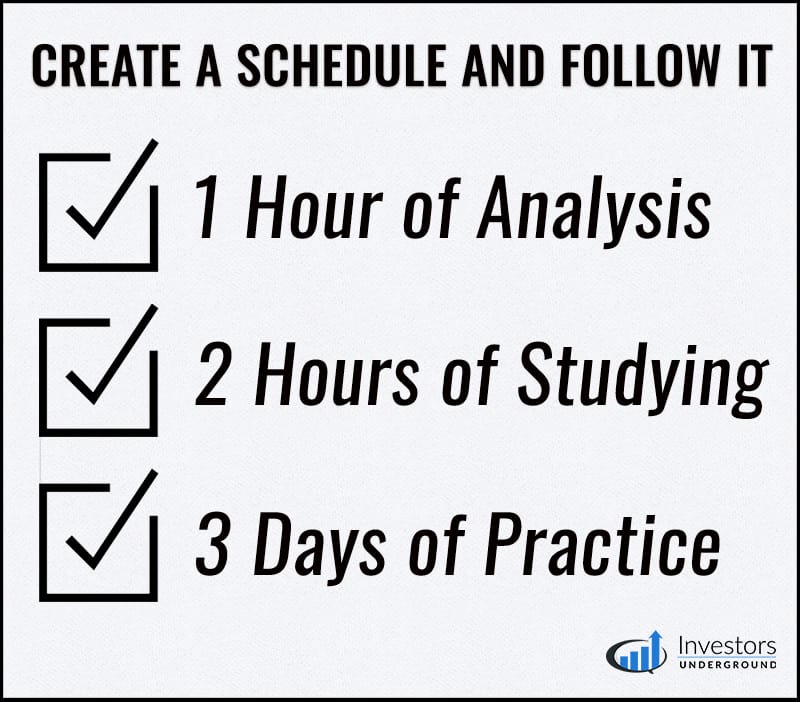 Track Your Progress
Trading is a constant learning process. Even the best traders are always trying to improve. The only way to get better is to look at what you are doing and search for improvements. All of this analysis should relate back to your initial goal. So, if you wanted to make $100/day within 6 months, you should constantly be analyzing the activities that are getting you closer to that goal and eliminate the ones that are keeping you farther away. This allows you to pivot when necessary and keep your plan as efficient as possible. Some things you may want to focus on include:
Types of trades that make you the most amount of money
Types of trades that you end up losing money on
Tools you may need to add to your arsenal
Distractions that hold you back
Areas for improvement
Conclusion
There are plenty of ways to get organized. In no way are the methods mentioned above set in stone. What works well for some may not work for others, however the general point is universal: get organized and work towards a goal. If you know what you are working towards, you can better assess your activities and decide whether or not they are taking you closer to your goal.