We get a lot of questions from new traders about which broker they should choose. Every broker has unique selling points so there's no universal answer. Your trading style, activity level, and portfolio size all come into play. Awhile back, we put together a comprehensive guide on how to choose a broker. We explained what you should look for when choosing a broker.
We came across a few new brokers since we released that guide. Today, we're going to take a look at TradeZero.
TradeZero - Two Brokers, Two Offerings
TradeZero was initially launched as an international broker based out of the Bahamas. The firm quickly became popular amongst traders who enjoyed access to unique offerings catered specifically to day traders. In 2019, TradeZero launched its American division so more traders could take advantage of the company's offerings.
We're going to take a look at both of the companies. Keep in mind, U.S. clients can only sign up for TradeZero America. TradeZero is restricted to international clients.
Here are some helpful links:
About TradeZero (International)
TradeZero is a licensed broker-dealer based in Nassau, Bahamas. The firm is regulated by the Securities Commission of the Bahamas and insured by Bahamas First General and Lloyds of London. 
The firm caters specifically to traders and, while they have quite a few offerings, two clearly stand out.
No PDT Rule

Free Commissions
The Bahamas-based TradeZero does not currently accept U.S. clients so they're best suited for international traders. TradeZero recently launched a U.S. division for traders who want access to similar benefits from a U.S. broker.
About TradeZero America
TZA Is a Brooklyn, NY based, FINRA registered broker/dealer that is registered in all 53 states and territories of the United States. It clears through Electronic Transaction Clearing, and it only accepts accounts from the US. As TZA is a US based broker/dealer, all accounts are subject to the Pattern Day Trading Rules (PDT). Like TradeZero, TradeZero America caters to the active trading community. It offers the following main advantages to its client base:
Free commission on all stocks above $1 from 7am to 8pm EST (no routing fees at all)
Free options commission
Free dynamic, streaming platform and free dynamic mobile app
Avoid the Pattern Day Trader Rule (International ONLY)
The Pattern Day Trader rule is a FINRA regulation that restricts traders with accounts under $25,000 to three day trades in a five-day rolling period. It's a frustrating rule for many new traders who believe that the restriction is a hindrance to their trading.
Most brokers are regulated by FINRA so they have to enforce the PDT rule (even for non-US residents).
TradeZero is not regulated by FINRA and does not have to adhere to this rule. Traders at TradeZero can place as many trades as they'd like regardless of their account sizes.
Note: You can ONLY avoid the PDT rule with TradeZero (NOT TradeZero America).
Free Commissions
TradeZero (International and America) offers free commissions on select orders. You should review the details on their site before trading, but here are the general qualifications for a free trade:
The stock trades on NYSE, AMEX, or NASDAQ

The stock price is greater than $1
International clients can find more details here and U.S. clients can find more details here.
While there are other brokers who offer free trades, most of them don't cater to active traders. There's always a trade-off when a company offers free trades and this usually comes in the form of sacrificing other crucial features (such as platforms). TradeZero caters to active traders so they haven't sacrificed the quality of their offerings.
Let's take a closer look at some of the active trading tools TradeZero offers.
Trading Platforms
TradeZero offers four trading platforms for active traders:
ZeroPro (Desktop Platform)

ZeroWeb (Web Trading Platform)

ZeroFree (Free Web Trading Platform)

ZeroMobile (Mobile Trading Platform)
ZeroPro and ZeroWeb have monthly fees.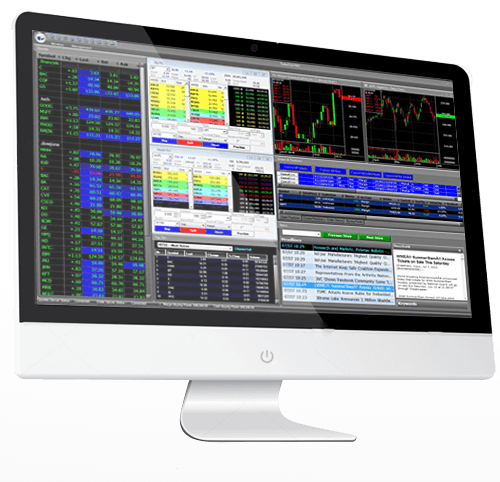 These platforms are designed specifically for active traders so they will come with all of the tools you'd expect. You will have access to real-time data, charting, news, and level 2. ZeroPro also comes with alerts and screeners.
A breakdown of all of these features would constitute its own post, but TradeZero does a good job of explaining the features on their site. They also offer free demos of all of their platforms if you'd like to test them out.
Short Lists
Active traders tend to play stocks on both the short side and long side. Many discount brokerages cater to investors, so their short lists are an afterthought (as many investors take long positions). A broker without a good short list can be limiting for a trader looking to play both sides of the market.
TradeZero isn't lacking in short availability. They offer easy-to-borrow stocks through Vision and 5 different outside locate vendors provide locates for the hard-to-borrow locate service.
Leverage
Leverage allows traders to multiply their trading capital so they can take advantage of more opportunities.
TradeZero offers 6:1 leverage. This means a trader with a $10,000 account would have $60,000 buying power for day trades. Of course, traders should be careful when using this type of leverage.
For TradeZero America, the leverage schedule is as follows:
0 - $2000 - 1 to 1
$2000 - $24,999 - 2 to 1
$25,000+ -  4 to 1
$500k+ - 6.2 to 1 (available portfolio margining upon approval)
Order Routing
Most brokers serve as the middleman between your order and the market. When you hit the buy or sell buttons, your order is sent to the broker who will decide how to fill your order. The presence of this middleman can slow down order execution and lead to worse fill prices in certain situations.
Some brokers provide direct market access, meaning you can directly route your order to a specific market maker or ECN. This can speed up execution and lead to better fills. Currently, TradeZero offers a few different routing options. As an added bonus, there is no additional routing fee on top of the standard commissions (for trades that don't qualify for free commissions).
How to Get Started
If you're interested in opening an account, you can start your application here for international clients or here for U.S. clients. TradeZero is offering some additional benefits for Investors Underground subscribers. 
You will receive a cash bonus into your account upon making your initial deposit. The deposit schedule is as follows:
$5000 - $14,999  - $25
$15,000 - $29.999 - $50
$30,000 - $59,999 - $75
$60,000 - $99,999 - $100
$100,000 - $249,999 - $200
$250k+ - 250
If you have any additional questions, you can reach out directly to [email protected].