We've been using the ABCD chart pattern at Investors Underground for a long time to nail long trades with minimal risk and maximum reward. This chart pattern allows you to enter a trade with a set risk and, most importantly, a solid plan.
The ABCD pattern is discussed in detail on the Textbook Trading and Tandem Trader DVD's, however, this blog post will cover the basics.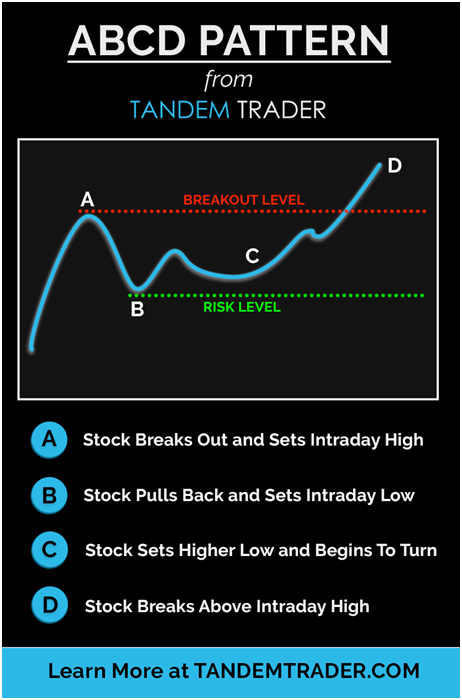 What is the ABCD Chart Pattern?
The ABCD pattern is a chart pattern we use in chat to identify potential long trade setups. We generally use this pattern intraday, however, it can be applied to different timeframes.
The pattern is characterized by an initial spike (A), during which the stock price reaches the high-of-day. This spike is followed by a healthy pullback as profit takers inevitably begin to sell their shares. Once buyers overpower sellers, an intraday low is established (B). At this point, we are looking for the stock to show strength by setting a higher low (above point B) on the next dip. Once this higher low is established (C), we begin planning our trade with a risk at B. Essentially, we are planning for the stock to break above point A for an intraday breakout, and managing our risk accordingly. Once the stock breaks above point A, the trade plan has proven to be successful and we consider taking profits at point D.
ABCD Chart Pattern Clip from Tandem Trader
If you want to learn more about the ABCD pattern, check out Textbook Trading and Tandem Trader.
If you want to trade ABCD patterns, as well as many other profitable patterns, live with our team, join us in the Investors Underground chat room.