We had another great trading day with RKDA running over 300%. A move like this provides plenty of different trade opportunities. Here's how we approached it at Investors Underground.
Trade Recap and Video Lesson
Key Takeaways and Trading Lessons
Float Rotation
It's not easy for a stock to run 300% in a single day. The mechanics of the trade need to be set up just right.
Certain stocks make better candidates for massive breakouts. One key factor is a stock's float: the number of freely traded shares.
When a stock has a lower float, there is less supply available to the market, meaning the stock can experience higher volatility on lower share volume. If blue chips stocks like AAPL trade 15 million shares in a day, it's not a big deal. When low float stocks like RKDA (which has a float of ~500,000) trade 15 million shares in a day, the stock becomes more volatile.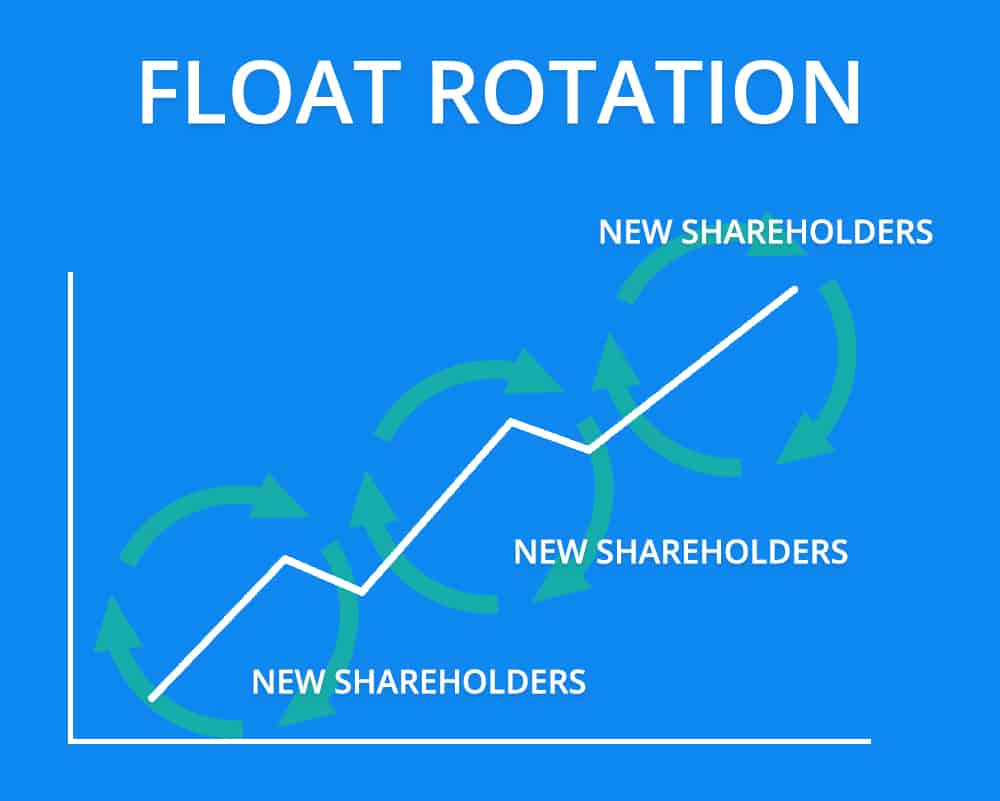 For more on float rotation, check out this recent blog post.
Setup for a Squeeze
We say it over and over again - "a stock is not a good short candidate JUST because it is up a lot."
Stocks like RKDA can easily become "short traps," meaning shorts get eager and prematurely enter positions because "the stock is up too much." These shorts eventually get squeezed into their positions, further fueling the volatile move.
RKDA was a short trap for a couple of reasons.
The stock was under the SSR - Shorts had to enter positions on the offer (vs. hitting the bid).
RKDA is a low float stock, as discussed above.
Accounting for Risk
Volatile price action, like that of RKDA, can be tricky for two groups of traders at opposite ends of the spectrum.
Careless traders may see the wild price action and immediately want to partake. Cautious traders may see the wild price action and avoid the trade altogether. While the latter option is the better of the two, there is an even better middle ground. Account for the risk and trade accordingly.
RKDA had as high as $5 risk during the day (meaning support was $5 below the lowest price). The stock was also at risk of being halted. For a trade who usually trades 1000 shares, $5 may be too much risk. While you can't control the risk itself, there are variables within your control. You can take smaller position sizes to account for the added risk. You can also plan better entries, which we will discuss next.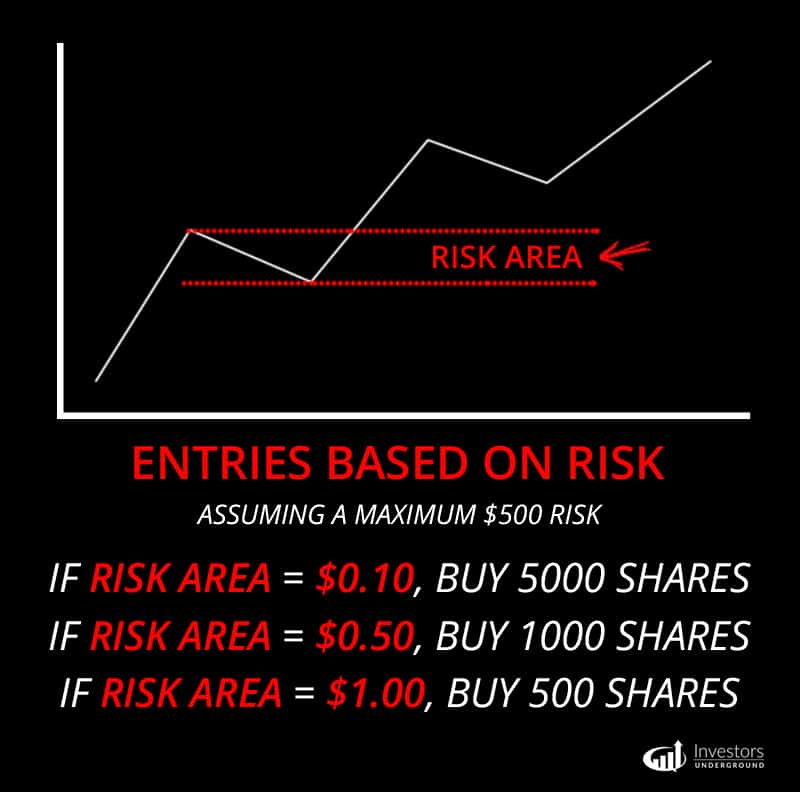 Buying Dips, Not Spikes
When a stock has a $20-$30 range, it can be difficult to plan a solid entry. We've already discussed the concept of taking a smaller position size but your entry price is important as well.
Moves like this often lead to FOMO (fear of missing out). Get on board or get left behind. That feeling is fueled by emotions and not rational and it's important to remain patient.
If you buy into breakouts, you may get stopped out prematurely as the stock experiences a healthy pullback. Contrarily, if you buy into dips, you give yourself the wiggle room you need to allow the trade to work.
Of course, you need to understand what differentiates a spike and a dip.
Understanding Key Levels and Tests
Every stock has key inflection points; points at which the stock will either confirm or reject higher levels. For example, a stock that tests the high of day and fails could be considered more bearish, whereas a stock that breaks above the high of day could be considered more bullish. The key level here is the high of day. Diligent traders will analyze a stock's price action relative to key levels and trade accordingly.
For example, assume you were bullish on RKDA and buying dips. If the stock broke above the high of day (or other key levels) your bullish thesis would be confirmed. If the stock rejected that level, it may be time to minimize the position.
Key levels may include:
Confirmed support and resistance levels
Psychological price points (i.e. $50, $100, etc.)
High of day/low of day
VWAP
RKDA had a few different key levels (as discussed in the trade recap video) that helped guide the trade during the day.
Investors Underground Chat Logs
Check out the chat logs from today's trading. These are the real-time comments on the RKDA trading action in the Investors Underground chat room. If you have any questions, leave a comment below.
08:12:24 am InvestorsLive: RKDA off that PR
08:18:57 am InvestorsLive: RKDA 14
08:24:53 am InvestorsLive: RKDA almost 2 so far off the PR
08:25:03 am InvestorsLive: easy to borrow across a few so that's good
08:25:04 am jcherniack: 3
08:25:22 am InvestorsLive: Sure $3 if you include the 100 shares
08:25:31 am InvestorsLive: but when I posted the PR there was no inventory there ha
08:25:36 am InvestorsLive: only a buck higher
08:52:57 am DanS: RKDA moving points
08:54:07 am InvestorsLive: that's waht easy to borrow will do
09:12:34 am InvestorsLive: RKDA should be interesting w/o a doubt I'm sure some shorts "because its up" will get ran over and then give us a trade

09:24:38 am InvestorsLive: RKDA def potential given ETB etc nice rally so far
09:25:19 am InvestorsLive: Focus RFIL PTI SIG ECYT for now COUP SILC BZUN later
09:27:04 am InvestorsLive: and RKDA easily could go into halt etc
09:27:56 am InvestorsLive: rather see it fail and trap tho first but never know may already have done that
09:28:07 am InvestorsLive: cautious if new $5-6 range already can really break your account if wrong and not sized correctly
09:31:12 am InvestorsLive: RKDA trading reactively
09:35:49 am InvestorsLive: if trading RKDA make sure you're there on wash outs etc

09:48:08 am InvestorsLive: RKDA given that it's easy to borrow that should go into your thinking cap today as far as playing it
09:52:09 am InvestorsLive: They pulled back RKDA for some clearing firms fwiw
09:54:22 am InvestorsLive: RKDA nice again - post stuff
10:05:19 am InvestorsLive: RKDA highs
10:28:09 am InvestorsLive: RKDA like I said pre marekt -- and during mkt hours you need to realize it was easy to borrow for most today -- that's disaster waiting to happen as it is for most here
10:28:33 am InvestorsLive: know the territory ... know who has access etc -- harder to borrow = smarter hands ease of access = "short cuz its up"
10:32:24 am InvestorsLive: RKDA para starting
10:32:49 am InvestorsLive: RKDA into halt
10:38:04 am InvestorsLive: RKDA cautious
10:38:07 am InvestorsLive: as soon as this slows next leg up
10:38:22 am InvestorsLive: can go $35-40 $45 etc faster than you know
10:38:52 am BlackSheep: RKDA halt
10:38:59 am InvestorsLive: nice dip opp there RKDA
10:39:13 am InvestorsLive: Got $29.40-50s

10:42:19 am InvestorsLive: 33.65 indication so far RKDA key is really what it does if it gaps down etc how it reacts
10:42:32 am InvestorsLive: if it sits there absorbs you know its going higher but if it ramps .. inclined to sell more
10:43:38 am InvestorsLive: RKDA if new - STAYYYYY AWAY
10:44:58 am InvestorsLive: RKDA about to halt again
10:56:04 am InvestorsLive: 10 min halt RKDA
11:04:23 am InvestorsLive: all cov'd rest ECYT for now
11:04:26 am InvestorsLive: will re sneak in if it stays heavy
11:04:29 am InvestorsLive: focus is RKDA
11:04:44 am InvestorsLive: anyone knew be aware of risk there halts etc
11:06:02 am InvestorsLive: RKDA gonan halt
11:20:41 am InvestorsLive: RKDA called my name again ha
11:23:23 am InvestorsLive: damn - 0 left into RKDA
11:23:25 am InvestorsLive: halt
11:27:49 am InvestorsLive: 41 indication RKDA
11:29:51 am InvestorsLive: RKDA $5-10-20 upticks may start to come cautious if new
11:30:03 am InvestorsLive: maybe talking out of my ass but better to be prepared than not
11:30:57 am InvestorsLive: and any $$ you have in it trading it etc
11:31:02 am InvestorsLive: means you're ok with it halted etc
11:31:16 am InvestorsLive: just in case they were to halt for raise etc -- force them to like DRYS
11:31:30 am InvestorsLive: again not a bash just speaking the truth - reality to make sure new folks risk is in check
11:37:44 am InvestorsLive: Massive massive absorb $44 RKDA
11:38:18 am InvestorsLive: may be margin buy ins hitting tape finally
11:43:39 am InvestorsLive: if $44 reclaims on RKDA all hell will break loose imo
11:46:04 am InvestorsLive: RKDA def think some margin buy ins but given that it's still easy to borrow some spots restricted others ... neverone may hammer in "finally done" then .. back to 500k float nothing to cover etc.
11:50:40 am InvestorsLive: RKDA again if new would avoid at these levels ... thinking any trade you need to be ok with $5 + risk before getting out etc .... but think key level for later is $44 due to the absorb earlier if it reclaims will be $5-10 power upticks etc ... again not for new
01:41:17 pm InvestorsLive: re: RKDA that's something to re visit 3pm+
01:41:38 pm InvestorsLive: for now steady fizzle as bids from covers etc start to fade off
01:59:46 pm InvestorsLive: RKDA wait up
01:59:59 pm InvestorsLive: I don't want you to go yet need shorts comfortable for trade to work
02:47:26 pm InvestorsLive: I don't think RKDA coulda been anymore spot on
02:48:46 pm InvestorsLive: took a few off into that para RKDA
02:48:55 pm InvestorsLive: so nice guys from accum idea- quietly
03:05:28 pm InvestorsLive: now we getting dollarl upticks RKDA
03:05:35 pm InvestorsLive: remember what i said before $5-10 swings become normal now
03:16:46 pm InvestorsLive: RKDA still early etc
03:17:24 pm InvestorsLive: I have about 1/3 RKDA left fwiw -- still thinking maybe crazy tomorrow but w/ that comes more risk but huge padding now so will make decision near close
03:35:02 pm InvestorsLive: RKDA ideally get some wash opps from late day chasers for break out
03:35:11 pm InvestorsLive: replace some of the $52-54 sells as long as no stuffs
03:37:30 pm InvestorsLive: RKDA sweet fast $3 uptick