One of the things that draws people to day trading is the fact that you can do it on your own time from anywhere in the world. You don't have a boss, and the only person you have to report to is yourself. All you need is a computer, the right trading tools, and a healthy mind state. This is definitely one of the greatest parts about day trading, however you still need to make sure you take a structured approach if you want to do well in the long run. It's easy to get carried away and treat day trading as more of a hobby than a job. I always find that approaching day trading as a job keeps me more focused and profitable over time. This doesn't mean you can't have fun with trading - it simply means you are taking your success seriously.
Here are a few of the things we do in order to treat day trading like a real job.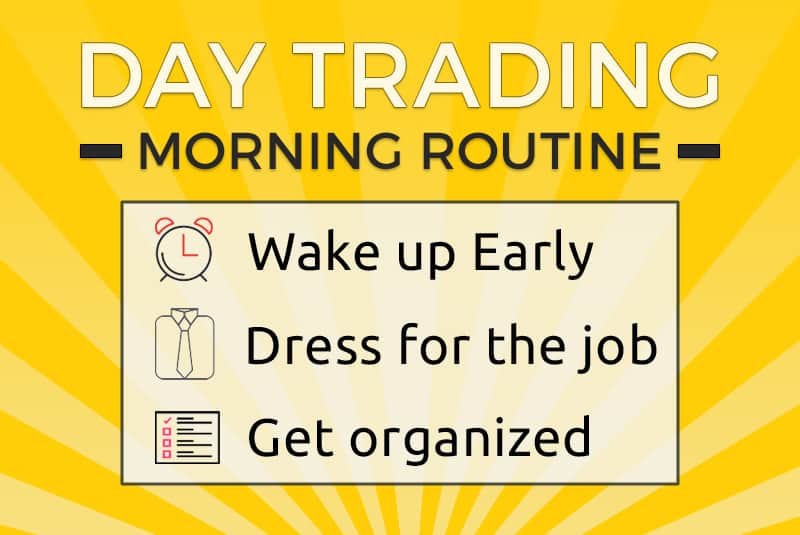 Wake Up Early
Nobody loves waking up early, but if you're serious about becoming a successful day trader, waking up early is necessary. When you take on the life of a day trader, your job starts at 9:30AM EST and you need to be prepared. Just like any other job, you shouldn't roll out of bed 10 minutes before work, clock in, and then get ready to start working. You need to be prepared much earlier. Give yourself time to wake up and time to research what is going on in the market. Are there any new press releases that will affect your game plan for the day? Is there any other market news you should be aware of? How has everything been trading pre-market? The more information you have, the better. You can never be too prepared, however you can always be under-prepared if you don't do the proper research.
Morning Routine + Dress for the Job
As mentioned earlier, one of the benefits of day trading is that it gives you more flexibility than a real job. That being said, there's a reason why certain jobs require their employees to come to work looking sharp and energized. Dressing for the role can actually change your mindset. I discuss this concept in Textbook Trading. Wake up every morning and treat day trading like a real job. If you wouldn't roll out of bed and go to a 9-to-5  job half awake, why would you do this for day trading? Now, obviously you will have more flexibility, so if you truly hate dressing nicely, you don't have to. The point here is not that wearing a suit will make you a better trader. It's that your physical appearance should reflect your mind state: sharp and well prepared.
Take a shower, dress nicely, drink your coffee - whatever you need to do to come to the market ready to make some money!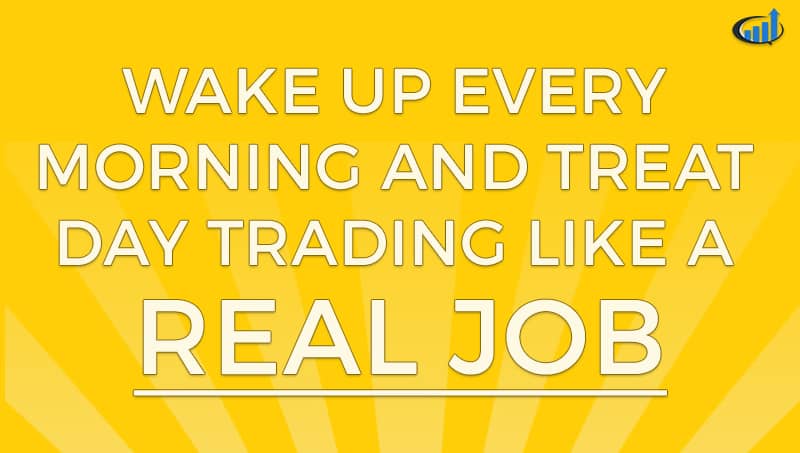 Get Prepared & Organized
Getting organized is a huge part of trading. You'll hear me repeat the mantra "come to the market prepared" again and again for good reason.
Of course, your preparation can start the night before as you scan for stocks and begin to formulate your game plan, however the morning will give you time to make the necessary adjustments. You can analyze pre-market activity, read press releases, and modify your game plan. Every night I send out a scan with a lot of stocks, but we always thin down that list after analyzing pre-market trading data. This gives us the best shot of finding high probability plays. You will also want to use this time to make sure you have locates for a stock that's in play. You could have a perfect game plan and spend all day waiting for the perfect moment to pounce on a short, but if you can't find shares to short, you will be out of luck.
What do you do to get ready for the market?
You've read a few of the ways I get prepared for trading. I'm interested in hearing what everyone else does to get ready. Feel free to leave a comment below sharing your routine!