There are plenty of day traders and swing traders out there, many of them engaging in the stock market at different levels. Some people utilize day trading for a living, while others just trade for a few hours a day to bring in some extra income. One of the questions I get asked a lot is, "when is the right time to make the leap to full-time day trading?"
Of course, there is no universal answer to this question, however there are a few considerations that come into play. It should be noted that day trading is not as glamorous as it is often portrayed to be. Trading stocks is not about "making bank" or living an exotic lifestyle. For full-time day-traders, trading stocks is a career. This means it requires work – work that entails sitting by the computer for hours a day staring at screens. You are not guaranteed to make millions of dollars. Heck, you're not even guaranteed to get paid. Day trading is one of the few career choices where you are not guaranteed a paycheck, and you may even lose money after investing hours of your time.
Discouraged yet? Don't be. This is not intended to critique day trading as a career. I trade every day and I love it. This post is intended to be a reality check that allows you to set realistic expectations that will help you take the necessary steps to achieve your goals. It's also important to note that this post is targeted towards people who want to know how to start day trading full-time (meaning you are leaving your other job to pursue day trading full-time). Some of these points will not be relevant to those who trade as an extracurricular activity.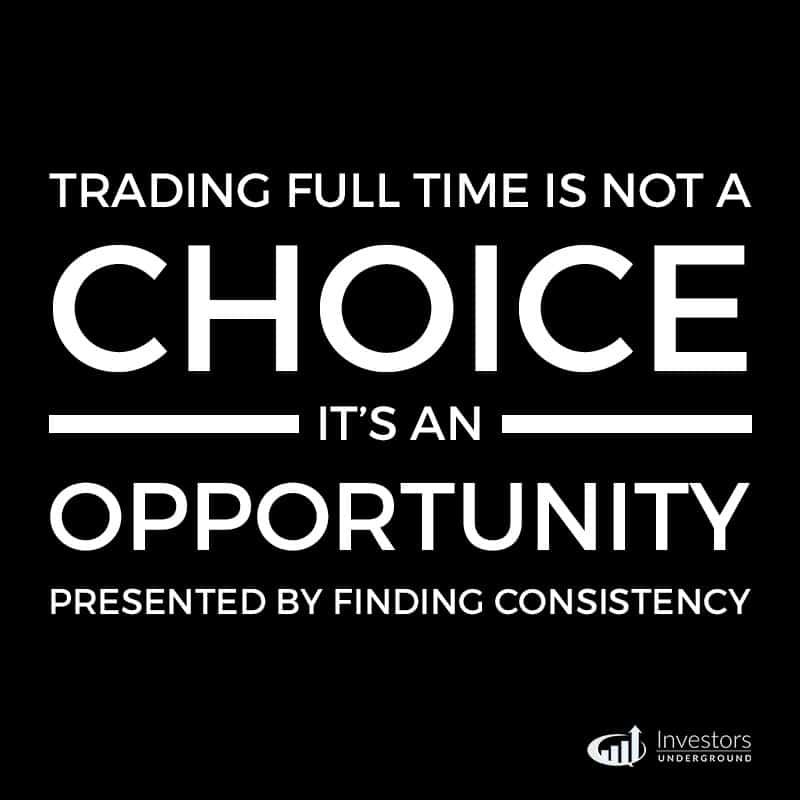 So, let's get to answering the questions.
Day Trading for a Living - A Few Necessary Pre-Requisites
Training – Before you even consider taking the leap towards becoming a full-time stock trader, you should make sure you are properly equipped. You wouldn't quit your job to become an engineer without any proper training, right? What are your of chances of succeeding? The same logic applies to trading. Start developing the proper expertise before even considering a career in day trading. We have a variety of free and paid resources to get you started on your journey.
Experience – You can read 1000 books on trading theory and still get crushed by the markets. Theory and practice are two different skill sets. Most traders need to spend some time actually trading before they can get a real feel for the markets.
Consistency – If you are even considering becoming a full-time trader, make sure you are trading consistently. This will allow you to set realistic expectations for the future. Consistency is proof that you have actually developed an applicable skillset. For a new trader, there's more long-term value in making $5,000/month for 12 months than making $200,000 your first month and $0 the rest of the year. Sure, one provides a higher short-term monetary value, however, it is less sustainable in the long run.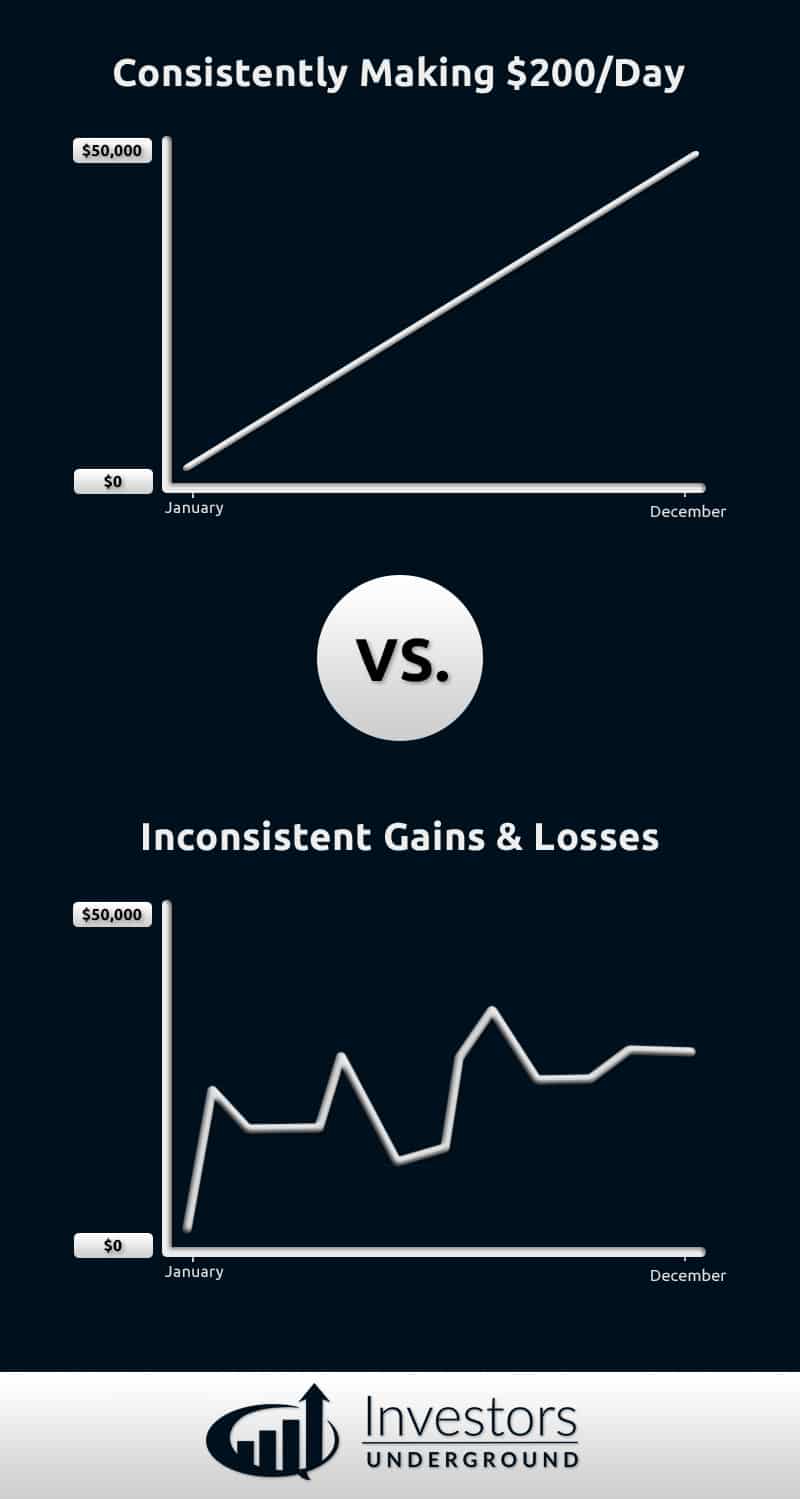 There is no "magic number" when it comes to calculating the amount of experience needed. Different traders will learn at different paces. One trader may be able to become consistent in a year, while others may take a few years. It's important to take these next few considerations into account.
How to Become a Day Trader Full-Time
Both day trading and more conventional career paths have their benefits. A conventional job guarantees you a salary (and, sometimes, benefits), whereas day trading has higher theoretical scalability and allows you to be your own boss. For most full-time day-traders, the biggest benefit is that you get to do what you love at a job that consistently challenges you. Sound appealing? Take the following into account:
As a full-time day-trader, you will have less stability, especially as you start out. You will have good months, bad months, great months, and mentally exhausting months. While this roller coaster of emotions is part of what makes day trading exciting, it can also be stressful if approached improperly.
Financial Considerations
Account for Your Day Trader Salary and Build a Safety Net

Leaving your job means leaving your guaranteed income stream. A day trader's salary is never guaranteed. Sure, leaving your job means you get to escape the monotony of a 9-to-5, but if you want to day trade for a living, you need to be prepared for what follows. Create a financial plan.
You should save up enough money to cover your expenses for 2 years. This will take some of the stress out of trading. If you're not trading to pay the rent, you can make much smarter decisions. Of course, this approach relies heavily on your ability to accurately calculate this number. It's better to overestimate than underestimate.
Make sure to account for everything, including:
Rent
Utilities
Food
Toiletries
Cell phone bills
Insurance
Entertainment
Etc
Don't sell yourself short here. It may be easy to say, "I can live without entertainment for 2 years" until you are 2 months into staring at the screens for 12 hours a day. Be realistic, be accurate, and plan accordingly.
If your calculated budget is $3000/month, save up $72,000 and stick to your budget. If you can live off of $2000/month, save up $48,000 for expenses. This budget will vary considerably by person but the end goal is the same. You are covering your expenses for the next few years so that you can detach yourself from financial stress and have the best shot at success.
Your Stock Trading Account
We discussed the importance of saving up enough money to cover your expenses. You will also need to have the capital to fund an account. Once again, the amount of money necessary will vary by person. You will need at least $25,000 to day trade regularly (based on the Pattern Day Trader rule), however you can swing trade with less. Choose a number and setup the accounts.
Choosing a number is about giving yourself the best chance. Sizing up an account too early before learning consistency is only going to put yourself at the risk of losing more faster. Starting small limits what you can do but also limits your risk vs. starting larger.
Keep in mind, that your expense account and brokerage account are completely separate. You shouldn't have to pull from your expense account to cover your trading costs and you shouldn't have to pull from your trading account to cover expenses.

Other Considerations
Opportunity Cost
Up to this point, we discussed the financial planning involved in taking a leap into full-time trading. It's also important to focus on the opportunity cost of the leap. What are you giving up by making the transition?
For example, if you are making $100,000/year + benefits at your other job, you are walking away from a solid salary and entering a career with an unpredictable salary. Will you be able to get a similar job after 2 years if trading doesn't go as planned? Maybe yes, maybe no. Make sure to account for this before committing to the leap.
Personality Traits
When you become a full-time trader, you enter a world of 100% accountability. Nobody is making you get out of bed every morning and no one is telling you what to do all day. You are the driver of your own income and you are the only one who cares enough to generate it. Make sure you have the discipline and proper organizational skills necessary to make the most of this process. Are you someone who enjoys the autonomy of being your own boss or do you prefer being told what to do? Are you able to keep yourself in check and stick to a schedule or do you veer off and do your own thing? Do you need stability or does risk keep the markets exciting? Be prepared for the lifestyle change just as you are prepared for the financial changes.
Key Takeaways
Day trading stocks is an incredibly rewarding career path with a long list of benefits and perks. This post was designed to help people prepare for the transition. The rewards of day trading for a living can be exciting, causing some people to ignore the work involved in getting there. Let this bring you down to earth and help you take a realistic approach to the transition. Preparation is key. You can get there if you take the necessary steps.
Any questions? Leave them in the comments below.