Another great week to close out the first month of 2020. This week had clean trends and multi-day runs. The Virus-related names gave great opportunities along with the all the normal setups we trade. Like last week there was more short plays then what has been the norm for the last few weeks. Having your scanners set up properly really helped this week as names that haven't done much in a long time seemed to pop up on scans and would have been otherwise missed.
AEMD Swing turns into a day trade
On Monday AEMD caught @Investorslive's attention. Knowing shorts were likely in a bad position he laid out his plan to get long on dips near 2.80 with risk levels at 2.70. The original plan was to make this a swing trade but given the move you would be a fool to not sell a large portion of your position to lock in gains.
NH Team work
I get asked frequently why we would want new members and take our time to help them trade. My answer is always the same. Once new traders built their consistency then they become an asset to the chatroom. There is no way one person can keep track of every ticker out there, not even 100 people can. This NH trade is a prime example of this. Tom brought the idea up and a lot of members were able to capitalize on the trade on both the long and then the short side.
LOPE News
When you have the best news guys in the biz it is like fishing with dynamite! @DonaldKey posted the defense on LOPE that hadn't hit the wires yet. It had given us a great short earlier in the week on the Citron report and then this news gave an incredible long opportunity.
VVNT Quicky 
This was one of the trades that you were rewarded for having your game plan ready to go. In and out of the trade in about 5 minutes.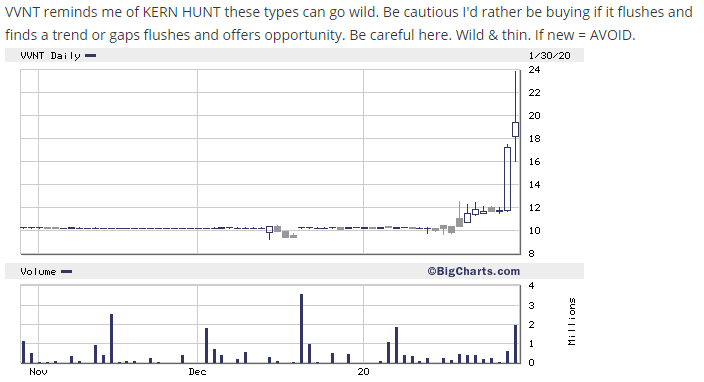 SNDX Early bird gets the worm
This is just a clean trade that @TraderTexMex shared early Friday morning. A little bit of technical and a bit of fundamental analysis lined up perfectly.
Have a great weekend! Reach out to me if you need anything! [email protected]