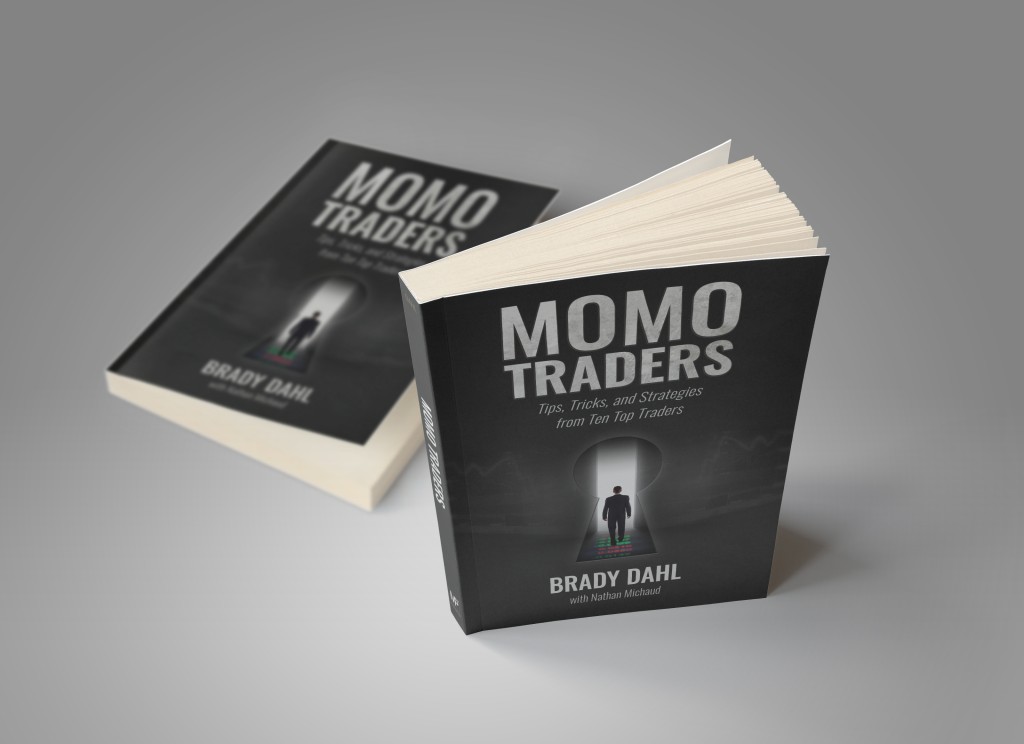 As many of you know, we released Momo Traders by Brady Dahl at the most recent Traders4ACause event. Momo Traders is a book packed with revealing interviews from some of the best traders in the world. The goal of this book was to give people a way to get into the minds of some of the top traders. These traders discuss their journey into trading, their trading styles, trading tips, and much more!
Here are a few popular quotes from the book: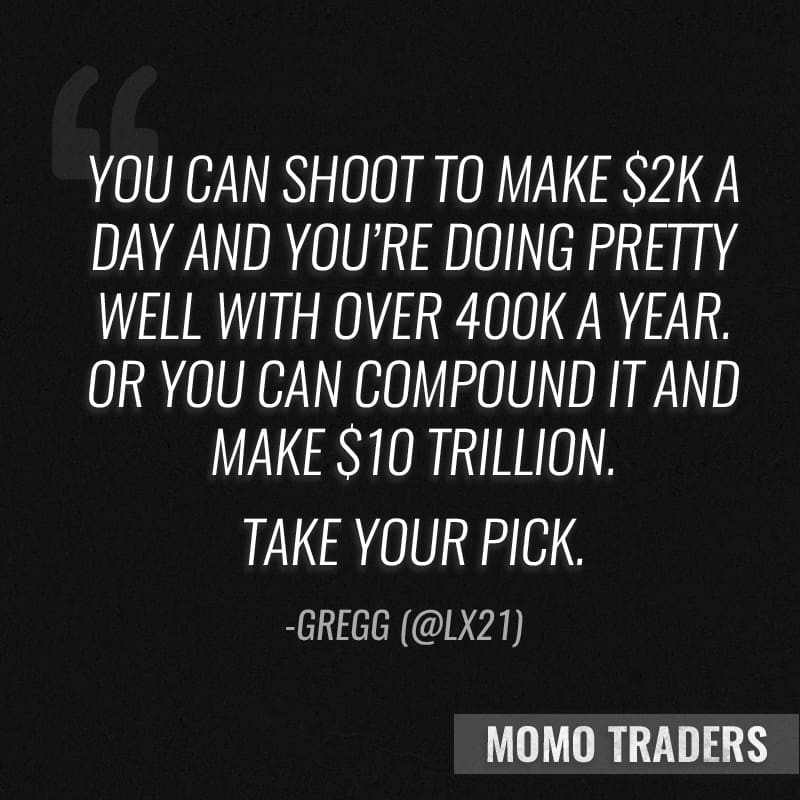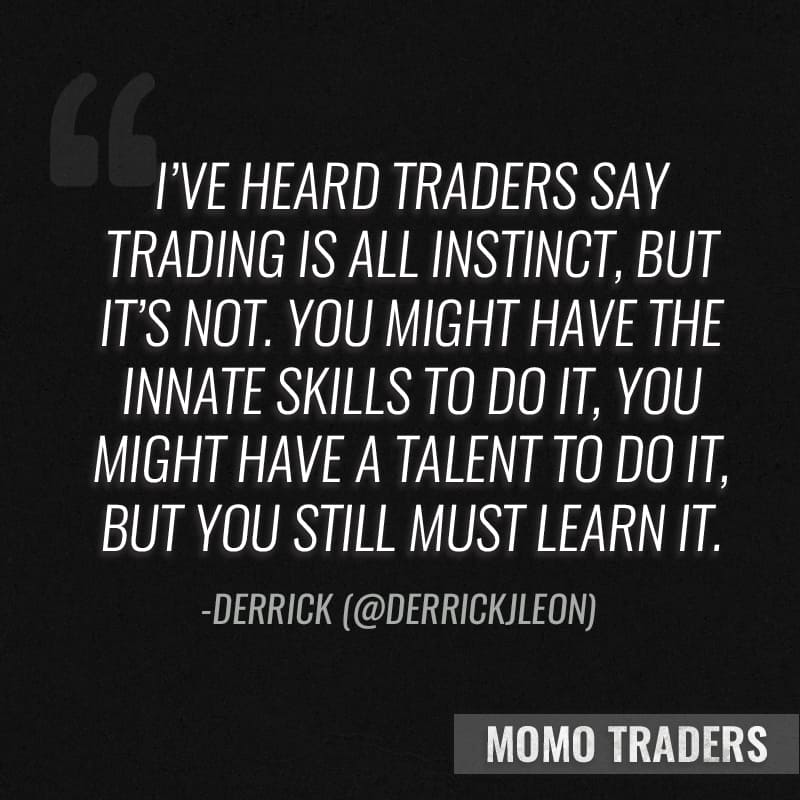 The book has been out for a few months now and the response has been phenomenal!
We've had so much great feedback – check it out!
I called Brady on Oct 15th we shared the same thought: "Hey I'd like to park in my garage again, you?" So, I said how about this – from October 16th to October 22nd, I'll match all book sales dollar for dollar!
When you see these traders posting screen shots of their massive profits now, they don't seem human. However, to read all of their stories, hear about their early struggles, and learn that they came from the same place that you did, is incredibly inspiring.
…does for Day Traders, what Jack Schwager did for Professional Traders when he first published Market Wizards.
Tim Bohen was kind enough to do a chapter-by-chapter video review.
Other Chapter Reviews:
And, of course, the celebrities have been all over Momo Traders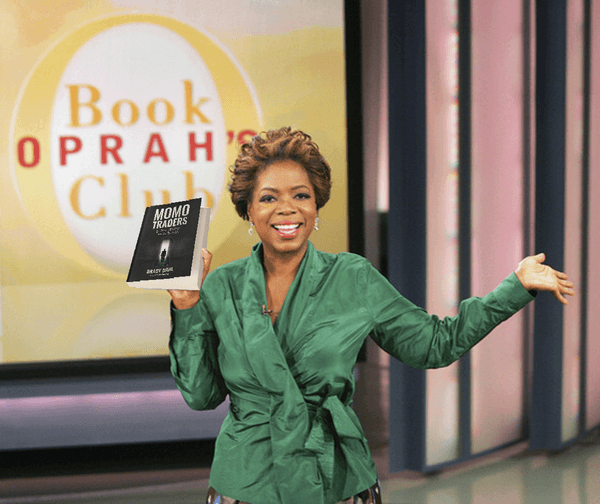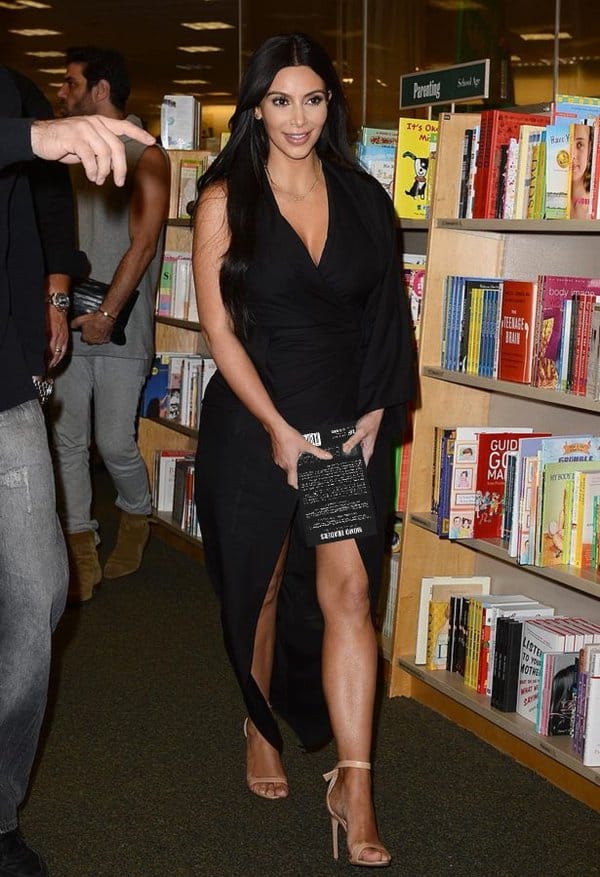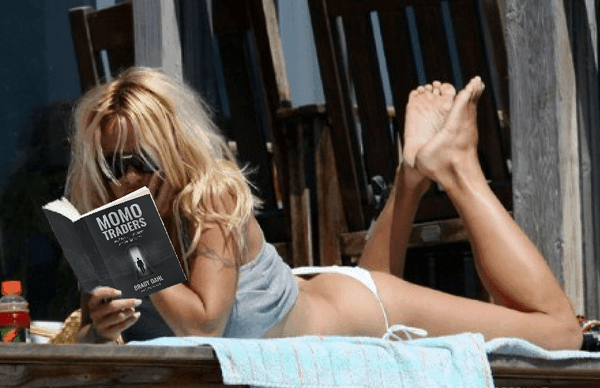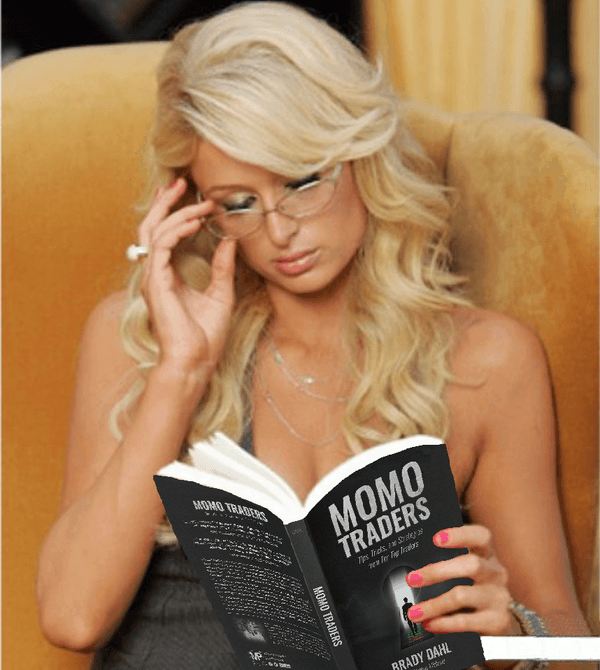 But, best of all, the response on Twitter has been amazing!
We appreciate everyone sharing their feedback. If you don't have a copy yet, you can purchase one here!
Delivered to the UK in about 3ish days … Great stuff ?? Thanks to @modern_rock for making it appear on my Feed ✌?️ pic.twitter.com/tKhCLAhtfw

— Andy McG (@AMcG_FFB) October 29, 2015
@MiltonaTrades @InvestorsLive never finished a book in my life.Always found excuses to not read,but finished half already & can't get enough

— AT09 (@AT09_Trader) September 28, 2015
"Day traders dont fail bc they dont make money.They fail bc they lose all their money. So limit losses"Great quote @OzarkTrades @MomoTraders

— AT09 (@AT09_Trader) October 8, 2015
I've been reading momo traders and it's really been showing lately. Almost immediate improvement.

— Andrew (@Andrew67647132) October 13, 2015

https://twitter.com/Asian3S/status/666756288118972417
@BlackestJohnny and I'm currently reading @MomoTraders . Extremely valuable book well worth the read

— Bobby Hamwi (@Bob3195) December 3, 2015
Just arrived, looking forward to it. @kroyrunner89 @InvestorsLive pic.twitter.com/0nWLGoxv3A

— Brendan Winans (@BrendanWinans) January 12, 2016
@MomoTraders Great book! Couldn't put it down! #MomoTraders

— Rodney Cox (@ChicoBicycling) January 11, 2016
@InvestorsLive @MiltonaTrades @MomoTraders Received my copy last week, can't put it down! Nice job guys

— Mitchell Davis (@ChiliTrader) December 2, 2015
Received my copy last week..can't put it down..and a portion goes to charity! @InvestorsLive @MomoTraders https://t.co/dYcTh0TEq1

— Mitchell Davis (@ChiliTrader) December 3, 2015
#investorslive #momotraders @InvestorsLive @MomoTraders pic.twitter.com/eOdnH1VukV

— Mitchell Davis (@ChiliTrader) December 5, 2015
@InvestorsLive @MiltonaTrades got it in the mail yesterday and just finished it, couldn't put it down.Awesome stuff! pic.twitter.com/HVDvtiPkyM

— Dante Vincent (@DGTrading101) January 8, 2016
@modern_rock Detailing your FNMA trade has made me a much better trader,thank you! pic.twitter.com/47yxNiAK2S

— EQ_Trades (@EQ_Trades) January 23, 2016
Reading @modern_rock chapter in Momo Traders really reminds me that slow & steady gains add up. No need to go for home run gains everyday

— G Trader (@G__Trader) January 19, 2016
@MomoTraders Just got my book in the mail – and now, can't put it down!! Amazing – a must for any trader! #MomoTraders

— Gekko Trading Co. (@GekkoTradingCo) December 24, 2015
Finally came in yesterday and it's been a great read so far @MomoTraders @InvestorsLive @modern_rock pic.twitter.com/6nM7HrgW2d

— Haterxade (@Haterxade) November 30, 2015
@MiltonaTrades @modern_rock Thoroughly enjoyed @MomoTraders on par with Market Wizards for insight and ease of read. @InvestorsLive

— Zach Hodgson (@HodgsonCapital) November 3, 2015
Properly defaced. Multiple reads, dog ears, highlights and notes just the way @MomoTraders likes it. @InvestorsLive pic.twitter.com/JQXOjoHbED

— Zach Hodgson (@HodgsonCapital) December 23, 2015
@InvestorsLive @modern_rock waiting for the @MomoTraders book like…. pic.twitter.com/XljNHOClca

— Hunter (@Hunter_GL2) October 8, 2015
New book day. Thanks @MomoTraders @InvestorsLive pic.twitter.com/3pGID1f1Xz

— ian christopher (@IanCJenkins) October 15, 2015
I found money on the ground while walking to work and reading @MomoTraders . I guess you could say the book is already paying for itself.

— ian christopher (@IanCJenkins) October 17, 2015
Part of batch being sent Monday supporting @BCRFcure #BreastCancerAwareness http://t.co/SBoVALqLQd @MomoTraders pic.twitter.com/882VYVdzxS

— Nathan Michaud (@InvestorsLive) October 19, 2015
Nearly $8,000 raised since Oct 16th @BCRFcure #BreastCancerAwareness https://t.co/SBoVALqLQd @MomoTraders pic.twitter.com/PwYtqVZ9Z2

— Nathan Michaud (@InvestorsLive) October 19, 2015
Essentials for a good time !! @MomoTraders @steenbab the two best trading books !! https://t.co/fFFLxvuVQM

— Nathan Michaud (@InvestorsLive) January 17, 2016
Took a second run at @OzarkTrades chapter amazing insight into importance of minimizing losses. Props @MomoTraders pic.twitter.com/9ABxBdtFm8

— Nathan Michaud (@InvestorsLive) January 21, 2016
This is one area where I'd like to expand my knowledge as well @OzarkTrades @MomoTraders https://t.co/0PQxZUPcQ0 pic.twitter.com/KrS7pJt4So

— Nathan Michaud (@InvestorsLive) January 21, 2016
Just finished @lx21's chapter in @MomoTraders. Very inspiring and eye opening. Hit close to home. Thank you!

— InvictusProp (@InvictusProp) October 11, 2015
It finally arrived. Just in time for the weekend. pic.twitter.com/tdSUFdULaJ

— JC (@JCTradesHere) November 20, 2015
I'm about half way through @MomoTraders. Damn good book!

— JC (@JCTradesHere) January 25, 2016
@modern_rock @MomoTraders I started reading & love it. Most books don't go into details of strategy/screeners even desk setups! Thank you!

— Anthony Torchia (@TraderTorchia) October 8, 2015
Finally got my copy, thanks guys! @InvestorsLive @MomoTraders @modern_rock @kroyrunner89 pic.twitter.com/oqiNg0oGOf

— Konner (@Konner_S) January 8, 2016

https://twitter.com/LRStockTrader/status/673043049639907328
It came!!! Now I need to fight this bear for my turn to read! Thanks @InvestorsLive @MiltonaTrades @modern_rock pic.twitter.com/1vCZbb2Xch

— LadyGagaTrader (@LadyGagaTrader) October 14, 2015
If I remove it from its plastic wrap to read it, the book will no longer be in mint condition! @InvestorsLive pic.twitter.com/gvatuU5fUM

— Letter of Marque (@LetterofMarques) November 24, 2015
@InvestorsLive @MiltonaTrades @MomoTraders @steenbab 1 of the best, a must read over and over. pic.twitter.com/ZQekLvAYDw

— Limitless (@Limitless711) November 14, 2015
Just ordered a copy of @MomoTraders to review before I open a new account. Big thanks to all the traders who collaborated on this!

— Robert Jirousek (@Lock_in_profits) October 22, 2015
The face you make when you realize that you are holding heavy artillery @MomoTraders pic.twitter.com/19U61QQj5A

— Robert Jirousek (@Lock_in_profits) October 28, 2015
@MomoTraders Haha good one! I'm on page 100 already. This book is full of excellent tactics and nuances. A great review of different styles!

— Robert Jirousek (@Lock_in_profits) October 30, 2015
@MomoTraders @InvestorsLive @modern_rock just landed on the doorstep looking forward to this one. pic.twitter.com/yRPmpgyHe8

— Maximus Analysis (@MaximusAnalysis) October 20, 2015
@InvestorsLive @MiltonaTrades @MomoTraders can't wait till Christmas to read my copy! Told my wife it was the only thing I wanted

— Michael Cannon (@MikyyyMike) December 18, 2015
Reading this book for a second time. It's always relevant @MomoTraders pic.twitter.com/ca5jirgbNU

— Lyudmila (@Milastocks) November 28, 2015
This was really great to hear after all the work. Thanks!! http://t.co/6m7ayLUNH5 pic.twitter.com/bNOOqsUqE0

— MiltonaTrades (@MiltonaTrades) October 7, 2015
@elkwood66 enjoying your chapter in @MomoTraders "understand that when a stock fails, people are ready to bail". Well said

— M³ (@MindMakesMatter) January 9, 2016
Started reading one of my Christmas gifts tonight @InvestorsLive @modern_rock #goodshit #motivated pic.twitter.com/Z9fmBdhVlV

— Moe Bitch (@MoeizBetta) January 10, 2016
Today's load, off to find, entertain, and enlighten their owners… https://t.co/EIunq9RFRH … pic.twitter.com/PtDUQBm78L

— Momo Traders (@MomoTraders) October 23, 2015
https://t.co/EIunq9A509 is "one of the best investments of my life"… pic.twitter.com/BuGCtzamGj

— Momo Traders (@MomoTraders) November 9, 2015
https://t.co/EIunq9A509 has "more grit" than the other trading books out there… Thanks, Joanne! pic.twitter.com/8TQseMs22N

— Momo Traders (@MomoTraders) November 19, 2015
Sweet! pic.twitter.com/QVyphCSWj0

— Momo Traders (@MomoTraders) December 18, 2015
Thanks! Love the #GameChanger hashtag! pic.twitter.com/XKLCD0CGCz

— Momo Traders (@MomoTraders) December 19, 2015
Have received some very nice messages lately. Thank you! pic.twitter.com/spRv4FvddA

— Momo Traders (@MomoTraders) January 20, 2016
Muchas gracias! pic.twitter.com/qEE2QoU07f

— Momo Traders (@MomoTraders) January 21, 2016
Just finished the 'Momo Traders' book. Fantastic insights from great traders. When is the movie version coming out? pic.twitter.com/pHu4rPnuxO

— MonacoTrader (@MonacoTrader) October 1, 2015
@InvestorsLive Momo Traders thank you fantastic book

— Noah Smielewski (@NSmielewski) January 13, 2016
The wife taking her turn reading @MomoTraders on the beach. @InvestorsLive @modern_rock pic.twitter.com/7Ww7X3SLQ1

— NoOrder96 (@NoOrder96) October 10, 2015
Just ordered my copy @MomoTraders. And @InvestorsLive matched for charity. Wow! TY.

— LeapFrog (@PT_DayTrader) October 18, 2015

https://twitter.com/PT_DayTrader/status/662706542710546432
Just ordered @MomoTraders can not wait to read this thing . A lot of awesome traders in it @InvestorsLive

— PlayTheDips (@Playthedips) October 15, 2015
@MomoTraders Start 2016 off Right…Read Momo Traders! Brady does a masterful job interviewing the 10 traders highlighted Nice Job!

— PolarisTradingGroup (@PolarisTrading) January 3, 2016
Reading @MomoTraders to gain motivation and knowledge. Best book i ever bought im sure.

— Idiot (Ryan) (@Reusstrade) October 25, 2015
Finally, my New Year's gift is here :). Thanks @InvestorsLive @modern_rock @MiltonaTrades @MomoTraders pic.twitter.com/HIOe3ERFkv

— Ryan Ly (@RyanLy15) December 30, 2015
@MomoTraders I am not a book person. But I absolutely love reading it.
This is my best purchase overall.Thank you

— Ryan Ly (@RyanLy15) January 3, 2016
@elkwood66 Really enjoyed reading your part in @MomoTraders . Very inspiring. pic.twitter.com/Jd9i0NkWNJ

— Sengie (@SengieTheRookie) December 4, 2015
@MomoTraders Just finished another chapter, This book is to trading what the Bible is to Religion.

— Bluemoon Trader (@ShaParkinson) December 20, 2015
Late night lecture. Arrived today…finally all the way to Germany! @InvestorsLive @MomoTraders #learnfromthebest pic.twitter.com/X8peavCoNZ

— TRADEaddiction (@TRADEaddiction) December 2, 2015
Because everyone is doing it 😉 thx @MiltonaTrades @InvestorsLive pic.twitter.com/5lcI8h5t7o

— Corbin (@Tenac1ousTrader) October 16, 2015
@vybzmilo @InvestorsLive @MomoTraders its great, really good so far

— Plain_Cheese_Pizza (@The_Dude_Ab1des) October 23, 2015
Look what I found in my mailbox today! Reading time! @modern_rock @InvestorsLive @MomoTraders pic.twitter.com/pAlS8mPSQM

— Tony (@tonyleguen) October 8, 2015
Just got it in the mail. I know what my plans are for this weekend… study. @InvestorsLive @modern_rock pic.twitter.com/yJbttB2prC

— Duane Prather (@TraderMonkey999) October 15, 2015
@MiltonaTrades Finished up your book over the weekend….a must read for any trader….AWESOME!!! will be rereading again soon! @MomoTraders

— Bradley Turner (@Trnr395) October 19, 2015
Late start today couldn't put down this @MomoTraders book last night.

— Tug (@TugBoatTrader) October 10, 2015
@InvestorsLive just picked up Momo Traders. Just waiting for it so I can sit on the toilet and read it front to back. #whereiread

— Tumbletron (@Tumbletron) January 13, 2016
Reading @MomoTraders book while waiting for another setup to enter. $wynn is potential late day fader pic.twitter.com/2EFBLydqMB

— Yerlan Turzhanov (@YerlanTurzhanov) January 26, 2016
Really enjoyed this read, thanks for the heads up @bciebell #momotraders Burned through it in no time… pic.twitter.com/KZ7PGjxeom

— Adam Wisowaty (@adamwiso) December 9, 2015
@MomoTraders great book, wish it came out summer of 2014, woulda saved me $200k in losses on $LAKE, $APT and $NDRM. #traderhindsight.

— Eric Thomas (@aericthomas1) November 10, 2015
I'm reading this now for the second time! Great book!! @lx21 @elkwood66 @DerrickJLeon @OzarkTrades @MomoTraders pic.twitter.com/Bis1rphI8n

— victor prince (@altvictorp) October 25, 2015
Just finished the 'Momo Traders' book. Fantastic insights from great traders. http://t.co/6TWEelPfAn

— Anirudh Sethi (@anirudhsethi71) October 2, 2015
@MomoTraders I'm rereading this awesome book on the NYC subway & all these ppl from Wall St. get on & are commenting on it too!

— Bank_a_tronic (@bankatronic1) December 18, 2015
Christmas gifts at their best when spoiling myself! @MomoTraders and #ChristerOlsson sharing their thoughts pic.twitter.com/3pysdoasZZ

— Von Pars (@bizpars) December 20, 2015
Finished this fantastic book so I don't have to rely on winning powerball. Gr8 job writing it @MiltonaTrades pic.twitter.com/amg6xO3y3Y

— Von Pars (@bizpars) January 14, 2016
Loving pg 46-47 of @MomoTraders . Very interesting. Had to read it 3 times. #hocuspocus

— Bob_trade (@bob_trade) November 28, 2015
90 lb weighted tricep dips and reading inspirational traders like @modern_rock between sets!!! 7 figures FNMA! pic.twitter.com/QlyO9yVbRC

— Geff (@bullishG) January 23, 2016
@Skywalker2l @modern_rock pick up the book @MomoTraders and read up on how they got to where they are. Truly inspiring!

— Geff (@bullishG) January 27, 2016
The essentials for getting my brain back in the right place! @InvestorsLive @steenbab @MomoTraders pic.twitter.com/7x6Du3ydLn

— CATornadoChaser (@catornadochaser) November 30, 2015
My reading material. @MikeBellafiore @MomoTraders @smbcapital @steenbab pic.twitter.com/HAVm2NqAL0

— Mr. Coleman (@clmnmtthw1) December 28, 2015
Momo Traders has landed,went thru…a must read for anyone serious about trading @MomoTraders @InvestorsLive pic.twitter.com/Vfoax1RjoU

— Emil (@cuzmane) December 3, 2015
Read our Book Review of @MomoTraders , a "must have" addition to any aspiring Day Trader's library https://t.co/CBDg0Uwkt7

— Forex Alchemy (@forexalchemy) November 25, 2015
Ok Going to read @MomoTraders now..See how @modern_rock reached his success & being able to live a fab life w/little sobriety :)cheers buddy

— Mike (@hillmf) December 14, 2015
#snowtoriousBIG #Jonas is here but I'm prepared. @MomoTraders @InvestorsLive Solid read guys! Dont drink and trade. pic.twitter.com/MFFDD8tRJa

— imbrue001 (@imbrue001) January 23, 2016
A must read book! 100% trading motivation! The real thing. @MomoTraders pic.twitter.com/CWsHcSuNbG

— Irving Varela (@irvinux) December 9, 2015
A great week for me, +4546! Will be spending more time with Momo Traders this weekend. Have a good one pic.twitter.com/5TFRLet9iJ

— Inefficient Market (@inefficientmrkt) October 23, 2015
@offshorehunters I loved reading your chapter Michele! Great finish to a great book! pic.twitter.com/z7z3aBFlMP

— Jack (@jackp0706) November 8, 2015
thanks to @MomoTraders I'm letting my winner develop and taking some profits along the way. $FB up 13% on day profits taken so I'm short

— AirplaneJane (@jane_yul) January 28, 2016
omg! omg! omg! @modern_rock @InvestorsLive @kroyrunner89 Merry Christmas to MEEEEE! pic.twitter.com/g63UNH9IBT

— Jean (@jeanlpage) December 25, 2015
"Working harder will not make an opportunity appear. It's either there to found or it doesn't exist" – @lx21 @MomoTraders

— jkck8 (@jkck8) December 29, 2015
@MomoTraders @InvestorsLive the market wizards of 2015

— john benjamin (@johnben38780284) December 25, 2015
"Every bad trade gives me the learning experience necessary for my winning trades"
Gold pic.twitter.com/XN4R5UPSlF

— john benjamin (@johnben38780284) January 23, 2016
Ready pic.twitter.com/aJs7Dcbu0Q

— JPinto (@jpinto89) November 23, 2015
@MomoTraders already read the first chapter, loving it so far ? pic.twitter.com/Z2NTimLkyK

— Tyler (@justakid4707) October 19, 2015
If you're looking for a great trading book, http://t.co/sdlNU68YRb the place to go! Has my story and stories of far better traders than me!

— Tim Grittani (@kroyrunner89) October 19, 2015
Finished chapter 1 @momotraders . My takeaway @lx21 Is a genius and works harder then anyone I have seen. http://t.co/OyNkuf8MTG

— Kunal Desai (@kunal00) October 8, 2015
Pretty fast shipping. Looking forward to reading it @MomoTraders @InvestorsLive pic.twitter.com/oCYy6SfEuc

— latin0devildog (@latin0devildog) December 22, 2015
+$6,185.90… Thanks $AVXL and @MomoTraders book! Those interviews gave me confidence to size in on this opportunity! pic.twitter.com/2nS6yVs5Qf

— ldbobby (@ldbobby) November 9, 2015
just got it in my mailbox.. looking forward to it!! @MomoTraders pic.twitter.com/UHghnw80Kv

— jefferson manvone (@manvone) January 4, 2016
New trading book from @InvestorsLive, Momo Traders! pic.twitter.com/zd7AI2eUAp

— Matt DeLong (@mattdelong90) October 24, 2015
Starting out Christmas right! @InvestorsLive @modern_rock pic.twitter.com/tQZj4F2tds

— Matt (@mcarter0) December 25, 2015
Finished #MomoTraders in #Haiti today. @InvestorsLive @MiltonaTrades 5/5stars.. Amazon review soon. pic.twitter.com/BVQg9lx4V7

— blake (@merrellblake) November 1, 2015
@MomoTraders @InvestorsLive @modern_rock @lx21 @elkwood66 @DerrickJLeon @OzarkTrades Done with MomoTrader book! Awesome book! I recommend!!!

— mizael bolduc (@mizaelbolduc) October 11, 2015
I never wanted to give an interview until this book for charity @MomoTraders buy a copy at https://t.co/LmXXrcus6c pic.twitter.com/jakqYkXtro

— Modern_Rock (@modern_rock) November 29, 2015
What an inspiration! Bless him! Much appreciation @InvestorsLive @MomoTraders @elkwood66 @MonacoTrader @lx21 pic.twitter.com/75YiBblCf7

— Modern_Rock (@modern_rock) January 14, 2016
@surrichitrader @InvestorsLive @MomoTraders on my list!! Checked it twice!

— Jo Eash (@mojochachi9) December 24, 2015
@InvestorsLive @MomoTraders after a morning of trading green in chat, time for some #learning pic.twitter.com/TV5DcJa6UP

— Marc Penner (@motarque) December 11, 2015
@MomoTraders @InvestorsLive got the book saturday, finished today. Couldn't put it down pic.twitter.com/db4Yr2dL8x

— Marc Penner (@motarque) December 15, 2015
@modern_rock – Read your chapter. Great book! @MomoTraders

— Mr NiceGuyTrader (@mrniceguytrader) October 18, 2015
Chapter one down…really impressive @MiltonaTrades pic.twitter.com/O5qgDBC4hx

— Offshorehunter (@offshorehunters) September 28, 2015
Time to bust out another chapter of @momotraders during the lull. pic.twitter.com/TxLUeVDvVq

— CappyP83 (@pfourn83) November 4, 2015
@lx21 @elkwood66 @DerrickJLeon @OzarkTrades @modern_rock @johnwelshtrades @kroyrunner89 @InvestorsLive thanks u all! pic.twitter.com/1I1rWkWdDx

— Rafael (@rafaeleospina) October 31, 2015
@MomoTraders a must read! I'm 4 chapters in and it's hard to put down. Thx for your insight @lx21 @elkwood66 @DerrickJLeon @OzarkTrades !!!

— Brian Vickers (@rbrianvickers) December 5, 2015
@MomoTraders Just finished it! Truly an amazing book. There is something for everyone in this book! Thank you to all of the contributors!

— Brian Vickers (@rbrianvickers) January 1, 2016
Studying pays off :)) #MomoTraders @MomoTraders pic.twitter.com/bYHTMwi768

— Babby Gutz (@roberto1819) October 5, 2015
@MomoTraders $FNMA insight's from 2awesome traders, 2 different point of views trading this classic pennystock move, a must read!

— Santiago Lopez (@slopezsu) October 20, 2015
@MomoTraders @modern_rock page 139 has one of the most epic plays i've read all around, learn it to do it "your way"!

— Santiago Lopez (@slopezsu) December 9, 2015
No internet in my region today, Reading again @InvestorsLive @MomoTraders pic.twitter.com/3wPP9umv7R

— Santiago Lopez (@slopezsu) January 20, 2016
Just read the @modern_rock chapter in @MomoTraders book, great insights, awesome story. TONS of highlights and notations made on the pages!

— Daniel_R (@sneaky_russky) October 11, 2015
@elkwood66 love your story. Stock market bad ass. I now picture you trading with a leather cut and some gloves. @MomoTraders

— Soto (@sotorious) October 20, 2015
Just got through the @lx21 chapter on @MomoTraders book, great insights. Thanks to all involved in putting it together

— Erwin Giron (@spidereg71) October 13, 2015
@MomoTraders very good book. A must read for a trader! pic.twitter.com/pEX0XPMxVW

— stocktrad3r (@stocktrad3r) November 1, 2015
This Thanksgiving I'm grateful for all the traders from book @MomoTraders. Read it to take your game to the next level.

— Sur Richi Trader (@surrichitrader) November 22, 2015
@MomoTraders @modern_rock best and yet super cheap investment I have ever made!

— Chang Can Trade (@syntek91) October 30, 2015
@InvestorsLive Thanks from France… pic.twitter.com/m5bqmMavLW

— TheSpikeNews (@thespikefxnews) December 14, 2015
Got @MomoTraders for my birthday! Will be doing a detailed book review for https://t.co/ZzYycOFpSx. Stay tuned. pic.twitter.com/hzR3LWYTdh

— TheTickerTrader (@thetickertrader) December 8, 2015
@MiltonaTrades I think I highlighted every page. The inside of the book is now purely yellow with chicken scratch. Great job man!!!

— traderMD (@trader_MD) October 1, 2015
Super impressed with @MomoTraders Didn't think stock people would know how to write, but was so wrong. Will reread many times in the future

— Joe_G (@trueStocks) October 30, 2015
I am truly upset I read @MomoTraders because now I have nothing else good to read! Time to read it again.

— Joe_G (@trueStocks) November 5, 2015
@MomoTraders @elkwood66 @InvestorsLive this read is crucial to any aspiring trader. I highly recommend. Thank you! pic.twitter.com/VRpmXLV5kl

— Vin Trader (@vin_trader) January 12, 2016
@lx21 @MomoTraders wow what a great first chapter already got my post its out !!! .. 9 more to go ! pic.twitter.com/a7msJLgHcM

— viral (@viru_s7) October 21, 2015
"What do you mean you spent my bacon money on book?" @MomoTraders @InvestorsLive pic.twitter.com/1AoWpFgdxz

— gunshy (@vuview) October 14, 2015
@vybzmilo @MomoTraders @InvestorsLive Good read justified the $30 price. A great read however, can change your life. This is a GREAT book!

— gunshy (@vuview) October 23, 2015
Yes yes yes! Xmas is early this year! Thank you @MomoTraders @InvestorsLive @modern_rock ! pic.twitter.com/rCsvUkvZru

— VinceTheTrader (@zenyo5) October 13, 2015
@tbohen @MomoTraders @DerrickJLeon @OzarkTrades @YouTube A must read for traders at any level. I'm reading it for the second time.

— Marcel Farhad (@zooyzeh) October 15, 2015