Tickets for the 5th Annual Traders4ACause Charity Conference & Golf Tournament are on sale now! The conference will take place on October 12-14, 2018 in Las Vegas, Nevada. This year, the event will be hosted at the Cosmopolitan of Las Vegas.
As always, we have a lot of exciting things planned for you guys. This is THE conference to be at if you're a trader. Every year, traders from around the world meet up in Las Vegas for an amazing weekend full of:
Presentations from leaders in the world of day trading
Networking events to expand your trading circle
A golf tournament (optional)
The best part - all proceeds go directly to charities. We work closely with hand-selected charities to make a major impact. We've raised over $700,000 to date!
T4A2018 Early Bird Pricing
Early bird registration is open now. Use the code "IU200" to save $200 on your ticket.
Take advantage of this pricing while it lasts.
If you still want to learn more about the event, keep reading check out the video below.
What's In Store for T4AC2018
Every year, the conference surpasses the previous year's conference.  The feedback is always overwhelmingly positive.
This is a truly unique event that allows traders from all around the world to connect with each other. Here are a few things we have in store for T4AC2018.
Learn from the Best
The Traders4ACause conference is a goldmine for valuable trading information. T4AC2018 hosts some of the biggest names in the industry, such as Jon Najarian, Christ Irons, Tim Grittani, Sahm Adrangi,  Mike Bellafiore, and more.
T4AC2018 has two full days of keynotes, "stock talks", and panels.
Here are some of the speakers we've had in the past: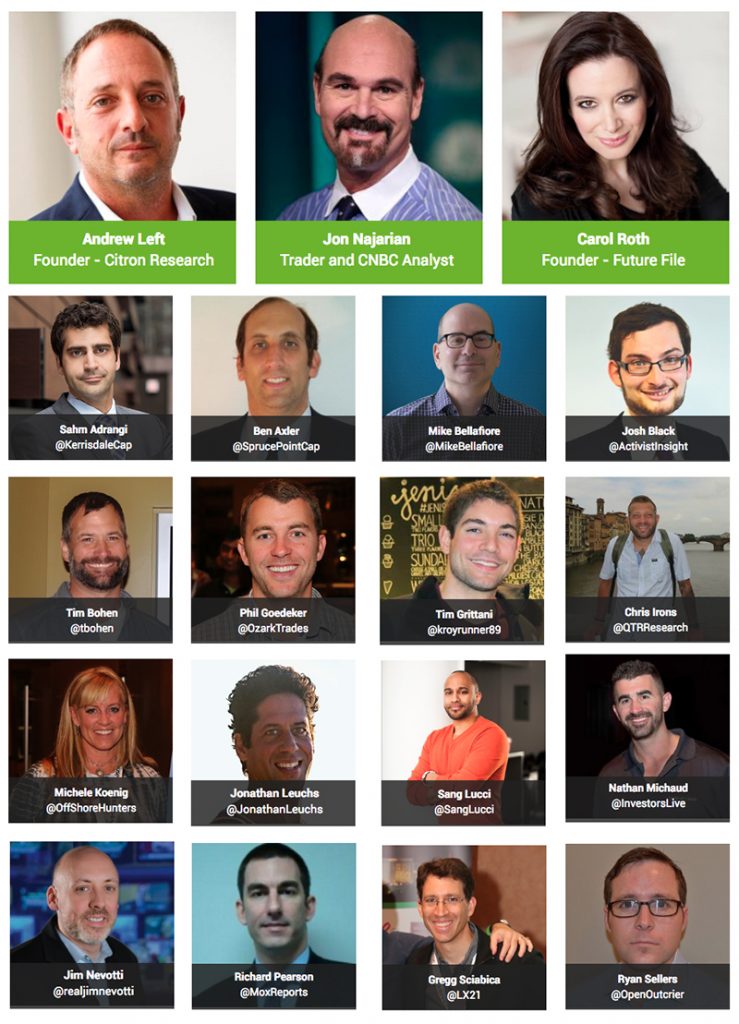 The speakers discuss a range of trading topics, including:
Short selling strategies
Trading psychology
Trading technology
Current market trends
And more!
You'll get the chance to learn from some of the most experienced traders in the industry. These presentations are NOT recorded and can only be seen by attending the conference.





Expand Your Trading Network
Your trading network can have a big impact on your success. Who you know is just as important as what you know.
Traders4ACause offers plenty of opportunities to network with traders of all skill levels. You can meet guys from the chat rooms, talk to reps from your favorite trading services, and mingle with the speakers. The event has a friendly and open vibe, making it easy to meet new traders. A lot of lifelong relationships have been forged at T4AC events.
This year, T4AC2018 will feature multiple cocktail hours and social events.





Show Off Your Golf Skills (or Lack Thereof)
As part of the T4AC tradition, we will host a golf tournament alongside the conference. The golf tournament is optional but it's the highlight of the event for many people!
Don't be intimidated if you're not a golfer. The tournament is a friendly, non-competitive event designed for networking in a smaller group. You will be teamed up other traders for a day of golf, food, and beer.



Get Your Tickets Today
Take advantage of early bird pricing AND take an extra $200 off your ticket price with the code "IU200."
Common Questions About the Conference
Is T4AC2018 good for new traders?
Yes! T4AC2018 is designed specifically for traders of all skill levels. Every year, we have traders who just started trading in the past month and traders who have been trading for years. There is a TON of valuable information for new traders to absorb, and veteran traders are always happy to assist new traders.
Where can I see the speaker lineup?
You can see the latest speaker line-up on the event page. This is a growing list of speakers and will be updated as new speakers are added.
How does T4AC2018 compare to other trading conferences?
First off, T4AC is designed specifically for traders. All of the educational material is designed to help retail traders (vs. investors and firms).
Aside from our impressive list of industry speakers, T4AC also offers one of the best networking environments of any conference. This isn't some conference where you get lost in a sea of 500 people. It is a friendly, intimate environment where everybody socializes. We guarantee you'll be leaving with new connections.
If I don't golf, is the event still worth it?
Of course. While we highly recommend participating in golf, many traders come solely for the conference and social events. Golf is considered an "add-on" and won't be included in your ticket price if choose not to participate.
The golf tournament will take place on Friday, October 12 during the day. The conference and social events will go from Friday night until Sunday afternoon.
Can I bring a spouse (or significant other) to the event?
Definitely! While your significant other may not be interested in the trading conference, there will still be plenty of events they can enjoy, such as cocktail hours and complimentary lunch/breakfast. Plus, we'll be in the heart of Las Vegas where there's no shortage of things to do!
Is my ticket considered a tax write-off?
A portion of your ticket will be considered a charitable donation. The remaining amount may be a tax write-off for your business. Consult with your CPA regarding your personal situation.
Are you accepting sponsorships?
We currently still have a few sponsorship opportunities available. Click here to learn more.