We are happy to announce that we have the final dates set for the annual Traders4ACause Conference and Golf Tournament!
SAVE THE DATE
October 7-9, 2016
Las Vegas, NV
For those of you who are unfamiliar with the event, you can learn more on the Traders4ACause website. The event provides a great opportunity for traders from around the world to get together, connect, play golf, and learn from our renowned speakers. We have received nothing but positive feedback for the event and we look forward to seeing more new faces this year!
Our Upcoming 2016 Event
Tickets for the 2016 event will be going on sale soon. We are still finalizing the list of speakers and other event details. In the meantime, we have some very exciting news! One lucky person will have the opportunity to win an "all expenses paid" trip to the annual Traders4ACause Conference.
This trip will include:
1 Conference Ticket
Round Trip Airfare (for US residents)
A 3-Night Stay in a Delano King Suite
A Free Round of Golf at T4AC 2016
Dinner for 2 at Rivea (up to $300)
A Round Trip Limousine from McCarran Airport
How to Enter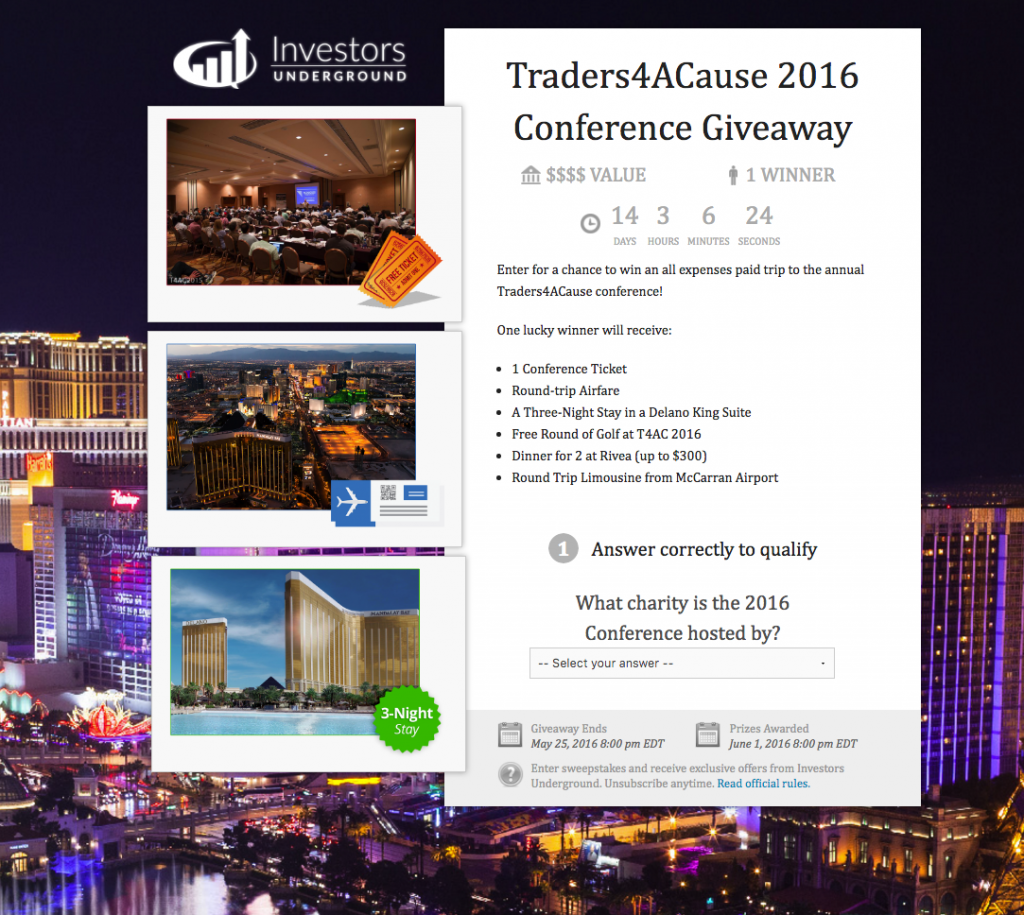 This giveaway is operated like a raffle, where you can get multiple entries to increase your chances of winning. Entry is 100% free and you can increase the amount of entries you get by referring friends.
You will get 1 entry just for entering the contest and 5 extra entries for every friend you refer.
 Enter your email address
 Share your link to get more entries!
The giveaway will end on May 25 and one lucky winner will be chosen at random.
ENTER NOW