First and foremost before you get lost in this blog post my goal is two fold:
Share my thoughts AND ask for yours.
So, I'm asking you a) what two things you learned this year (strength and weakness) and b) what is one improvement for next year?
We can all use this as an opportunity to learn from each other.
It would be great if you could leave a comment below in the following format:
1. I learned that my weakness was:
2. I learned that my strength was:
3. In 2016 I want to focus most on:
I'm looking to get your feedback and compile a list of some of the best changes for 2016.
Secondly I want to start out by saying that I never have monetary goals. I've found that each time you reach a monetary goal, you're never satisfied. It's most important (and I'm not trying to sound cliche) to find a happy medium and some sort of balance in your life with friends, family and things that truly make you happy.
To get into it further I'll give you an example:
All I wanted to do was to get to $100k in a bank account then once there I was going to buy a car. I never bought the car I wanted because when I had $100k, I needed $200k, then that quickly became a goal of $500k cash. Well, these were nice lofty goals, but who the hell would stop at $500k? Clearly the next target is $1 million. And, of course, once $1 million is in your account, then clearly its $2 million then $5 million, $10 million, $25 million, then the goal ultimately becomes a hundred millionaire. See the trend? You're never going to be fucking happy if you base your goals on monetary numbers.
Additionally, goals should be set on the PROCESS. Becoming a better trader doesn't just mean making more money. Becoming a better trader can mean becoming more patient, working on entries, and minimizing stress levels. It might even include time away from the PC (if you're an addict like me, this is always a challenge).
Each year it's good to take a look back at the good, the bad and the ugly. Prior years I had looked back and noticed that had I just set an "oh shit" handle number of $10,000. No MATTER what, if the trade failed, if I was stubborn if I didn't follow rules, if I had taken the trade off at $10,000 I would have saved in the neighborhood of $250,000-300,000 each year on stubborn losses. This can be as simple as minimizing an $80,000 loss to $10,000. Here's the thing – very rarely when you're down over $X on a trade (whatever that # may be) it's nothing good. Not only are you red, but most times the losses that follow are  exponentially higher than you think because you're sized in, breaking rules and not trading smart.
It happens to all of us, if you want to sit there and say you're perfect and you never break rules and getting squeezed on a stock could have been avoided — news flash, you're only lying to yourself. It's the market guys anything can happy at ANY time. That includes halts, buyouts, squeezes, fat fingers, emotions, you name it.
FRONT SIDE OF MOVES
2015's biggest goal for me was to stay away from the front side of moves. One of my BIGGEST strengths is nailing the tops on the front sides of moves eight maybe nine times out of ten. HOWEVER, the one time I don't nail it I find myself "sticking around" waiting to see if I was right or not. Guess what happened to the other eight or nine wins. Poof, gone. It's not quite as bad as after hours trading but I'd chalk it right up next to it. Mind yo,u I may still play front side of moves but I only use partial size.
The reason I compare this to after hours trading is because many times you may nail things seven or eight outta ten times, two times you have a close call, and that last time you short AMZN on earnings because it's up $50 bucks and it keeps going up $120 bucks. Or, you buy TWTR because it dropped $4 bucks in a flash but then drops another $3 beyond what you would have ever imagined.
Point is, trading is about giving yourself the edge. I realized that, although I am very good at nailing the tops of the front side of the moves, I need to NOT use size, and work on a scale. ONLY add in if support cracks and forms a PEAK so that I can use set risk AFTER more than one half size has been used.
So, for 2015, l I did EXTREMELY well with this goal. I'd give myself a B+, leaving lots of room for improvement. I likely would have given myself an A however I shorted the front side of WTW yesterday like an idiot and paid for it (my first 'big' mistake in over two months).
PATIENCE
The next goal was to really focus on letting winners run. Easy right? Just hold 🙂 Well, You'll realize after trying it that many times, your patience ends up costing you many profits. There were SO many days I was up massively only to watch it go right back to a nominal profit. But, Brett talks about this in his book which I love – did you do the right thing? Your friends punch numbers in a cubicle for $50 an hour and you just were up $1,000 inside of 30 minutes but you didn't take it, why? Yes, the plan was a bigger trade but it goes back to flat on the trade and you beat yourself up over it. The key here is you did nothing wrong. You did the right thing; you made a plan and you stuck to it. Sometimes it will work for you sometimes it will work against you.
SIZE UP (NOT BECAUSE WHAT IF?)
Next goal in 2015 was to size up. Not size up because I was greedy, not size up because I needed to make more, but because I was in a position to do so. No debt. At highs. Focused. I wanted to have no regrets. Many remember Michail's speech at Traders4ACause and, although he has his fair share of comments regarding DVDs, anytime you ride momentum long and he is short and you end up being right; you're a pimp. It is what it is and I try to see the best in people. So, one thing that stuck to me was in so many words the question he said "Would you have any regrets if you always took the SAFE route?" Between that and Gregg not understanding why I always wired out, and then seeing guys like Eric EXPLODE, all these things came to a head and I decided "yep, I likely would have regrets if I always stayed safe and "content.""
Just double the entry size right? Instead of 1,000 shares just do 2,000 instead of 5,000 shares just start with 10,000 right? EASY. NOPE, dead WRONG.
Scaling a strategy is not about just doubling size. When you double size you fail to account for EMOTIONS. You're wrong, but are you covering because of your emotions or is it part of the plan? Usually you'd be down $2,500 here but you're down $5,000 is this part of the plan (YES) but you cover anyway, WHY? (Emotions).
Scaling up is it's own beast. I started out the first three months of the year straight up nail, nail, nail. I could do no wrong, but then came GENE which was my first front side mistake and it didn't stop there. I was an idiot and held over night. Well, I woke up down about $80,000 the next day, but minimized it to a $50,000 loss. Happens, no biggy, but I gave back about a sixth of my year at that point (in one trade).
Well from this point forward I was playing "catch up" to highs which is never good and you'll do it too as you progress. You nail a big trade, you're up $5,000 or $7,000, but it's not the $50,000 you just lost so you hang on to it. Thirty minutes later you're flat on the day. Well I went through some of that and, believe me, it's always easier to trade when you're at your highs because you're not chasing anything. No matter if you want to admit it or not, it's always tough to trade off highs because in the back of your mind you just want to get back to where you were. The key is breaking apart from this thought process.
Anyway, June and July were my worst months. I went through the doubling size, emotional jump up and down, and all over the place always looking at how I started my year and where I was now. Each time I had a draw down or dumb trade I made sure I took the time to publicly humiliate myself and talk about what I had done wrong and how it could have been avoided. Then came AQXP, which just sealed the deal. Despite having a good cover, I still lost a pretty penny and that was bottom. I told myself I'm not going to wire a single dollar into my account. I planned to focus on good trading NOT where I was and trade well; ideally profits follow. And they sure as hell did.
Since August, I've never had a better trading run. My scaling came together and my sizing worked super well. When you see or hear big profits many times you think well they're just trading HUGE but the reality is the initial entries are much smaller than you think. Just ask @ModernRock; he's the king of tiny entries and scale scale scale using houses $$ as risk.
WIRING OUT OF ACCOUNT
I've always been a big advocate of wiring out and I still am. For anyone who is new, it's IMPORTANT to give yourself the best shot at success. Even when my accounts get big, there are times when I get super aggressive and sloppy with entries because there's so much available. This can easily be avoided by wiring out and realizing that the profits are real. Understand that they are more than just a number in the account.
The more you store away in your bank account, the better trader you'll likely become. I firmly believe that once you don't "have" to make money, you'll make a lot more. Once your nest egg grows away from the trading account, it allows you to focus less on being right every time and trying to make every trade work, and let your trading account act more naturally like a stock: general trend up, some pulls consolidate break out, squeeze, pull back consolidate push higher etc. I guess, a blue chip stock here not something like AVXL or GBSN 🙂
At any rate I'm beyond that now and focused on excelling as a trader. There will be ups and downs. Profits will get bigger and so will losses. I've always had a tough time managing multiple accounts with more than $100k in them. I easily just bought more or shorted more because I could. I've been focused on using size for the right reasons not wrong.
I try not to look at the equity in accounts because each time I do I start thinking, "Hey I only need $30k more to break the next $100k barrier" whether it be $200k, $300k, $500k etc. Always a mind fuck when you start competing for psychological break points.
PRIVATE P&L
Who do you talk with on a daily basis? Who is your foundation? Who is your go to friend that no matter how the day goes you can call them up and tell them "hey I rocked today" or "hey I sucked today?" One change I made since August was to keep myself accountable. Everyone cares what people think about them, cares how they look on Twitter, etc, but at the end of the day it's YOU and YOUR bank account. With that said, I wanted to share my progress with the guys that I chat with on the phone daily so I started a private twitter account and post good bad, or ugly trades. It's really helped take my trading to the next level. No sense making it public because if it's good it's fake and if it's bad it's real LOL.
I suggested this to AT09_Trader. He was having a really good run and I didn't want to see what happened to some others happen to him. Sometimes you get so caught up in what others think of you that when you have a bad trade, you don't want to let others down so you try to make up for it and end up digging yourself into a deeper hole. Facts are facts; most traders fail. Most will not believe your success. Although many are loud about things on Twitter, when was the last time you saw a successful trader calling out or making fun of others losses and/or gains? So, no reason to feed them. Alex has done wonders and pulled out at the right time. This allowed him to focus on just what he had done for himself and realize that it's not just numbers in an account. Kid's 21 and making decisions like he's 25-27. Happy for him. As I told his father at Traders4ACause, he listens. It's a good trait not just to me but his peers. He hears, he makes changes and he flourishes.
GETTING LONG MORE OFTEN
One thing about 2014 and early 2015 is I knew the trades that were going to get people in trouble. I knew not to short certain names because of the likelihood of squeezing and I knew to warn chat members like a broken record to stay away (just ask George aka @swedpilot). He used to go long on my short warnings. Well, that's a lot of missed opportunities. So, the most recent example was FXCM. Typically I'd know not to short it but when it started to break out of the chart at $9.50s I got long. I knew not to short it and told chat be careful because this is the type that can squeeze $15-17 and you know what? I stuck some on long. This was something I've been working on for a while and finally just joining the trend and letting names work.
WRAPPING IT UP
Anyhow, the past six months have been some of my best trading days, despite a daily donation to DGAZ on the way up missing the huge pay day it offered off the $30 fail before it dropped 50%. I started trading our family 401K. It was rolled over into cash last October. This was my long term (aka multi-day swing account) that I started the day the market tanked and had the huge gap down. I've also included my regular Etrade account which shows the pull back in June and July. Wedbush and ETC are my main brokers but I will be swapping out ETC for Vision in the new year.
401K Portfolio Growth

Regular ETRADE Account
You can see that as I got aggressive at highs with more money at my disposal, I had to teach myself to not just go large but rather wait and scale in appropriately. Seems silly to even mention but hey when you're trading with more money more, things play a role (including emotions.)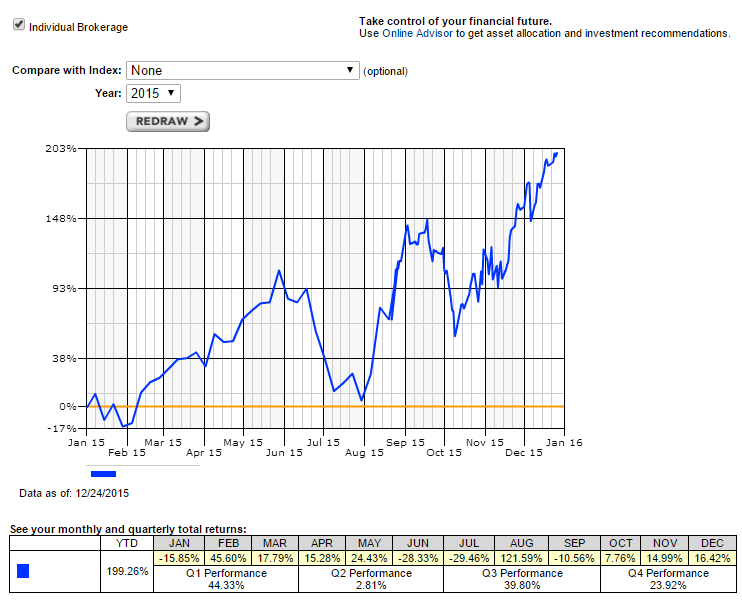 MY GOALS FOR 2016

Swing more junk stocks short – I will still stay away from way cheap names like KBIO that saved me this year since I don't short crowded names or cheap stocks over night. I've seen Eric flourish as a trader in 2015, it's been unreal to watch.
Focus on continuing to scale my strategy while maintaining proper risk vs. potential reward.
Focus on not exhausting myself on the front side of moves only to miss the real trade (like DGAZ.) I likely donated nearly six figures to the DGAZ Fund for Dumb Traders Inc. over the course of the last few months. I'm just thankful that the rest of my trading paid for those donations.
One big thing I admire about Eric, Tom, Gregg and Phil (and many other great traders) is there ability to bounce back after a loss. Many times after I suffered a loss I'd go back to what I do best: grinding it out slow and steady. I'd see Eric take a massive hit and the next day he's right back to where he was the day before. Many times our losses come right before the big pay day, so it's important to always remember that. If you're playing basketball and can't make a shot for the life of you on Tuesday and you have another game Wednesday, are you not going to take any shots for fear of missing? Same idea, but this is where the padding comes in. Wiring out and being sure that you're doing it for the RIGHT reason – not just to "get back."
I added VWAP into my strategy this year, which I discuss regularly on webinars. It's more of a guide than anything else and does it ever do wonders. I'll go over a recent example of WTW vs. FXCM to show you exactly what I mean in the next webinar.
I hope you all have a fantastic New Years – best of luck in 2016.
Last note – don't just say you're going to make changes, actually do them.
YOUR THOUGHTS
I think it would be helpful for everyone if we could start a conversation about strengths, weaknesses, and goals. It would be greatly appreciated if you could comment below in the following format:
1. I learned that my weakness was:
2. I learned that my strength was:
3. In 2016 I want to focus most on: