Today I wanted to do something different for the blog. A review of the past week showing a few of the opportunities that were shared in Investors Underground chat. I will be doing this every week and I will post them sometime around the close on Fridays. My goal is to show different setups and trading strategies that we use and give shout outs to members that help the community by sharing ideas, news and plans for their upcoming trades. I will use their Twitter usernames so you can follow them as well.
I speak to traders everyday with completely different experience levels. Some having never traded a single stock to people that have traded 20+ years. New traders can learn from the more experienced and the more experienced are able to take advantage of the ideas and news.
These last couple of weeks have provided the best trading conditions that I have ever seen. Almost everyday a member is posting that this was their best day or week ever. If you are trading and having a hard time finding the right trades, you are cheating yourself not learning from and trading alongside some of the best traders out there.
IFMK Momentum Trade
Monday started us off with IFMK. It closed in the 1.70s on Friday and gapped down Monday morning. @TraderTexMex put it on the rooms radar and then @Oddstocktrader started long on it knowing there was no news to justify the gap. It gave a couple of chances to add to the winning position before the decent ramp.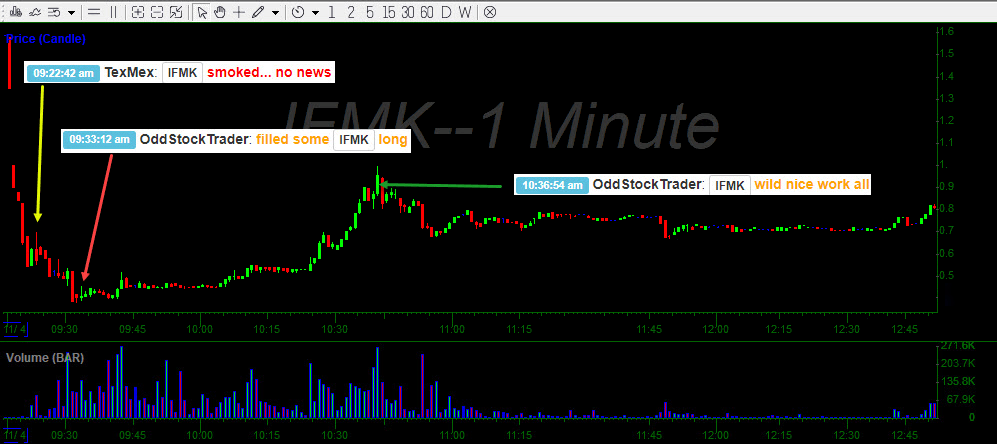 MYGN Game Plan
On Tuesday @InvestorsLive had his thumb on the pulse of MYGN all day. It got crushed on earnings after the close on Monday. Nate started his short position with the plan to cover it prior to the opening bell. The parabolic spike gave a great spot to reload the short and then scale out the rest of the day. Everything was planned in pre-market and executed nicely.
CNST Parabolic Short
After the NXTC craziness on Tuesday, traders were all looking for the next one on Wednesday. @InvestorsLive didn't buy the hype and waited for the blowout to start into his short position. This was a great trading vehicle all day long giving chances to reload the short several times including the price target raise around 1:04pm.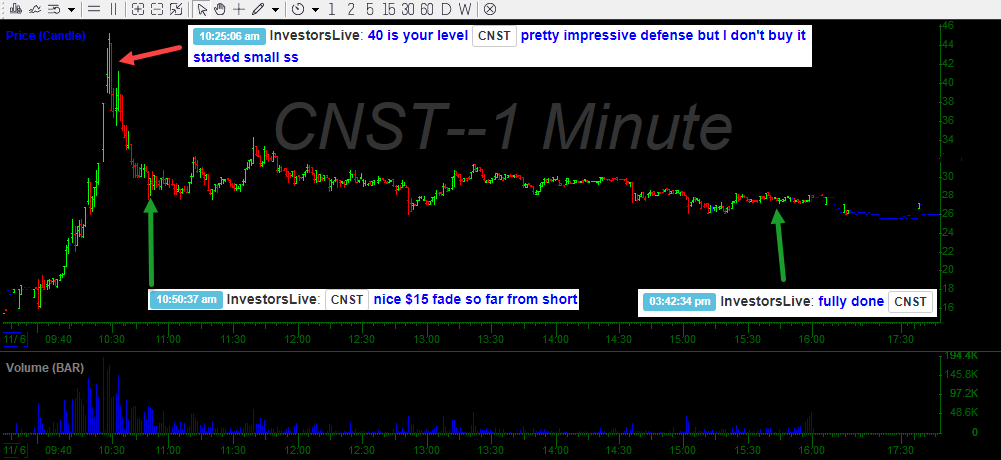 WKHS News Trade
WKHS is a news driven ticker. Tweets move this thing like crazy. Normally a different Donald moves this but @DonaldKey brought the news to chatroom on Thursday that GM was selling its Lordstown Plant to Workhorse. Going long in the low $2s ended up getting sold after-hours in the mid $3's.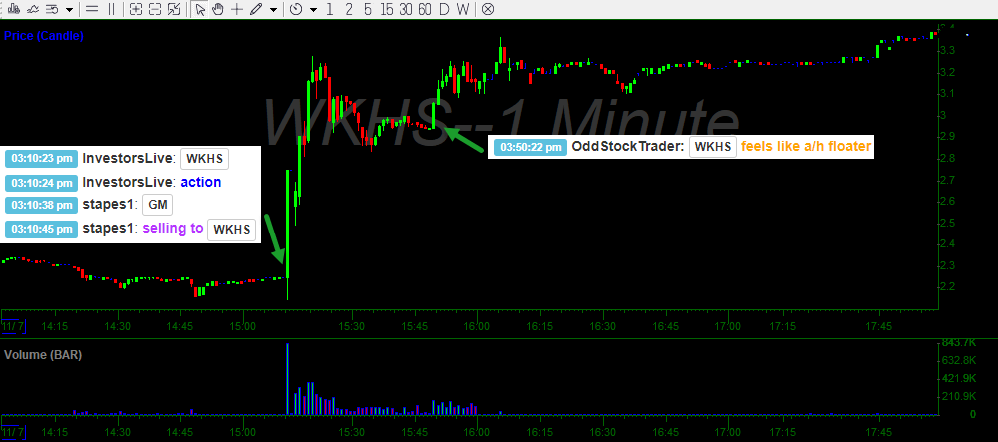 TNDM Early News Trade
Today was a news play on TNDM. If you notice the time stamp that @MarkFlowchatter posted it is a full 5 minutes before others picked it up. In this business 5 minutes is a lifetime!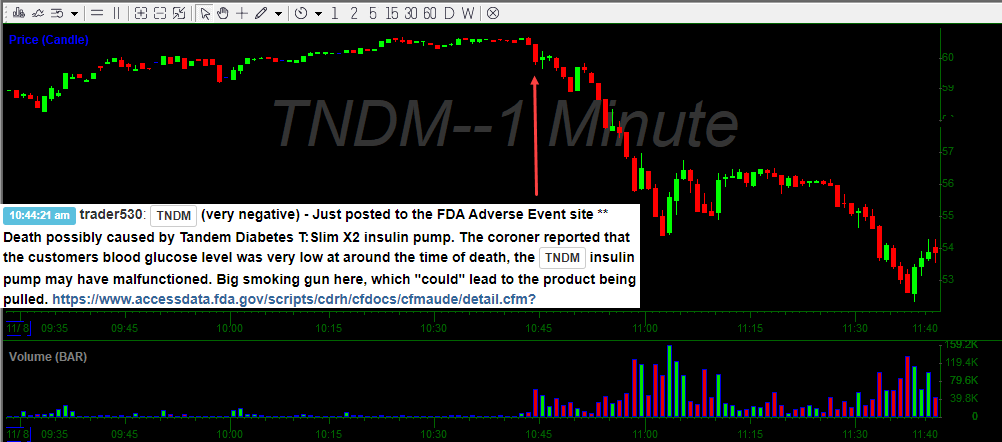 Here's the time stamp others use.
Members getting in on the early news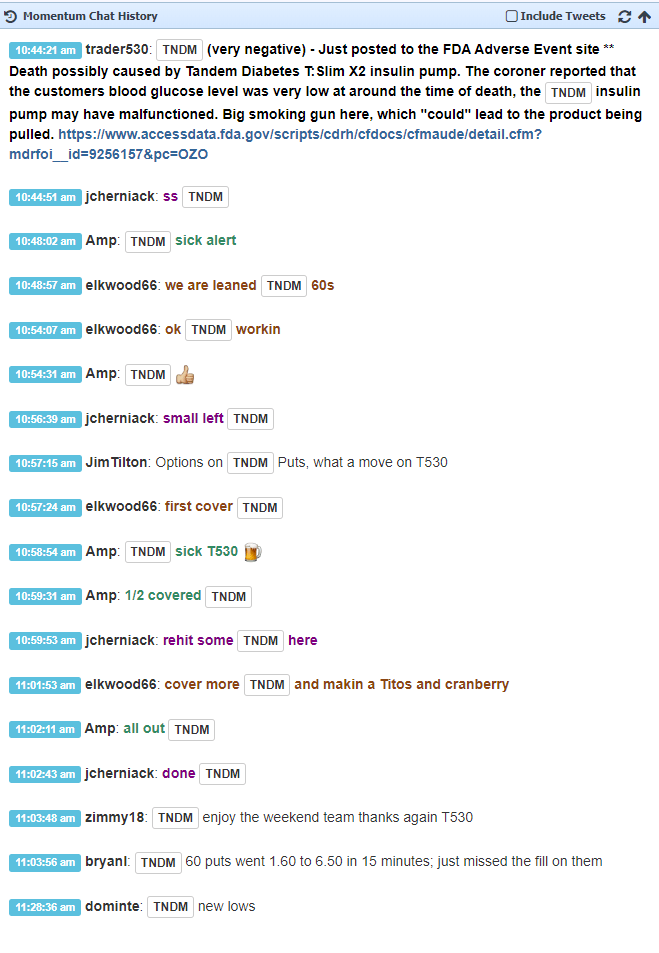 We all come together every trading day to help each other be the best traders we can be. Please reach out if you have any questions [email protected]