Another great week in the IU community. Awesome commentary and calls being made by moderators as well as members. One thing that I heard from new traders a lot this week is that we only trade on the short side. It may seem that way on a given day but if you look at it over the course of a week or a month we are about 50/50 long and short. There is a ton of opportunities on both sides so why not take advantage of both. If you missed our 4th of July sale, I have one spot left so shoot me an email and we will get you set. [email protected]
AEZS Momentum
Cody has been on fire lately. This was a simple momentum trade that he shared late in the day on Monday and sold most just before the end of after hours.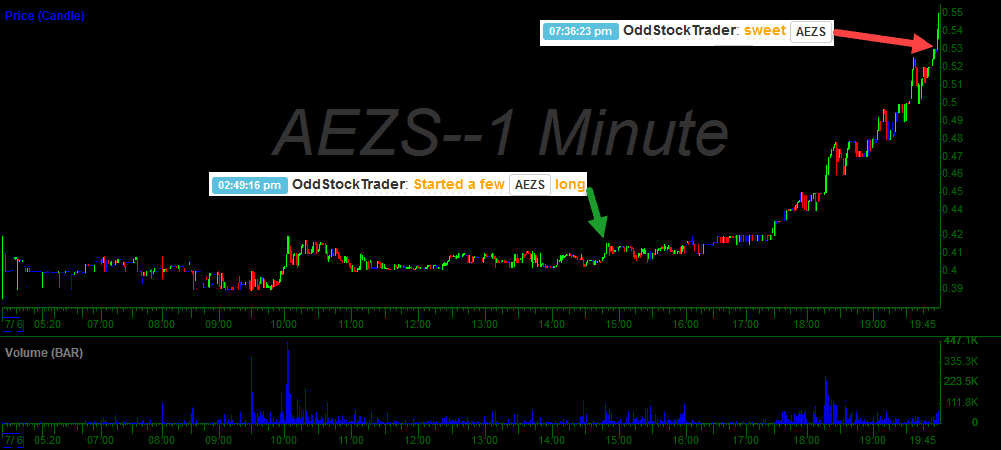 VIVE News
Having multiple members with different wires subscriptions means we always have the news first. 25% in 4 minutes! Great call Amp!
NIO Failed Follow Through
I wanted to post this one not to show the trade itself but to show the knowledge and experience being shared everyday. Even if you weren't involved in the trade, the education you picked up in a couple of hours is priceless.
SPAQ News
Stapes brought us the news of a possible merger on Thursday and it was pretty much an all day ramp.
WKHS Short
Knowing what research firms will carry weight with their calls is half of the battle. Getting the calls quickly enough is the 2nd half. Nate nailed this trade on Hindenburg shorting WKHS.
Have a great weekend!