Check out my audio-blog series, where I narrate all my favorite blog posts for you guys. You can find that here. 
Curious what it's like to be a member at Investors Underground? Here's a tour around the community. 
Also we're running some really great sales right now if you've ever been interested in joining IU - now would be the time to do it. You can have a look at those options here.
APRN: What a mess. I think this has thoroughly exhausted shorts and absolutely hilarious run. Looking for 20+ early and would look to short pops from there once a lower high in to risk off of. This story ends right back at 2 where it started from.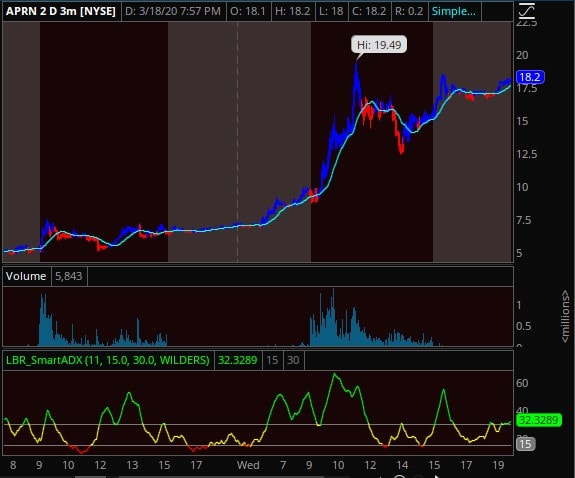 CODX: It's becoming more and more of a reality that they have no legitimate part in the testing happening, and feels like this is nothing more than trying to jam shorts at this point. Stay patient and look to attack any failed follow through. Don't expect too much more out of this one, the jig is largely up.
BMRA: Higher the better out of open tomorrow and looking to fade this soon. Eyeing 15+ out of open and watching for failed follow thru from there.
Shoot me a message anytime in chat (DGTrading101 is my IU handle) and I'm happy to discuss your trade ideas with you. If you're not an IU member and would like to become one, you can join us here.
See you out there!
- D