The world of trading is fast-paced and we're constantly working to make sure our members have access to the best resources. Over the past 6 months, we've been expanding the resources in our mentorship program, and now we've added even more tools and features for our members.
Our goal has been, and always will be, to give new traders the best shot at success. We don't sugarcoat anything. Trading isn't easy and we don't claim to offer a foolproof system. What we do offer is an unbeatable suite of trading tools & resources designed to give you an edge in the markets. Our team of experienced traders is here to provide you with the best education and support you along your journey.
Check out the video below and read more about some of the big changes we've made.
Investors Underground Updates
IU membership has always included scans, chat room access, webinars, and video lessons (for Elite members). Now, we're adding even more resources - free of charge. Whether you've been a member for years or just signed up yesterday, you'll get access to our new resources without paying extra.
During the past 6 months, we've been working hard to provide new tools to our members. We've gathered members feedback and put together some really exciting new tools.
Let's have a look.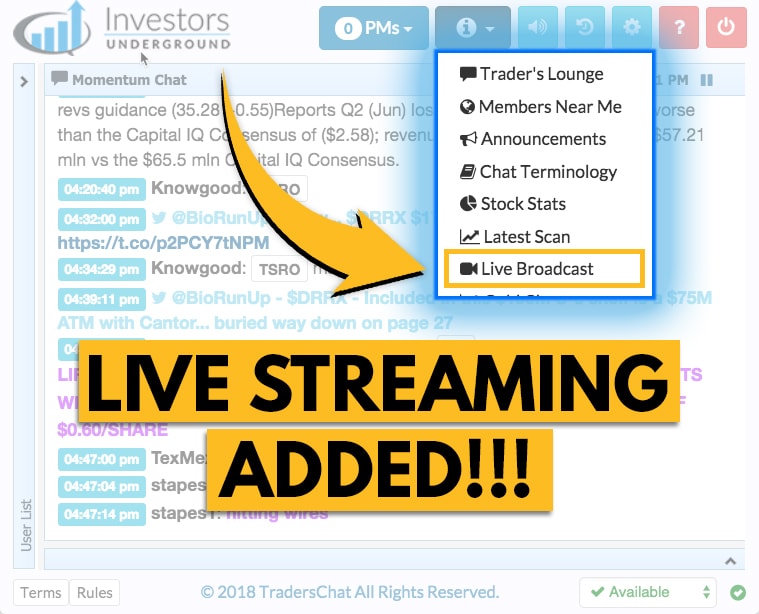 Livestreams
One of the biggest requests we got over the years was for livestreams during market hours. After testing out a few different software options, we were able to integrate live streaming into our custom chat room. Here are a few of the ways we've been using livestreams:
Pre-Market Scans - Come to the Market Prepared!
IU members receive a stock watch list every day after market close. In the past, the watch list would be filtered down the next day, as pre-market trading data helped us narrow down the best opportunities. We'd discuss the best options in the chat room and put together a game plan.
Now, we follow the same process - BUT we've added live streaming. Instead of just typing about the trades, we go over them with video and audio. Every morning, between 8:45-9AM EST, Nate will be going over his game plan. Members will have the opportunity to review charts, determine key price levels, and create a game plan for the day.
Scanner Livestream - 24/7 Trade Ideas
Members now have access to a 24/7 live stream of Nate's stock scanners. Members will have streaming access to Nate's custom scans using the following platforms:
Trade Ideas
EquityFeed
DAS Trader Pro
These premium scanning tools cost a lot of money, but IU members will have access to Nate's streaming scan setup for free. This is a great opportunity to keep track of new trade alerts during the day. It will also help members better understand how Nate scans for stocks during the day.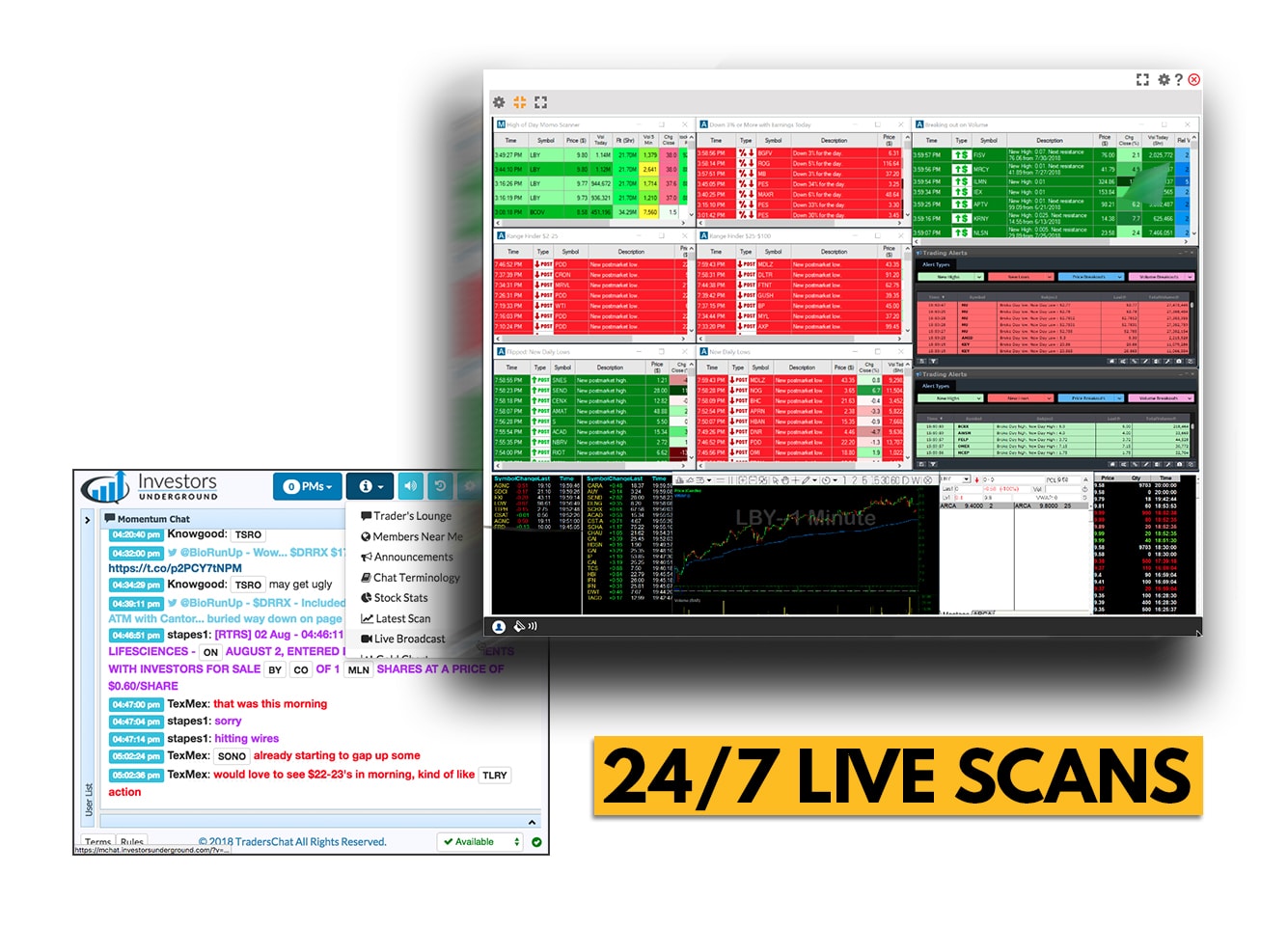 Study Groups - Real-Time Trading Lessons
The market is full of lessons. Every day, there is something new to learn. We've always discussed market concepts during our trade recap videos and weekly webinars, but now we're discussing them in REAL-TIME during market hours.
Throughout the week, we will be hosting a few small study groups in the chat room. This gives members the chance to ask their personal questions when it matters most. This is a great opportunity to get answers to individual questions in a small group learning environment.
These short sessions will be used to discuss daily trading activity and go over any questions members may have. Think of it as your personal guide to the stock market.
Trader's Lounge - No Question Goes Unanswered
When new traders come to Investors Underground, they usually have a lot of questions. Our team is more than happy to help, but our main chat room has always been strictly for alerts.  Our longer-term members appreciate this policy, but we also want to make sure new traders get the guidance they need.
That's exactly why we launched the Trader's Lounge earlier this year.
The Trader's Lounge is our chat room for general trading discussions. This is where members can ask any questions they have about trading. Our moderators help answer the questions throughout the trading day (and sometimes after hours) so no question goes unanswered!